Things Needed
Newspaper
Wooden dowels
White spray paint
Onesie
Clear tape
White thick-gauge floral wire or garden tie
Hot glue gun
Glue stick
Cellophane wrap
Elastic band
½-inch wide ribbon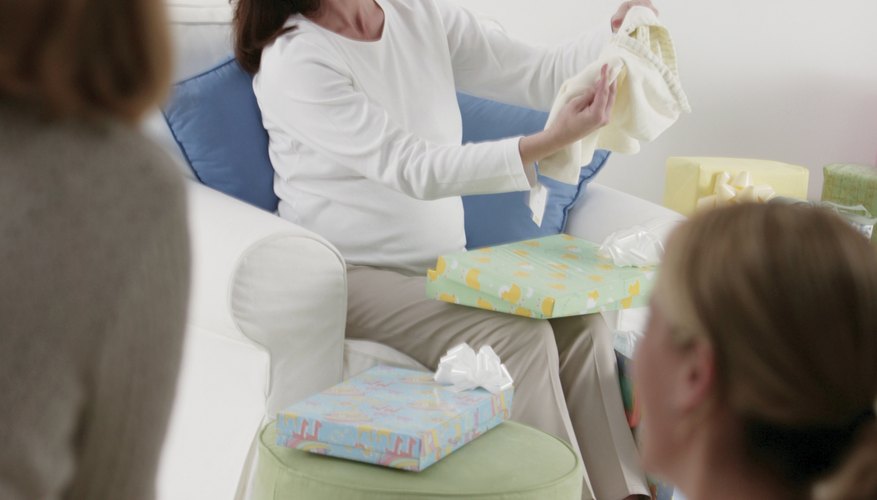 You can make a basketful of onesie lollipops to present to a mother-to-be at her baby shower. The basket of simple homemade gifts only takes a little bit of time to make and provides the recipient with some useful items for when the baby arrives. Make your gift even more memorable by decorating the onesies with embroidery or fabric paint.
Cover your working surface with newspaper and place the wooden dowels on the paper. You will need one dowel for each lollipop you would like to make. Spray the wooden dowels with white spray paint and let them dry according to the paint's instructions.
Lay out the onesie with the right side up and fold the sleeves inward onto the front of the shirt. Fold the right side of the onesie into the center and then fold the left side of the onesie into the center. Fold the onesie in half so that the back of the onesie is now the only side visible.
Start at one short end and roll up the folded onesie like a jellyroll. Wrap a clear piece of tape around the entire roll to keep it in the jellyroll shape.
Cut a length of white thick-gauge floral wire or garden tie to approximately 12 inches. Fold over one end of the wire about 2 inches to double this section of the wire.
Insert the doubled end of the wire into the center of the onesie jellyroll. Bend the wire protruding from the jellyroll like a hook. Bend it until you reach the middle of the tapeline running around the jellyroll.
Place the top of the wooden dowel against the wire at the tape line and coil the wire around the dowel three or four times. Cut off any excess wire.
Apply a drop of glue from the hot glue gun onto top of the dowel, wait a few seconds and press the glue firmly against the tape. Let the glue dry for 10 to 15 minutes.
Cut a large square of clear or colored cellophane wrap and cover the jellyroll. Wrap an elastic band around the top of the wooden dowel to close the cellophane.
Cut a piece of ½-inch wide ribbon, at least 12 inches long, and wrap it over the top of the elastic band. Tie the ribbon in a bow to complete the onesie lollipop.
Repeat the above steps to make an entire bouquet of onesie lollipops.
Tip
This project can also be made with washcloths or receiving blankets. If you don't think the new mom needs a basket full of onesies, you could make several different types of lollipops for your gift basket.