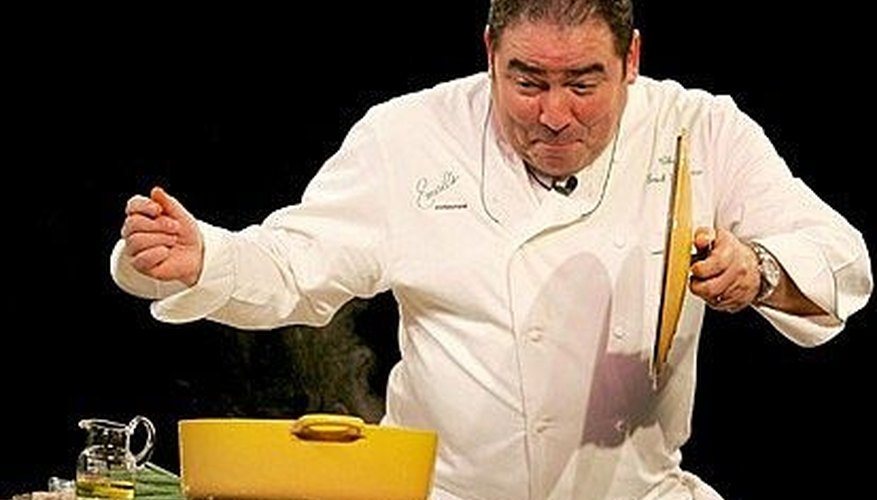 Emeril. Rachael Ray. Paula Deen. Three names that are as famous for what they serve up in their kitchens as the fun they serve up on TV. If you have a knack for cooking and would like to follow in their footsteps, then here's how to do it.
Come up with a gimmick. Emeril has his "BAM!" Paula Deen has her good ol' country cookin' and her sweet Southern style. Rachael Ray has her down-to-earth personality and quick and easy recipes. If you want to have your own cooking show, you need to offer something that stands out from the crowd. Come up with a new style of cooking. Have funny and interesting stories to tell about your menu and recipes. Just think of ways to make your show fun, lively, interesting and different.
Practice cooking in front of friends. If you want your own cooking show, you have to keep the audience interested and entertained. Start practicing by entertaining your friends as you chop up the veggies, stir the broth and broil the chicken.
Have a friend videotape you as you're in your cooking glory. This is the tape that you will send off as the audition for what you can do so have your best recipes ready to go and the quips and one-liners handy.
Send your audition tape to the Food Network, 75 Ninth Avenue, New York, NY 10011.
You can also send your audition tape to your local cable public access channel. These channels are set aside by cable companies to allow citizens to use mass media to share their own ideas. Check your local cable providers' website for information on their public access channels and how to have your cooking show considered for broadcast. Hey, it may not be the Food Network, but it's a good place to start!
Tip
When filming your audition tape, make sure you have your recipe fully memorized and an idea of how you want to present yourself. Nothing will look as awkward and boring on screen as you struggling to remember a recipe or thinking of something clever to say.