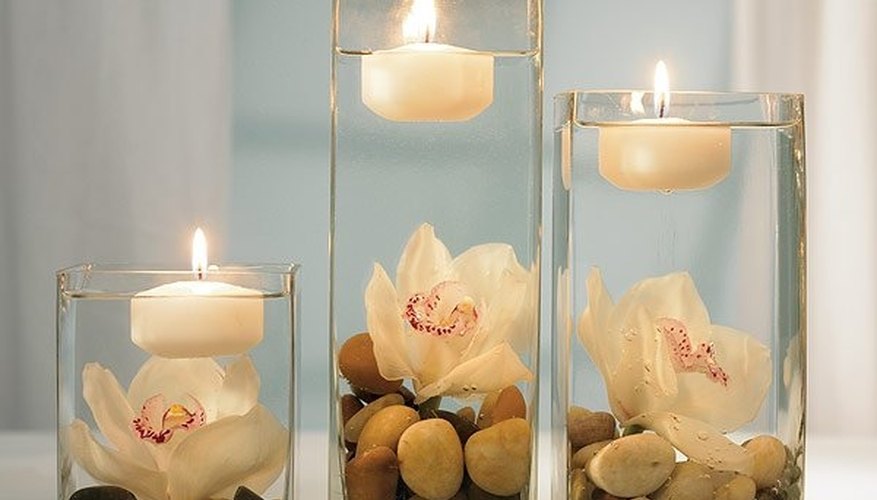 Outdoor weddings are unique in that they allow the finery of wedding wear combined with nature's own elements. Table decorations for an outdoor wedding require a little extra thought, as they must be weighted in case of wind. A trip through the aisles in your local craft store should result in several options. These ideas should help create a few more.
Best of Both Worlds
Combine nature and elegance by filling clear squared off vases with glass stones or shapes like seashells. The weight of the glass-filled vases will prevent the wind from knocking them over or off the tables. Thread stems of real or artificial flowers through the stones to anchor them inside the vase.
Cut branches from flowering bushes or trees and anchor them into the vases by threading them through the glass stones.
You may substitute actual stones or real seashells for the glass stones for more of a natural appeal.
Safe Candle Options
Burning candles outside is sometimes frowned upon depending on the season. A few sparks in dry conditions can start horrible fires. Float your candles for a beautiful outdoor table decoration for your wedding. Purchase large clear or colored glass bowls that sit fairly low to the table. Fill with glass beads, natural stones or glass stones. Fill part way with water and set some floating candles adrift.
Fill tall, clear vases with natural or colored sand for weight. Anchor a pillar candle into the sand for stability. Make sure the top of the vase stands higher than the top of the lighted candle for safety. This creates a beautiful wedding table decoration that even helps illuminate the area after the sun goes down.
Keeping with Tradition
Some brides want to keep more traditional elements in play even when having an outdoor wedding reception. This means some sort of floral arrangement on each table. Be sure to tell the florist creating the arrangements that they will be for outdoor use. They can add additional weights to keep them from blowing off the tables.
If you're creating your own floral arrangements to be used on outside tables, set them inside of shallow trays and thoroughly soak the florist's foam right before setting the arrangements out on the table. The water shouldn't evaporate quickly unless the reception is held on a hot, dry day. If this is the case, designate one person to add more water to each arrangement about halfway through the reception festivities.