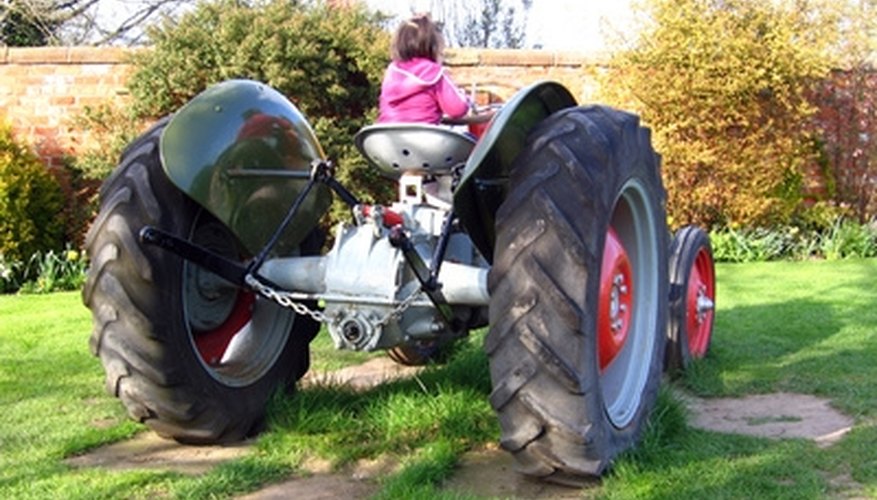 How to Remove a Tractor Tire From a Rim. Tractor tires are not easy to work on, that's why they're made to last a very long time. But if you need to replace a tractor tire, you'll need to remove it from the rim which requires some special equipment and knowledge. Here's how to remove a tractor tire so you can put a new one on.
Get a specialized giant tire pneumatic bead breaking tool. Be sure you have the proper pneumatic equipment such as high pressure hoses and a tank so you can use your bead breaker.
Attach the bead braking tool to the rim of the tractor tire according to the manufacturer's directions.
Break the bead. The "bead" is how the tire is set on the rim. It takes a great deal of force on the sidewall of a tractor tire to break the bead.
Pry the tractor tire off the rim using a large tractor tire derimmer. A suitable derimmer can be purchased from Eagle International (see Resources below).
Actuate the cylinder on the tire derimmer to eject the rim from the tractor tire. Be sure to clean and inspect the rim after you remove it for damage before trying to set a new tractor tire on it.
Tip
Be sure the pneumatic hoses and tank are in good condition.
Warning
Pneumatic tools and tire derimmers are dangerous pieces of equipment. Be sure you have adequate safety training and supervised experience before trying to operate these tool on your own.