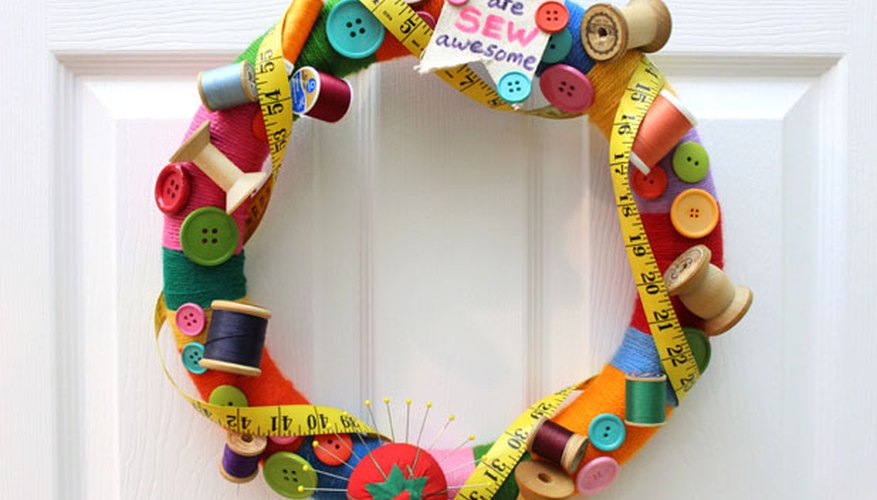 Wreaths have become a year-round decoration because they offer such a cheery greeting to whoever comes to the door. This colorful sewing-inspired wreath decorated with yarn, buttons and spools of thread is tailor-made for anyone who loves to sew or knit. It would be perfect for a craft and sewing room, or even make an ideal gift for occasions like Mother's Day or Teacher Appreciation Day.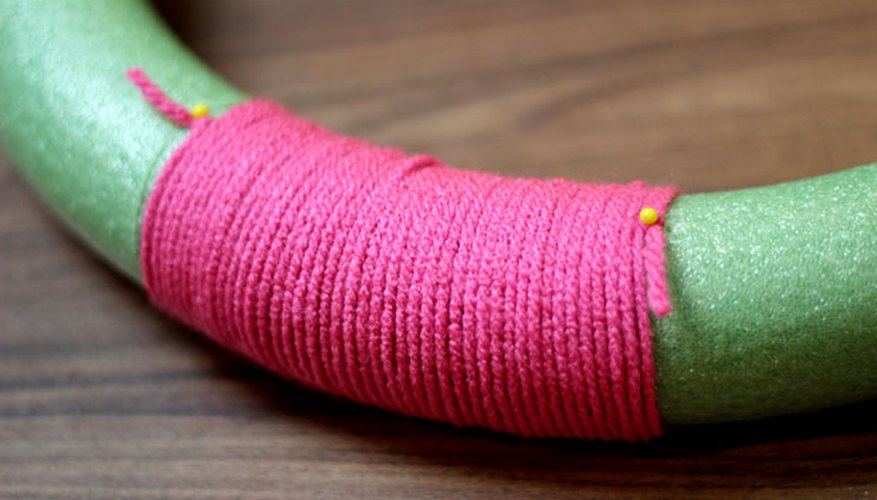 Start with a 12-inch foam ring, which you will find with at your local crafts store. Tie some yarn around a round-headed pin to create a knot and insert the pin in the foam ring. Then wrap the yarn around the foam ring repeatedly so that none of the foam ring shows through. After you've covered about four inches of the foam ring, tie the end of the yarn around another pin to create a knot, and insert that pin in the foam ring as well.
Continue wrapping yarn around the foam ring, pinning the ends of the yarn to the back side of the ring so they are not visible. Vary the colors as you go along. To create visual interest, vary the width of the yarn sections as well.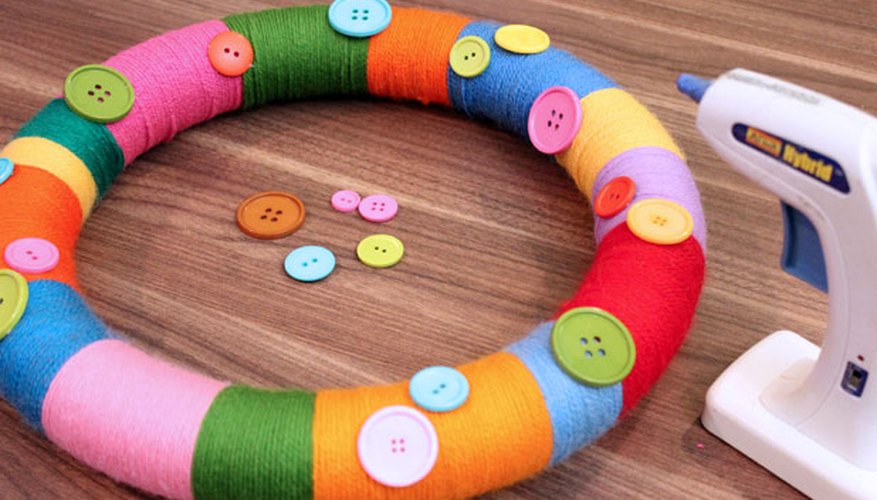 Using a hot glue gun, adhere buttons of different colors and sizes around the wreath. Do not fill up the wreath with buttons at this point. You can always add more later.
Hot glue spools of thread around the wreath. Mix and match various sizes and colors of thread spools. If you have some vintage wood spools, add those as well for an heirloom look.
A sewing tape measure makes a whimsical ribbon for the wreath. Wind the tape loosely around the wreath, pinning it in the back to keep it in place. The measuring tape will be longer than you need, so cut off the excess and save it for a future project.
In place of a bow for the wreath, make a decorative focal point with a tomato pin cushion. Insert round-head pins around the pin cushion to create a starburst effect, and hot glue the pin cushion to the wreath. Pin the bottom of the pin cushion to the wreath for extra support.
Personalize the wreath with a canvas pennant flag. Cut a piece of canvas into a pennant shape, leaving the ends unfinished. Using fabric markers, write a message on the canvas like "Moms are 'sew' awesome." Hot glue additional buttons to the flag, and glue the flag to the wreath. Finally, pin a loop of yarn to the back of the wreath for hanging.
Tip
You can also use an artificial pine wreath as the foundation for this project.
Keep your eye out for vintage thread spools at flea markets and yard sales.