A fancy beaded placemat design is easy to master in order to make specially designed placemats for holidays, birthdays or gifts for family and friends. The colored beads are strategically placed in the pattern to make pictures or designs specific to the creator's ideas. Wooden beaded placemats are also popular for woodsy decorations or subtly scented table accessories. After mastering the bead pattern, it is easy to teach this project to Girl Scout troops or after school programs.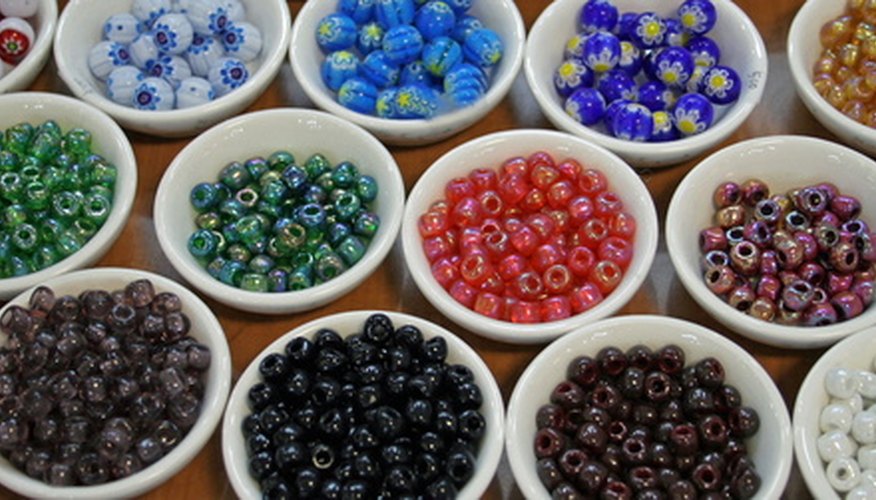 String four beads onto a 12 inch length of fishing line, running the line back through the first bead to turn the beads into a circle.
Add three beads to the fishing line. Push the beads to the end of the line where the circle sits. Run the line through the beads a second time until the line comes to the bead on the end, making the three beads a second circle.
Add three more beads and repeat the circle creation until you reach the length of placemat you desire.
Add three beads in a downward direction, once you have reached the length of placemat you wanted. Run the fishing line through these three beads to make a circle under the last circle in the top row. Add two beads to make the next circle in the second row. Follow this two-bead pattern until you reach the end of the placemat.
Finish the placemat when you have made enough rows to create your desired placemat length and width. Tie off the fishing line by following through the last circle of beads and tying the end of the line to itself.
If you run out of fishing line before you have reached your desired length and width, simply cut another 12 inch length of line and tie it to the first. Continue to do this until you have the placemat size you want. Plan out a picture or pattern with colored beads before you start stringing the beads.
Small beads are a choking hazard. Keep them away from small children.