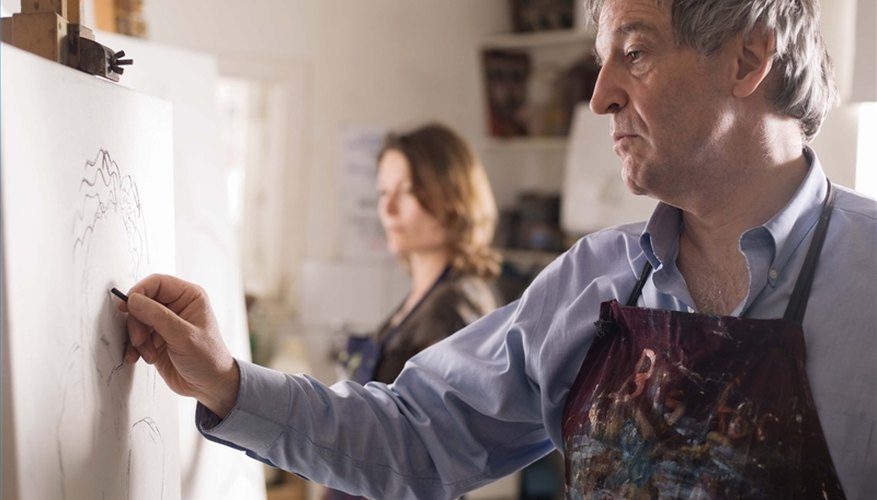 How to Dress Like an Artist. Being an artist wanna-be is not a bad thing, but you must learn to dress the role if you are going to fool anyone. It doesn't mean you have to start smoking or talking about the latest art exhibit. Here is how to start dressing the dress of an artist.
Wear a tweed jacket to dress like an artist. It can be worn by both men and women, and the suede elbow patches are not necessary.
Put on a pair of skinny jeans. These are essential in black and dark denim for anyone who wants to dress like an artist.
Add long black skirts to your wardrobe. A female artist has at least 2 in her closet, and she wears them often.
Carry a tote bag that is big enough to store all of your artistic necessities. A Neitzsche book and a magazine about paintings or writing are a good bet for anyone who wants to dress like an artist and carry the right accessories.
Walk in pointy-toed shoes. This goes for any man or woman who wants to dress like an artist. The rounded toe is just not going to cut it in the artsy realm.
Look at the world through chunky glasses. The artistic flare should be prevalent, so go with frames that are squarish and brightly colored.
Go to the nearest artists' markets for jewelry. Buy lots of beaded necklaces, but make sure they don't have too much of an ethnic flare. Plain, solid colored beads are best.