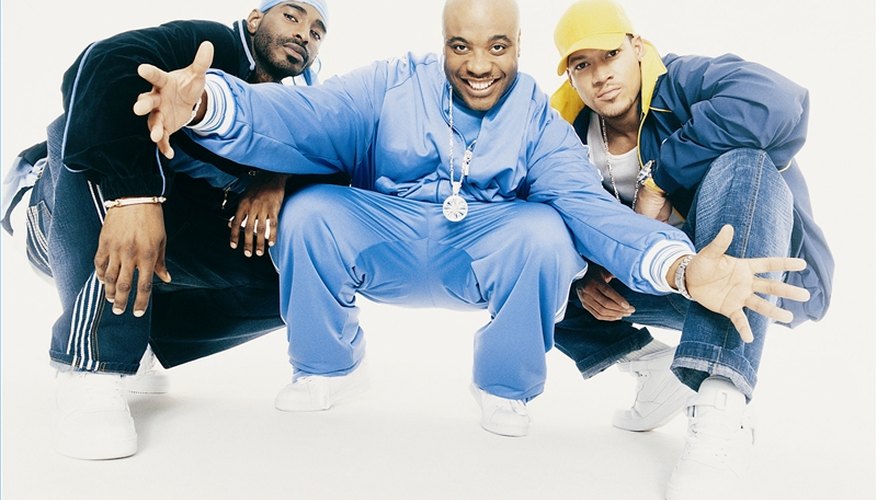 How to Dress Like a Rapper. Hip-hop is more than a style of music, it's a culture. Whether you want to be rapper or you already live the life, you have to dress the part. Here is how.
Get your shoe game right. Shoes are the foundation of any hip-hop wardrobe. You can wear a simple T-shirt and jeans, but the shoes will make or break your outfit. Athletic shoes should be a staple. Nike, Adidas and Converse are great brands to choose from. To dress like a rapper, invest in vintage and limited edition sneakers. Boots are also important.
Build on the basics. There are a few must-haves. You should keep loose-fitting jeans, tees and tanks. Also go for athletic jerseys, hooded sweatshirts and polo shirts.
Shop labels. Rappers love to dress to impress. There's no better way to do that than to choose well-known labels like Gucci, Versace and Armani. Urban labels like Mark Ecko and Fubu are also good choices. Many rappers have their own fashion lines. Check out Diddy's Sean John, 50 Cent's G-Unit and Nelly's Applebottoms.
Think grown and sexy. Hip-hop style is evolving. More and more rappers like T.I., Jay-Z and Ludacris are upgrading their looks. Button-down shirts, slacks and fancy suits are just as acceptable as a baggy R-shirt and jeans. There is a time and place for everything. To dress like a rapper, show flexibility. Make sure your outfit matches the venue.
Accessorize. Jewelry is always advised. Nice watches, diamond stud earrings and chains are necessities. Hats should match your shoes. Keep at least one pair of stylish shades.