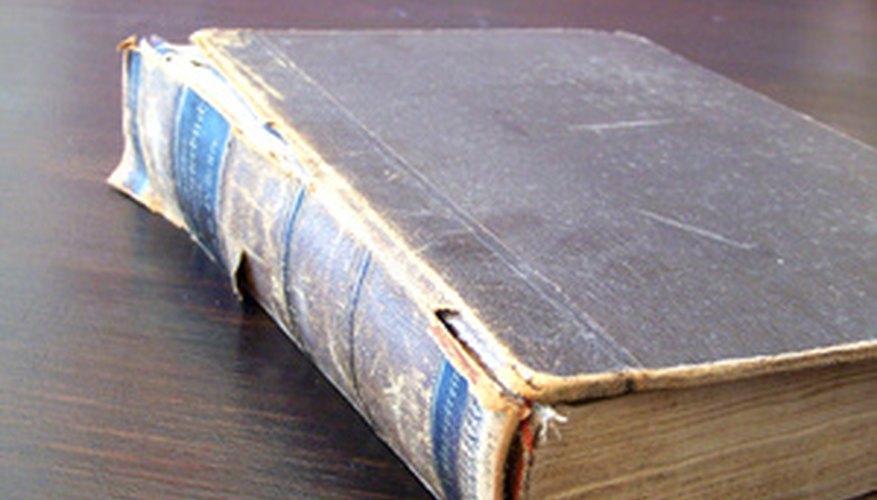 At first glance, an encyclopedia may seem like nothing more than a book. If you have an old, tattered copy, don't throw it out just yet. Save your old encyclopedia set from the landfill and create a craft project. Turn this provider of knowledge into something pleasing for the eye. For some projects, the entire book can be incorporated. In others, just pages are used.
Decoupage Box
For the ever-curious member of your family, make a decoupage box using pages from the encyclopedia. Tear pages from the encyclopedia. Purchase a wooden box from a craft store along with some decoupage glue and a paint brush. Arrange the pages of the encyclopedia on the wooden box and attach with a layer of glue. Once the glue dries, add a layer of glue on top with a paint brush until the entire surface is covered. After it dries, add another coat if necessary. If you have a lot of time to spend on the craft, cut out some individual entries on topics the person is interested in, instead of whole pages.
Lamp
Using a store-bought lamp kit, turn the entire encyclopedia into the base for a table lamp. These kits are available at most craft stores and come with assembly instructions. Usually, they include the light socket, shade and cord. You may want to mount the book onto a piece of wood for stability. Attach the lamp kit to the book, hiding the electrical cord between the pages.
Magnetic Poetry Kit
Make your own magnetic poetry kit using the titles of the different entries. Cut out 30 to 40 different words. Be sure to include words like "a", "and" and "the" in addition to the entry titles, so that sentences can easily be formed when complete. Glue each individual word to its own magnetic strip. Decorate any left-over space on the strip, if desired.
Origami
Use the pages of your old encyclopedia for an alternative to traditional origami paper. Cut the pages into perfect squares and fold into any origami shape such as paper cranes or flowers.