Spring is a season full of bright colors and fresh blooms, so why not incorporate these fun elements into your wedding day? Instead of gifting your guests traditionally wrapped wedding favors, reflect the colors of the season in your favor wrapping. It is amazing what you can create using only a handful of materials and plain kraft boxes, so skip the wrapping paper and read on to learn how to create your own charming spring-wrapped favors!
1. Use Different Textures
Gillian Ellis
Create an elegant and simply wrapped favor by using ribbons made of different materials. Lace and baker's twine are well priced and sold in bulk, which is ideal when you need to wrap several wedding favors! Wrap the ribbons around the kraft box several times and secure at the back with clear tape.
2. Layer Colorful Ribbons
Gillian Ellis
Layer two or three types of ribbon to create an elegant and polished look. Choose different shades of the same color or contrasting colors to create an interesting design.
3. Accent With Fresh Blooms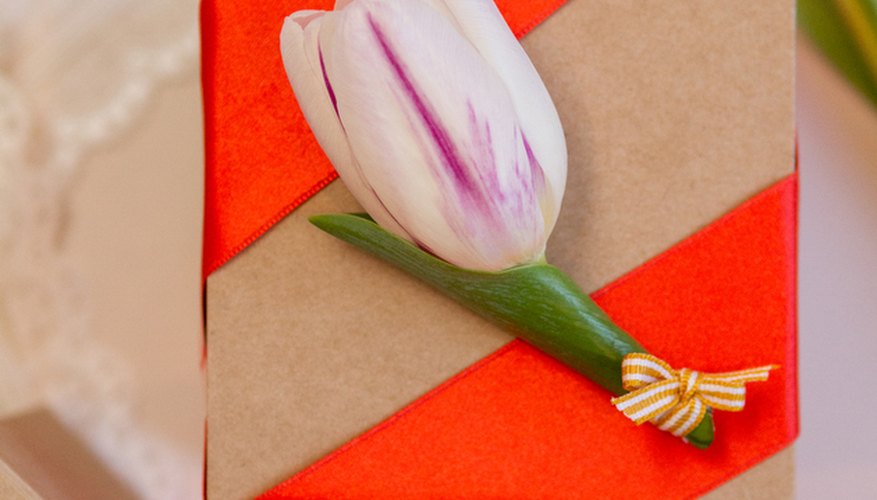 Gillian Ellis
Accent your favor with a fresh spring flower. To keep the flower alive while attached to your gift, soak a small piece of cotton in water and attach it to the stem. Tie off the stem of your flower with ribbon to create a polished look and to hide the cotton. Attach the flower to your gift box by adding a small drop of hot glue to the ribbon.
Finish Your Spring Favors
Gillian Ellis
With just a few ribbons and fresh flowers these kraft boxes have been transformed into elegant wedding favors. These designs are budget-friendly and add the perfect touch of spring to your wedding. There isn't a wedding guest that can resist a favor wrapped this beautifully!
Writer Bio
Gillian Ellis is a wedding lifestyle blogger, photographer and stylist. Gillian's work has appeared in many National publications including "Style Me Pretty," "The Everygirl," "Best Friends for Frosting" and "Southern Weddings Magazine." Based in Charleston, SC, she shares DIY projects and wedding inspiration on her blog Coastal Bride.
Related Articles