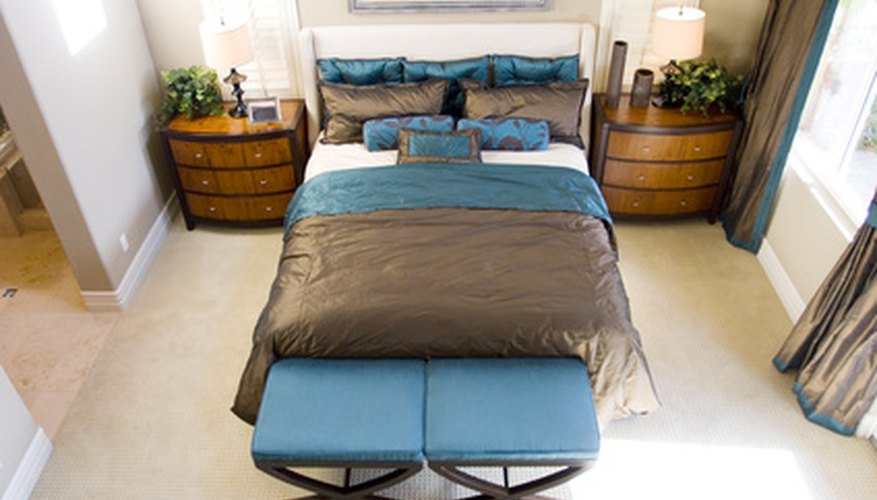 The best comforter material is the comforter material that best meets your needs. If you have allergies to certain comforter material, for example, then it will be important for you to choose a non-allergenic comforter fill. Typically, comforters are made from wool and silk and goose down. Only silk and wool are naturally dust mite-resistant. A high number on the fill power scale, such as 600 to 800, means it is a fluffier comforter, which will also last longer.
Comforter With 75-Year Warranty
The Pearl Crescent Hypodown comforter provides a 75-year warranty. It has 800 fill power with excellent loft, which means it retains its fluffiness well. It is also hypo-allergenic. It is available in twin, queen, king and super king sizes. This comforter is white with a cotton sateen cover. It comes in three weight categories, which are Southern, Classic and Arctic. The Southern is the least expensive, and the Arctic is the thickest, heaviest comforter in this style, making it the most expensive. It has an overall rating of excellent by the Allergy Buyers Club.
Siberian White Goose Down Comforter
The Heritage comforter made with Siberian white goose down is considered the best in the goose down category by the Allergy Buyers Club. The fabric is made from natural wood fiber. It comes with a baffled box design and is 800-plus fill power. It is also eco-friendly as it is 100 percent biodgradable. The down fill consists of 95 percent down clusters and 5 percent down pieces. This comforter is available in twin, queen, super queen, king and super king sizes. It feels lightweight and soft to the touch.
Tests That Reveal the Best Comforters
Oxygen tests measure the amount of organic matter present in a comforter. The best comforters have an oxygen level of 10 or lower, with the lower number being the best score. A turbidity test measures suspended dust, solids and dirt trapped in the material of a comforter. A comforter may score from 60 to 550. The highest score is the best when it comes to determining quality comforters. Comforters labeled as "pure down" may not be 100 percent pure because they could have some feathers present in the fill. If a comforter is 75 percent down, it can be legally defined as 100 percent down. Choices of down include duck feather, duck feather with down, goose feather, goose down, Siberian down and Hungarian down.
Maximum Warmth
You will need to choose a comforter with a higher fill number for maximum warmth. Some comforters can be rated as 800-plus in fill power. High-grade down provides more warmth in a comforter than feathers. Baffling, a technique where the comforter is sewn through to make sections in the comforter, allows the fill to loft more. It will remain puffy longer, and it also adds strength to the comforter. In general, the best comforter material has a high number in relation to fill power and would be made from silk or wool, but it really depends if you want a heavy or light comforter and what your budget will accommodate.