Soap bars
Quote printables (found at http://www.ehow.com/new/quote-photo-shares/)
Decoupage glue
Foam brush
Beeswax
Electric skillet
Soap bars are easy to personalize with your own images, whether they're photographs, graphics, or eHow's quote printables. Best of all, the soap can actually be used because the images are sealed and won't wash off in water. They would be perfect displayed in a guest bathroom, or given as gifts.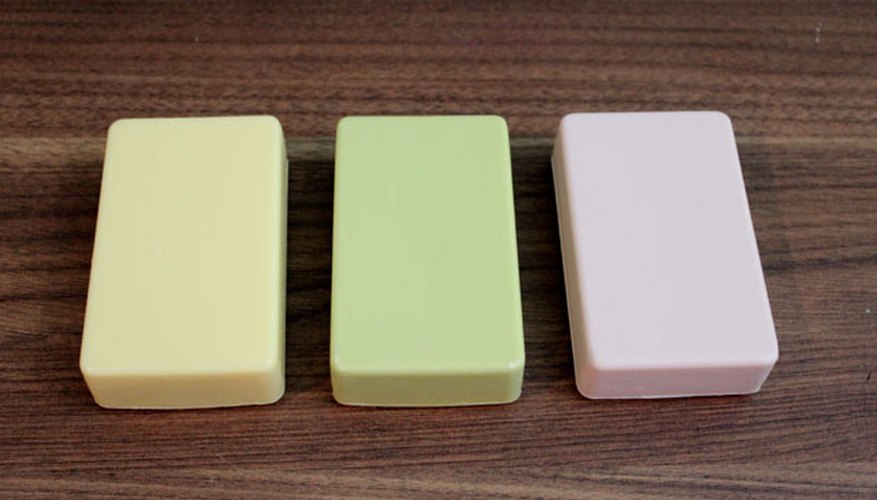 Jonathan Fong
Select rectangular soap bars that have a flat surface. If the soap has branding embedded on the surface, flip it over and use the side that is plain. Measure the width and height of the soap bars.
Jonathan Fong
Download the quote printables from eHow. Using an image software program, size the printables so they are just smaller than the measurements of the soap bars. Then print them on a laser printer, like the ones found in copy stores. Do not print the images on your inkjet printer at home, as the ink is not colorfast.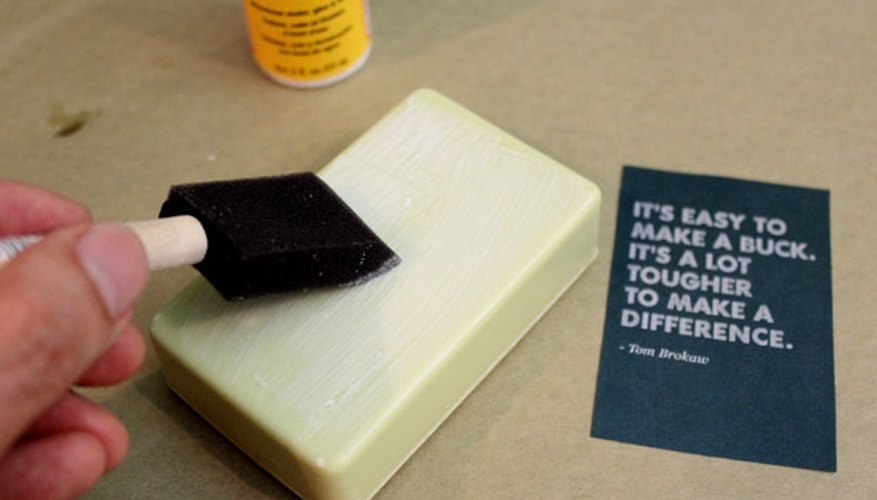 Jonathan Fong
Trim the images. Using a foam brush, apply a layer of decoupage glue to the surface of the soap bar.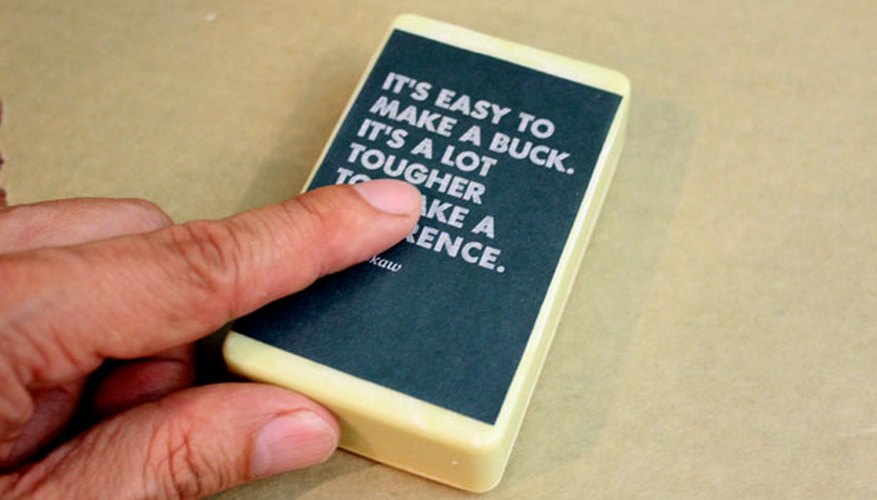 Jonathan Fong
Place the image on the glued surface, and use your fingers to flatten the image and remove any air bubbles.
Jonathan Fong
Apply another layer of decoupage glue on top of the image, extending past the edges so the entire side is covered with a thin layer of glue.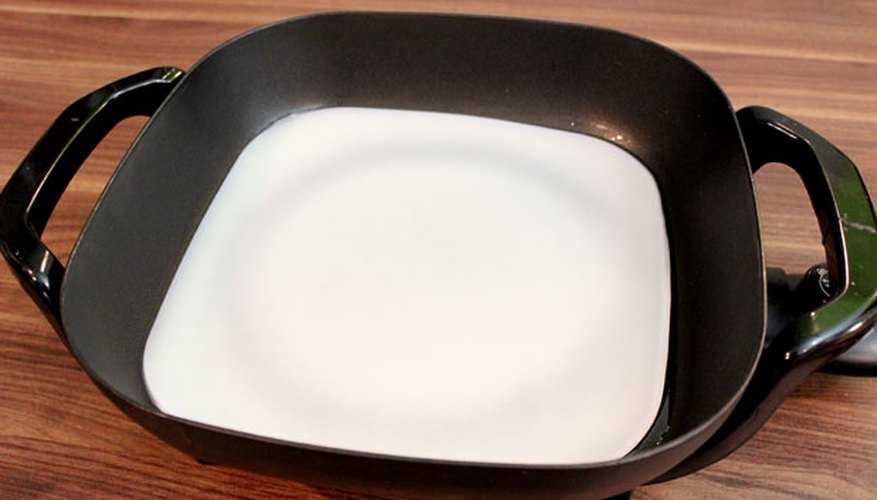 Jonathan Fong
Although the decoupage glue has sealed in the image, it is not yet waterproof. That's where the wax comes in. Heat some beeswax in an electric skillet so there is about a quarter inch of melted wax on the bottom of the skillet. You can find beeswax in the candle-making section of crafts stores. It is a good idea to have an inexpensive skillet just for wax-melting purposes.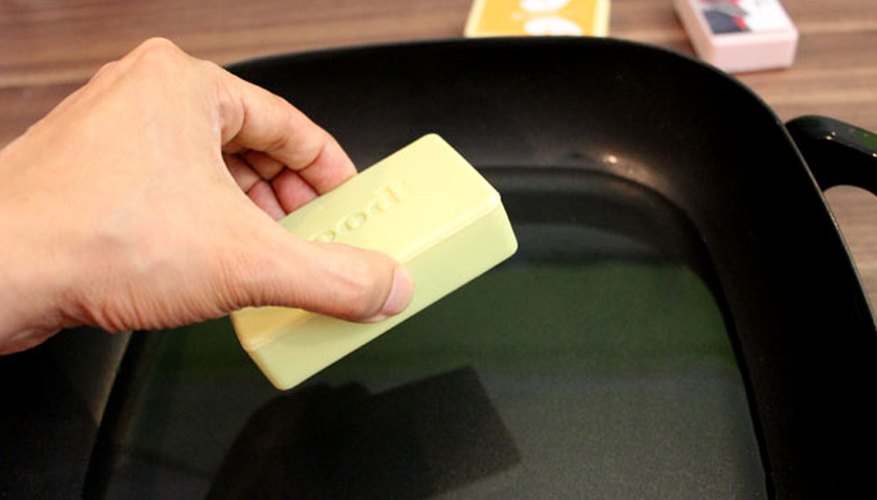 Jonathan Fong
Dip the image side of the soap in the melted wax for just one second. Because there is only a quarter inch of melted wax in the skillet, only the side with the image will be covered in wax, even if the entire soap bar sits in the skillet.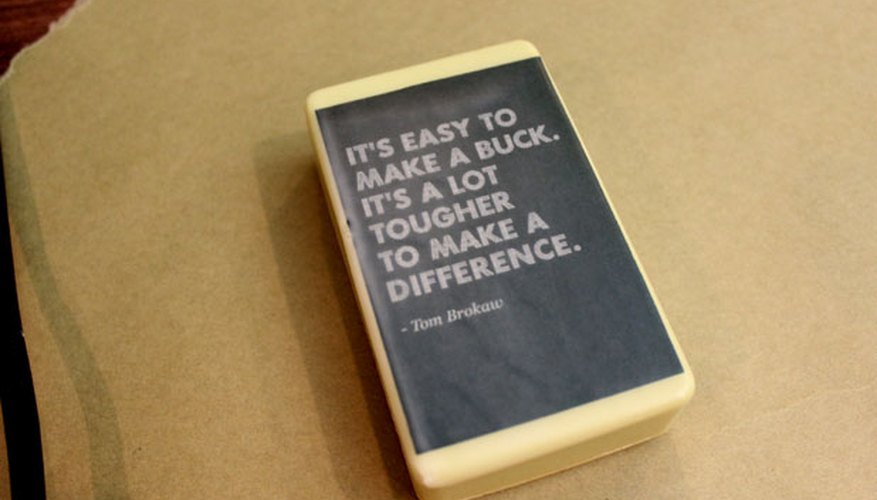 Jonathan Fong
When you remove the soap from the wax, lay it image side up and allow the wax to harden and cool. It will start off looking milky, but as it hardens the wax becomes more transparent so you can see the image underneath. Now that the image is completely sealed, you can use the soap bar in water, and the image side will be the last part of the soap that remains.
Be careful using the electric skillet. It does not need to be very hot to melt the wax. And do not let children near the skillet.

Watch your fingers when you dip the soap in the wax, making sure they don't touch the wax. If you prefer, hold the soap with tongs.