Overview
Before Audrey Hepburn would be remembered by fashionistas for wearing Givenchy, she wore Head. That would be Edith Head, the legendary costume designer who created the signature white lace gown the doe-eyed British actress wore at the end of "Roman Holiday" -- and again (albeit in a slightly altered state) when she accepted her Oscar for that film in 1954. The dress was one of the first examples of red carpet and award show ensembles that helped cement stars' styles on the public conscious.
Grace Kelly, 1955 Oscars
What goes well with an icy blue stare? Why an icy blue gown, of course. In 1955, a year before she would become the Princess of Monaco, Grace Kelly wore this Edith Head-designed pale satin gown to accept her Oscar for "The Country Girl." It has since become, as stylist Annabel Tollman told Elle.com, "probably the all-time gold standard of red carpet [fashion]."
Moviepix / Getty Images
Nicole Kidman, 1997 Oscars
Nicole Kidman -- then Mrs. Tom Cruise -- created a lot of attention for herself and Dior's John Galliano when she wore the designer's daring chartreuse gown at the 1997 Academy Awards. It was a coup for the actress, who became an overnight sartorial sensation, and the designer, who was in his first year at the famous fashion house.
WireImage/Getty
Elizabeth Hurley, "Four Weddings and a Funeral" Premiere, 1994
Elizabeth Hurley was another woman who used her chance in front of the camera to prove she was more than just arm candy. The model-actress became internationally known as more than just Hugh Grant's girlfriend when she showed up at her beau's movie premiere wearing a body-hugging black Versace gown held together with giant gold safety pins.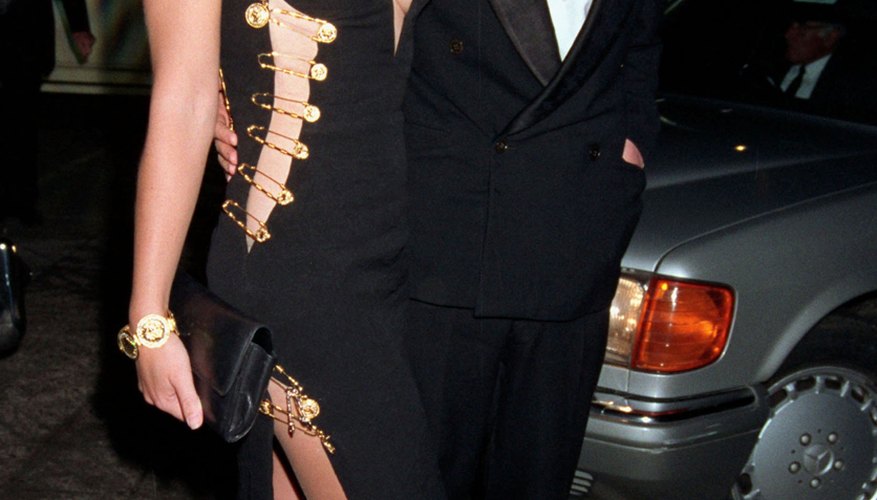 Getty Images
Kate Hudson, 2002 Golden Globes
With a hint of 1970s disco flair, Kate Hudson's plunging Atelier Versace gown and va-va-voom hair were an early example of how the boho-fashion loving actress could bring her signature style to the red carpet. It also reminded Hollywood casting agents that mom Goldie Hawn's good looks and sex appeal had carried on to the next generation.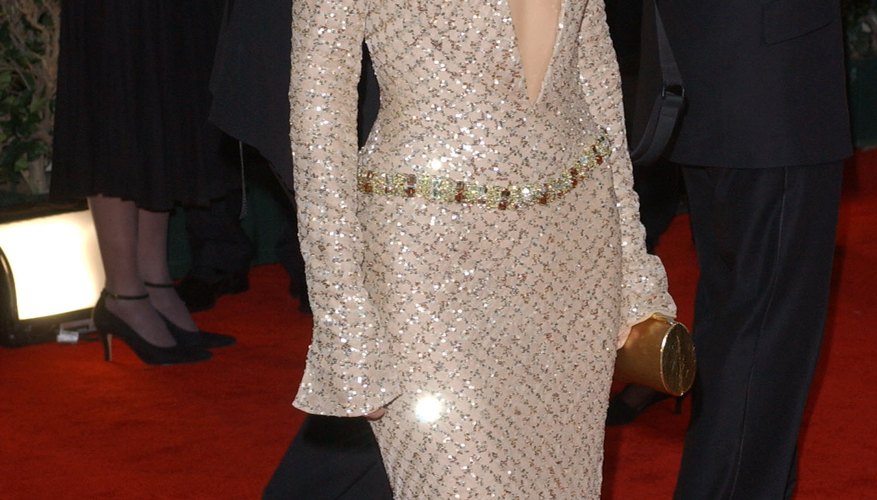 Vince Bucci/Getty Images Entertainment/Getty Images
Jennifer Lopez, 2000 Grammy Awards
This is why double-sided tape was invented: Jennifer Lopez's silk chiffon "jungle" dress from the 2000 Grammy Awards was in stark contrast to then-boyfriend Sean Combs' demure gray suit. It, along with Hurley's safety pin dress, helped build a reputation for Donatella Versace, who told "Vogue U.K." that the gown is "one of the most daring things I have created and takes a really remarkably confident and, of course, fabulous-looking woman to carry it off."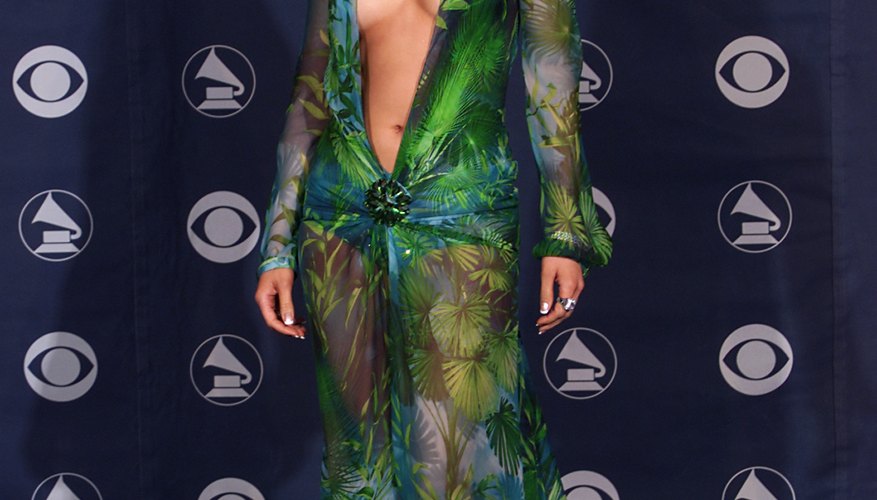 Scott Gries/Getty Images Entertainment/Getty Images
Jennifer Hudson, 2007 Oscars
Just because you're about to win an Academy Award doesn't mean you can't be comfortable and a tad funky. With the fashion styling aid of "Vogue's" Andre Leon Talley, Jennifer Hudson mixed a metallic, snake-print bolero jacket with a flowy brown taffeta Oscar de la Renta gown befit with pockets when she accepted her supporting actress Oscar for "Dreamgirls."
Frazer Harrison/Getty Images Entertainment/Getty Images
Halle Berry, 2002 Oscars
Two things usually come to mind when thinking about Halle Berry's 2002 Oscar win for "Monster's Ball": her emotional, personal speech when she made history as the first woman of African descent to win a best actress Oscar, and the bordeaux-colored, floral-print Elie Saab "net dress" she wore while doing so. The designer became an overnight success and his label is now a red carpet staple.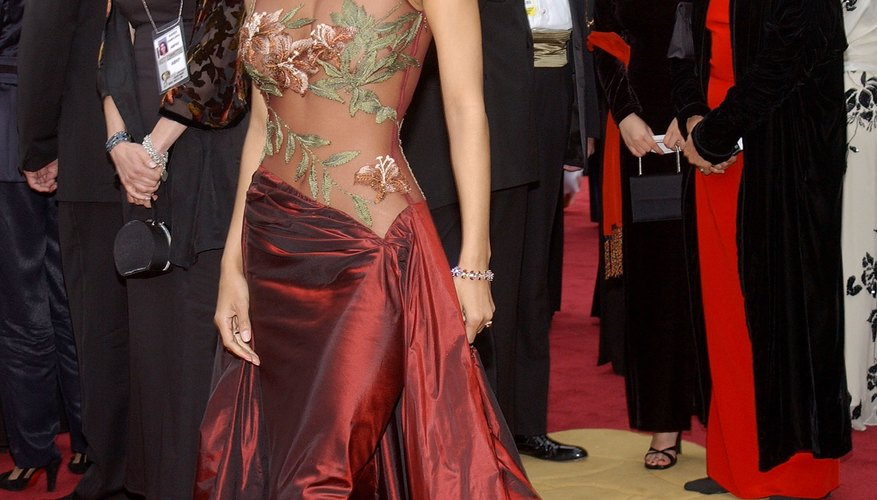 Vince Bucci/Getty Images Entertainment/Getty Images
Sharon Stone, 1998 Oscars
What goes best with a lilac Vera Wang skirt? Sharon Stone seemed to think her then-husband's crisp white Gap dress shirt would work when she prepared for the 1998 Oscars. Stone is an early example of stars who mix high and low fashion on the red carpet. Others include Helen Hunt, who wore a blue H&M gown to the 2013 Academy Awards when she was nominated for a best actress award for "The Sessions."
Getty Images
Gwyneth Paltrow, 2011 Emmy Awards
Gwyneth Paltrow has had countless iconic looks in her time (witness, say, the pastel pink Ralph Lauren gown she wore in 1999 to accept her best actress Oscar for "Shakespeare in Love"), but the black lace midriff-baring Emilio Pucci number she wore to the 2011 Emmy Awards proved that people shouldn't assume actresses lose their sex appeal as they age.
Frazer Harrison/Getty Images Entertainment/Getty Images
Writer Bio
Whitney Friedlander is an online and print journalist whose work has appeared in "Los Angeles Times," "LA Weekly," and "Los Angeles" magazine. She writes about fashion, home & garden, lifestyle, celebrities and more. She received her bachelor's in journalism from University of Missouri in 2002.
Related Articles