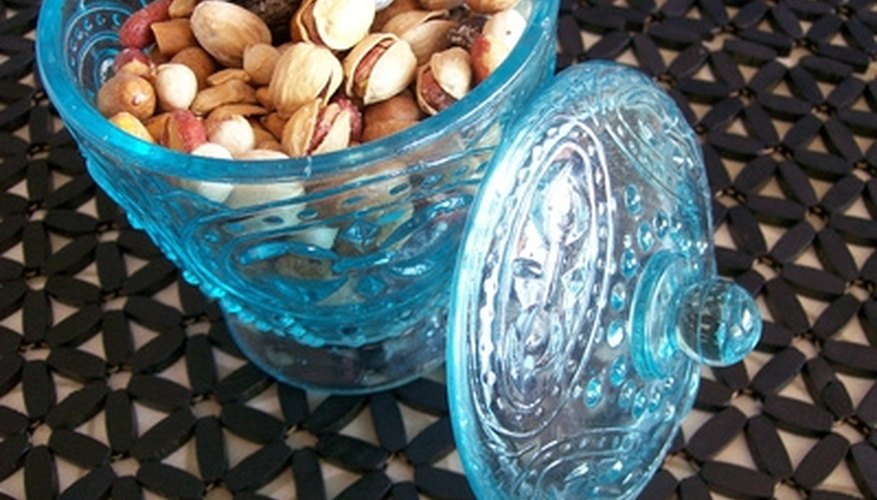 Depression glass was produced from the mid-1920s through the end of World War II. This glass was made in many different shapes, designs and colors. You can determine how much a piece of Depression glass is worth by looking at its color.
Price yellow and amber colored Depression Glass at the lowest value. Yellow and amber glass pieces were common, and so today they are not worth as much as other colors.
Price green colored Depression Glass about 25 percent more than yellow or amber. This color of depression glass is generally worth less than blue and pink glass no matter what design it has.
Price blue colored Depression Glass about 50 percent more than yellow or amber. Blue Depression Glass is limited, but not as popular as pink or green. So it is worth only slightly more than other colors.
Price pink colored Depression Glass for about twice as much as yellow or amber. A pink cup and saucer set can easily be worth about $25, depending on how available the pattern is.
Price odd colors, such as lavender and tangerine, 3 to 5 times more than yellow or amber. These other colors were not popular at the time of production, and so there are fewer of them available today. This increases demand, and thus makes them worth more.
Tip
For more information about Depression glass, such as the companies that made it and the timeline of patterns, pick up a copy of "Kovels' Depression Glass & Dinnerware Pricelist." This book has enough detail to guide you through accurately pricing any type of Depression glass.
Warning
Color isn't the only factor that determines the worth of Depression Glass. Various patterns and dishes may be worth more simply because they are less available than others. To determine a more exact price, you will need to take all of these factors into consideration.