Dave Pape, Manfred Heyde, Z.Vesoulis creative commons attribution, Dawn R. Levesque
All antique glass comes with historical context. Collecting and appraising antique glass is an art. Collectors must be proficient in all aspects of the glass piece from its history to its unique characteristics and patterns. Read as many books on glass patterns as possible so you can understand antique glass patterns and know the difference between them. Soon you'll be identifying antique glass patterns like a pro.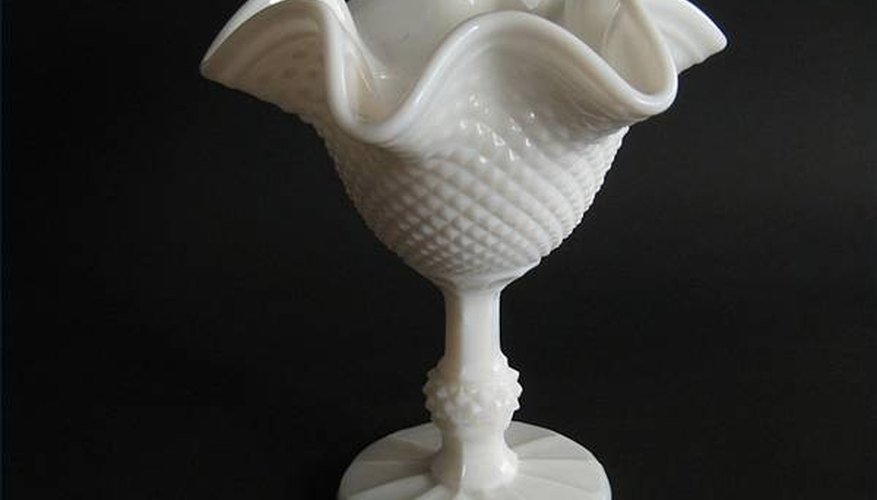 Research is essential to identifying the category of antique glass patterns. Common categories of glass are Depression, Milk, Carnival, Fenton, Vaseline, and Cranberry. Narrow selections down by pattern, type of glass, and color. This is critical because just within Depression glass, there are 92 types of patterns alone. The book "Elegant Glassware of the Depression Era: Identification and Value Guide Book or Antique Glass and Glass Collecting" can get you started.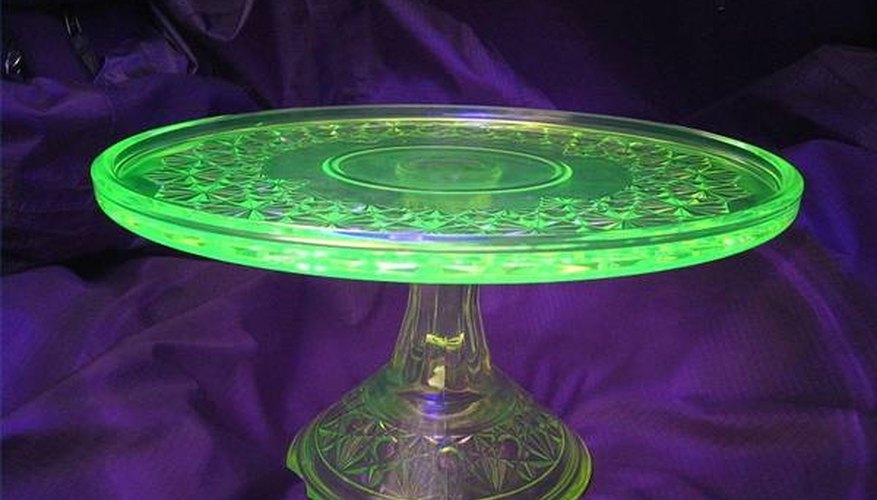 Explore online for antique glass patterns. Go to Patternglassschool.com. Its classroom format guides viewers on EAPG. Visit Depression-glass.net, which offers collectors a Depression glass pattern identification library, from Adam to Windsor. Print out any patterns of interest and add them to your collector notebook. Jot down any important pattern details into the notebook.
Surf Glass Collector Society or Association sites such as National Milk Glass Collectors Society or Fentonglasssociety.org. Read the articles under the menu and request a newsletter. Ask questions to discover more about classic items, such as cobalt glass pitchers with a sailboat motif. Collectors are ready to lend a hand with inquiries. Get involved with other collectors and attend collector-sponsored auctions, shows and conventions.
Visit local antique dealers. Bring along your collector notebook with pictures and pattern identification information. Bring along Florence's "Glassware Pattern Identification Guide" when browsing. Inspect designs closely so you can confirm certain details about what you are looking at; for example, how to check Vaseline glass to see if it glows when exposed to sunlight due to its uranium content.
Look at the condition of the glass. Chips, cracks and repairs will depreciate its value. You can also learn to spot reproduction pieces. For example, you may want to research whether Carnival glass came in pitchers or plates. If your hard research shows it came in glasses and plates, the pitcher you are looking at is an imitation.
Visit a museum or exhibit with an antique glass collection. Bring along your budding collector notebook. Devise a chart or organize the notebook into sections with dividers. Write topic headings such as terminology, types, colors and manufactures. Add sizes made and pieces produced in the patterns you are interested in pursuing, for example, identify a Gadroon pattern by observing its rope edge, manufacturer or its amber, or ruby hue (amongst other colors). Highlight key information to find with a quick glance.
Know characteristics inherent to the choice pattern inside and out. Ascertain if the pattern is opaque yet translucent along the edges. Find out what distinctive marks are intrinsic to that pattern, for example, learn about plates considered as Depression glass with a cherry blossom pattern with open etched flowers. If it has buds, you can recognize that it is a reproduction. Some manufacturers used marks. An underlined N in a circle identifies several patterns of Northwood Carnival glass. Visit the David Doty Carnival glass website. The site illustrates in photographs identification marks on many patterns of antique Carnival glassware.
Don't just look, feel the antique glass to determine if it is authentic. Purchase antique glass from reputable dealers. Know the size of each piece of interest. Measure it for specific dimensions. Visit Corning Museum of Glass in Corning, New York or Turner Museum of Glass in Sheffield, England.
Never purchase online from an unknown dealer. Be on the watch for reproductions.
Dave Pape, Manfred Heyde, Z.Vesoulis creative commons attribution, Dawn R. Levesque