Onzeg/iStock/Getty Images
When you have large windows to cover, pinch-pleat and ripple-fold draperies are favorite choices for home decorators. Both types cover the window with gathered fabric and are designed for easy opening on draw-cord hardware. The choice you make should depend on the room's decor style, your decorating preferences and your budget.
Pinch-Pleat Drapes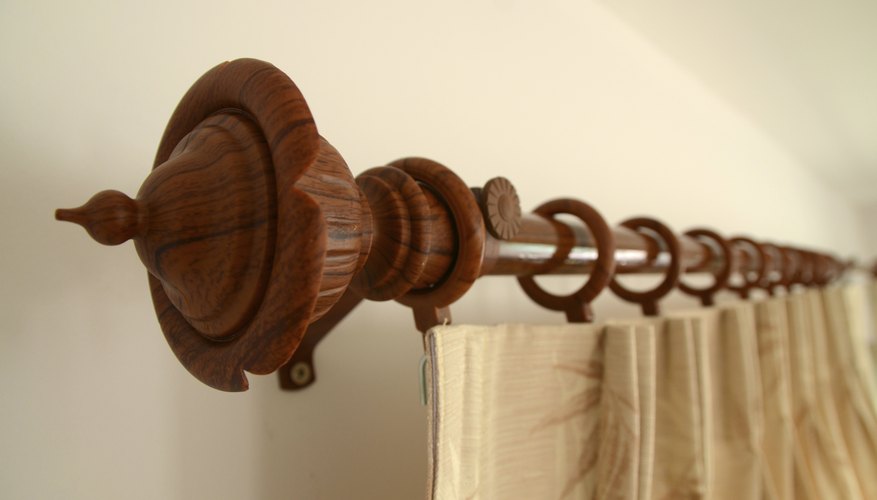 Thiradech/iStock/Getty Images
Pinch-pleat drapes complement most decor styles, especially traditional looks. The top of the drapery panel is gathered into regularly spaced, stitched pleats, usually with a triple fold. You insert a drapery hook into each pleat, then slip it into a hanger on the draw-cord hardware, which is mounted at the top of the window. This drapery style is available in premade panels or can be ordered in custom sizes at prices that accommodate most budgets. If you have some sewing experience, you can make pinch-pleat drapes at home. Sew commercially available pleater tape across the top of a drapery panel and pleat it with compatible hooks to facilitate making evenly spaced pleats.
Ripple-Fold Drapes
George Mayer/Hemera/Getty Images
Ripple-fold drapes have identical soft, vertical folds with clean lines that suit contemporary and minimalist decor. The folds are achieved by sewing a tape containing evenly spaced snaps along the top of the drapery panel, then fitting the snaps into matching hangers on special hardware mounted above the window. The materials and hardware tend to be more expensive than pinch-pleat hardware. Although "Ripplefold" is a trademarked name, several companies make similar drapery systems. If you make your own ripple-fold drapes, always use hardware, tape and other components from the same manufacturer to ensure compatibility.
Onzeg/iStock/Getty Images