Overview
It's Halloween 2013, so why are you still dressing like it's 2012?! Get with the times! This meme costume may reference a lovable blast from the past, but it puts your humor and creativity squarely in the here and now. Just like it's popular online equivalent, this easy-to-make costume is interactive, interchangeable and hilariously adaptable throughout Halloween night. So bust out your X-Acto knife, get cutting, and be prepared to turn some heads. Everyone's going to want a photo op with this memorable meme!
What You'll Need
To make your own meme, you'll need: 1 36"x40" black foam core board, 1 24"x18" high-gloss photo-paper print of Willy Wonka in meme mode (pull a hi-res image from online), 1 24"x 18" engineering print of the meme generator. This is a black page with white Arial 48 pt font. It has two sentences on it. "You dressed as a ____ for Halloween." Then later down the page, "You must be so __." You'll also need 1 18"x11" paper with two columns, (one you'll fill with 8-10 words referencing the costume you mean to insult, the other with random adjectives, Mad Lib style), both featuring 48 pt white letters with a black highlight around it, 9 letter words max. Also needed are scissors, a stapler, an X-Acto knife, ¼" black tape, a cardboard roll (toilet paper roll or paper towel roll), double-stick tape, 2 BBQ skewers, spray glue, a cutting mat (or surface you can cut into like a thick piece of cardboard), a 24" metal ruler and ¼ yd black felt.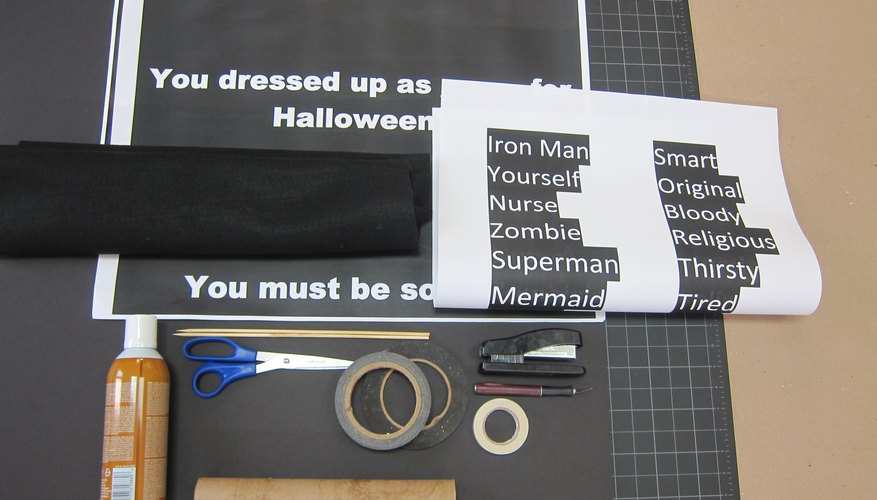 Supplies
Trim the Board
Cut 5 inches off the bottom of your foam core so that it now measures 36"x35".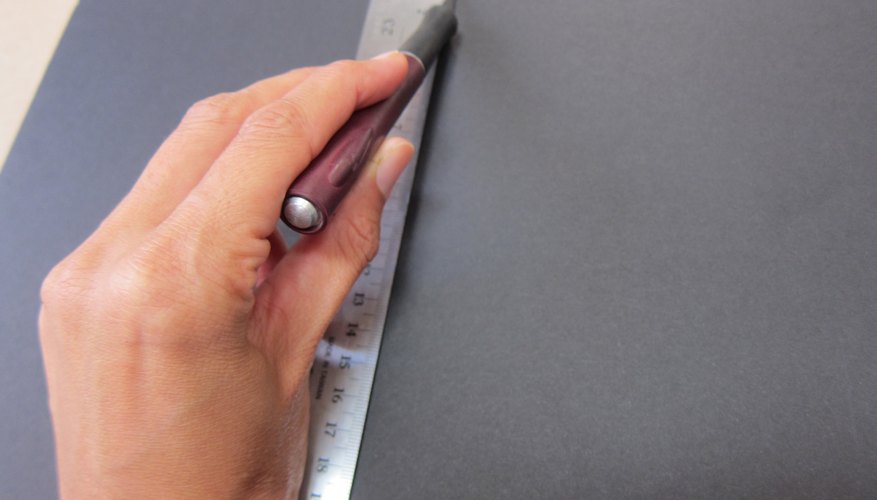 Step 1
Add Willy
Spray the back of the Willy Wonka print with spray glue, press to the center top of the foamboard, leaving a ½ inch border on the sides and top. Add ¼" tape around the mounted photo to finish off the edges.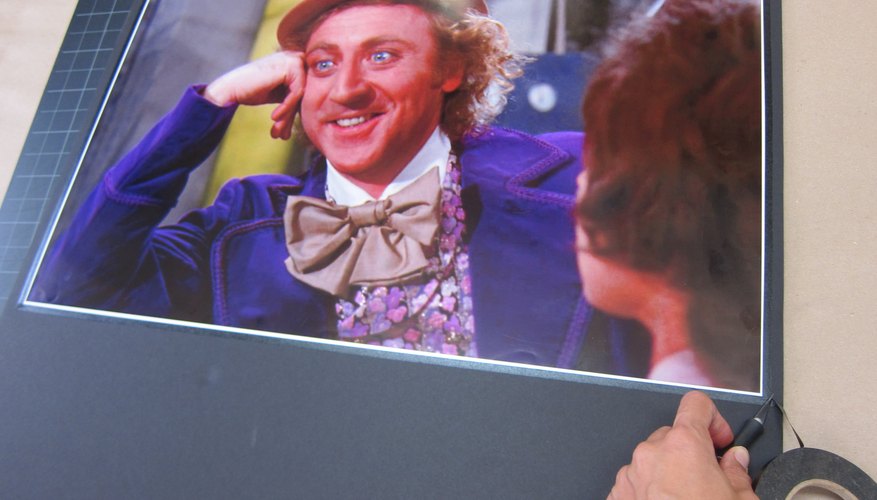 Step 2
Add Meme
Spray the back of your meme page with the spray glue and center it right underneath the Willy Wonka photo. Add 1/4" tape around it to finish the edges.
Step 3
Remove Willy's face
Using an X-Acto knife, cut out Willy Wonka's face, separating it completely from the board.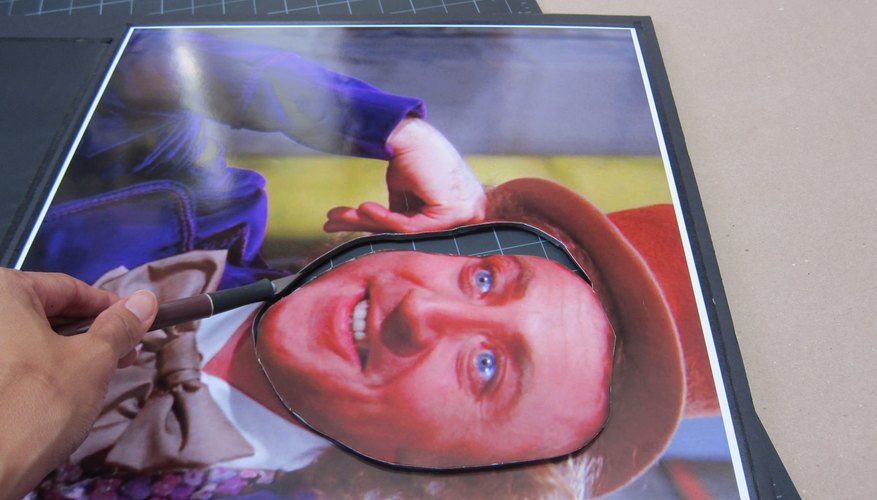 Step4
Cut Out the Word Roll
Using scissors, cut out your two columns of words. Each column should be 48 pt white font, highlighted black.I used Calibri and left the column single-spaced. The word selection is up to you. I chose words for costumes I thought were common or uninspired for the first column (ghost, vampire, etc.,), and generic adjectives that would read as ridiculous when placed in conjunction with any of them for the second column.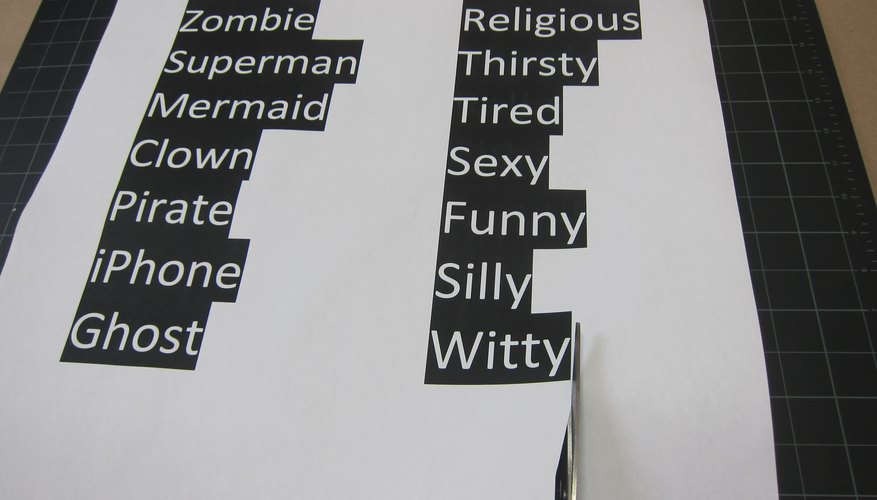 Step 5
Make Felt Strip
Cut out a strip of felt that is 1 inch longer than the length of your paper list and equal in width to the longest word on your roll. Mine was 4 3/4" wide x 14" long.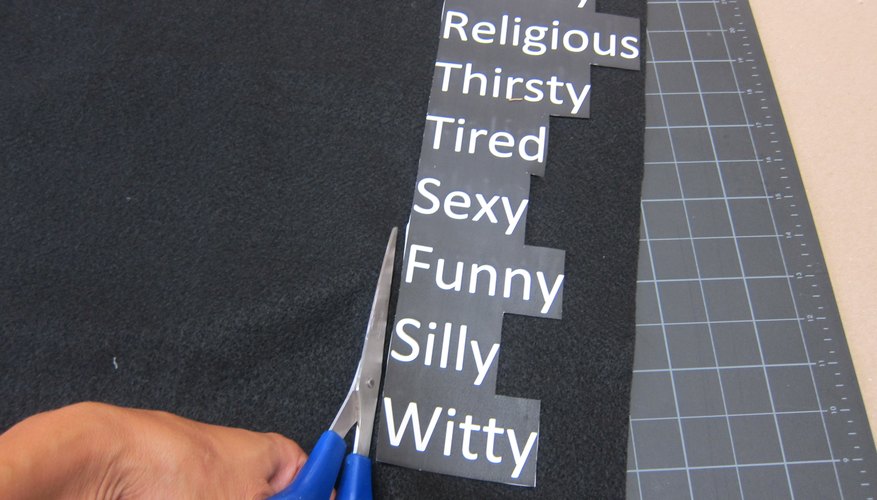 Step 6
Tape Words Onto Felt
Add strips of double-stick tape to the back of the word columns and stick backside down to the felt row.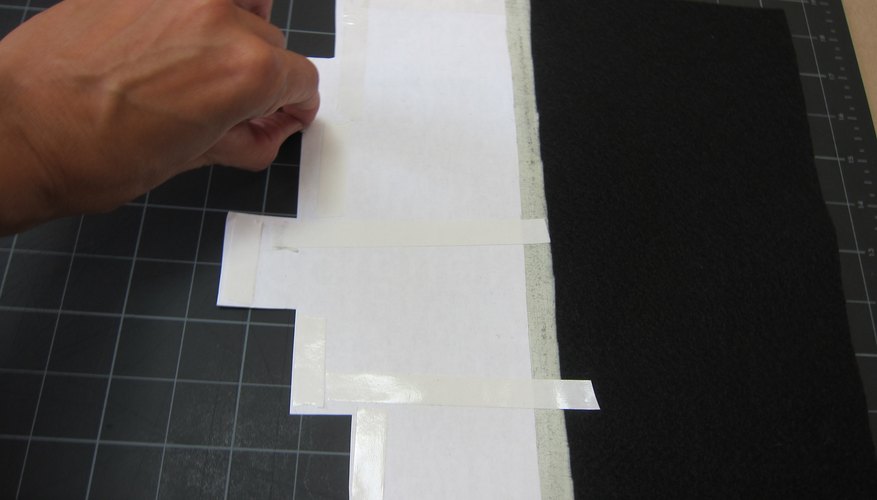 Step 7
Notch Out Space
With your X-Acto knife, notch out two 1 ½" by 4 ¾" inch (or as long as your longest word) viewing boxes where each of your rotating words will show through on your sentences.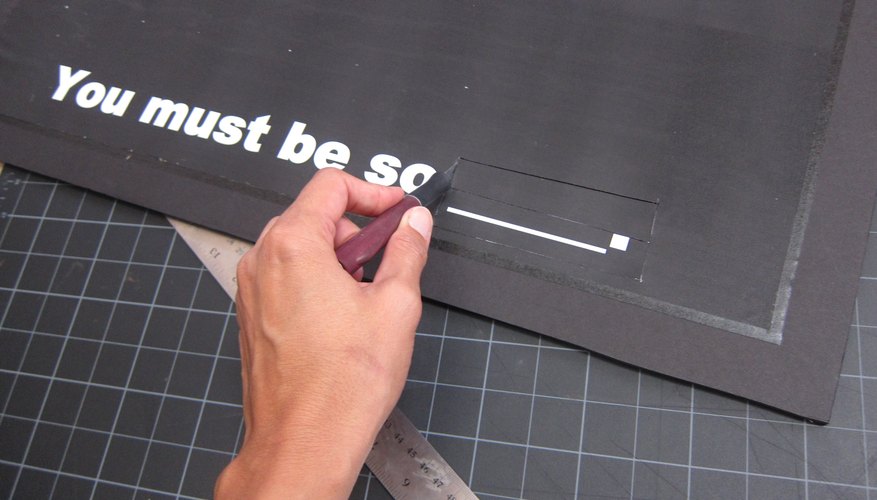 Step 8
Add the Paper Roll
Cut the cardboard roll to the length of the slot. Mine was 4 3/4".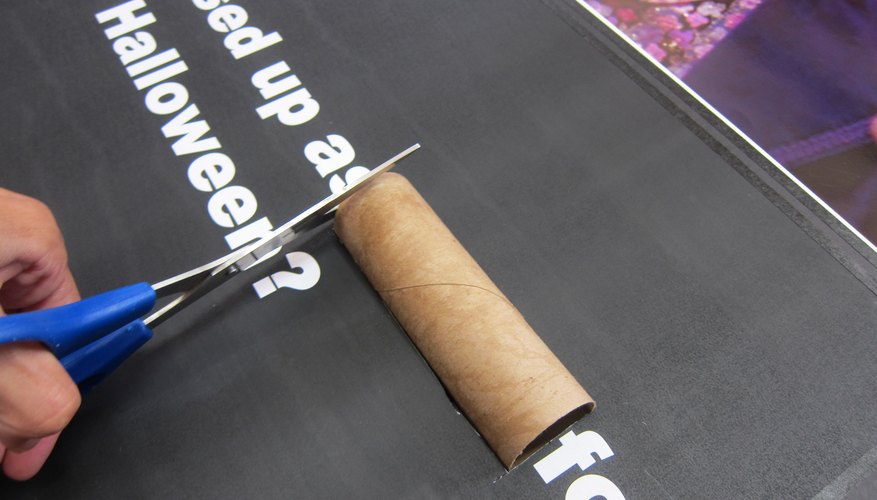 Step 9
Wrap Roll and Staple Word Column in Place
Wrap your felt around the paper roll and staple making a loop with the felt.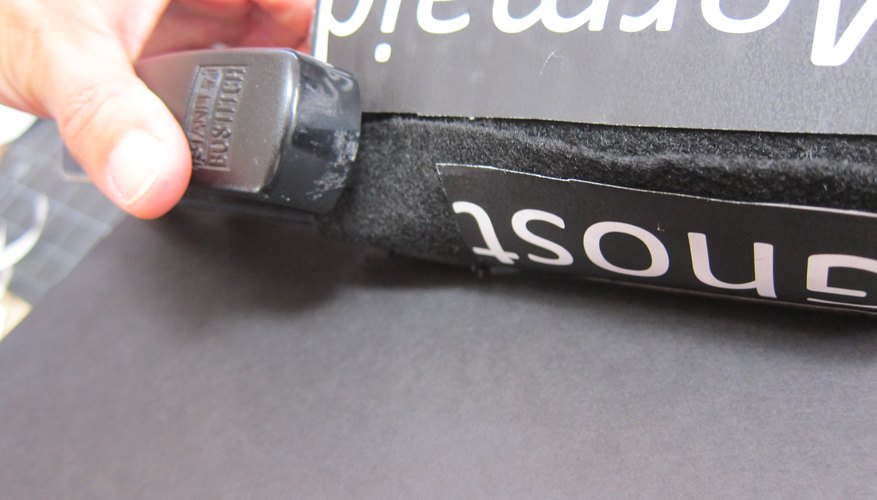 Step10
Poke Your Board
Cut your skewer a ½ inch longer than the slot, thread on the cardboard roll and felt word loop, then poke the skewer into the foam at the mid-point of the opening. Poke it the other way to make it like a toilet paper roll holding the word roll in place. Add ¼" black tape around the front opening to clean up the edges. Repeat this to the second sentence.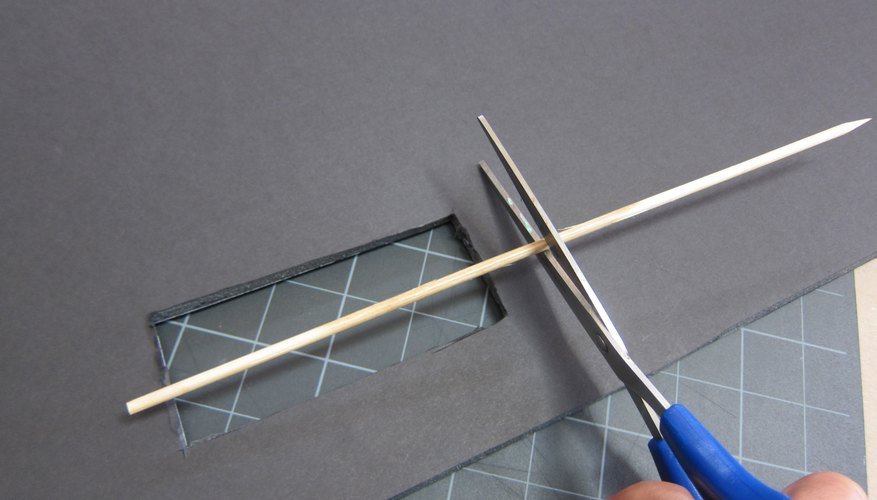 Step 11
Add Strap
Cut an 8" wide strip 28" long (maybe longer depending on how large your neck and shoulders are). Fold in half lengthwise and make a loop at each end around the leftover skewers. Staple loop around the skewer.
Step 12
Tape Strap to Board
Tape each skewered end to a side of the board an inch or so lower than the face cut out. You might need someone hold the board while you figure out strap placement.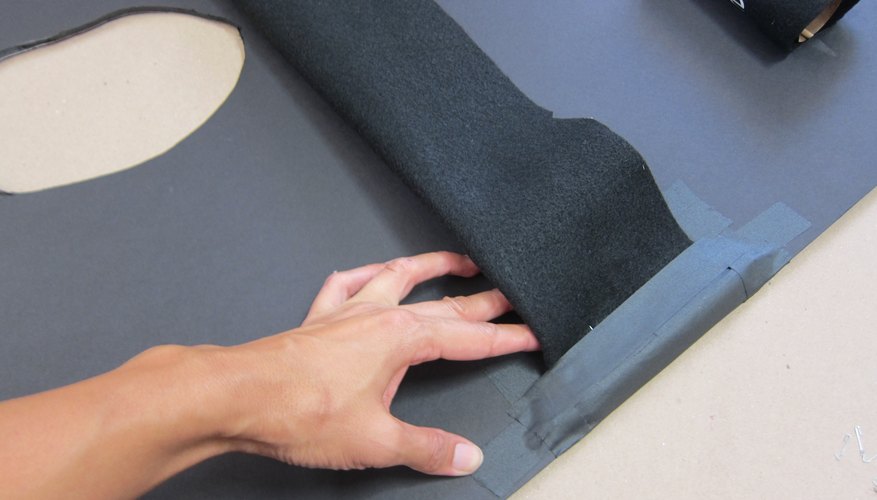 Step 13
Backside
Here is what the completed Condescending Wonka Meme costume looks like from the back.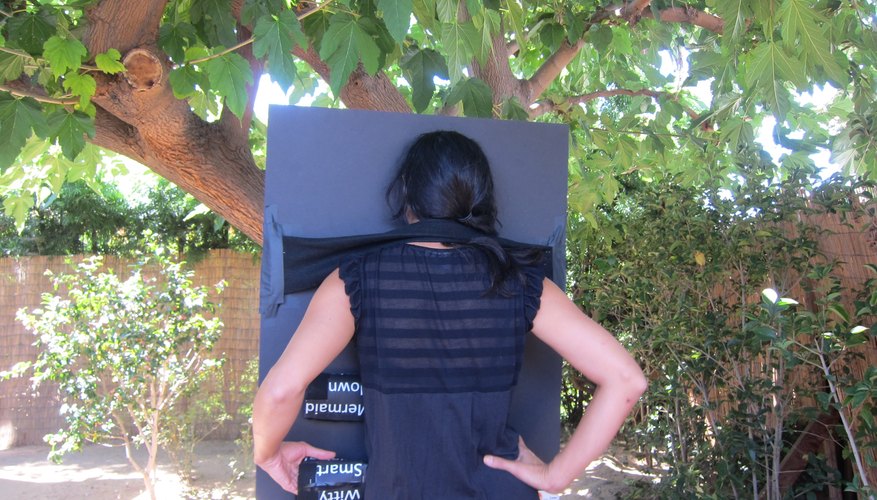 Back
Writer Bio
Sonya has written two books, "Beadalicious" and "Just for the Frill of It." She contributes to arts and crafts books and magazines, and has appeared on a variety of television shows.
Related Articles