Existing pillows
Fabric of choice
Tape measure
Scissors
Sewing machine
Fabric pins
Recovering couch pillows is an instant change to any décor. With a little material, you can change the covers on pillows and brighten a tired look. The envelope design allows you to take off the cover, wash it and put it back on without trying to put a cumbersome pillow in the washing machine or spending money for dry cleaning. You do need a sewing machine, but the steps are moderately easy.
Measure the existing pillow. To measure the existing pillow, use a cloth tape measure, so you can follow around the natural curve of the pillow. Measure the width and the length of the pillow. To these measurements, add 3/4 inch. A width and length of 12 inches by 14 inches will be 12 3/4 inches by 14 3/4 inches. The 3/4 inches is allowance for sewing a 5/8 inch seam.
Cut one piece of fabric using the measurements. This is the front piece of the pillow.
Cut the back piece, adding 6 inches to the length of the front piece. For example, if the front piece is 12 3/4 inches by 14 3/4 inches, the back piece will be 12 3/4 inches by 20 3/4 inches.
Cut the back piece in half, lengthwise. You will end up with two 12 3/4 inch by 10 3/8 inch rectangles. Fold under 1/4 inch of material where you cut the material and sew the edge. Do this with the other half. This creates a finished edge for each half.
Lay out the pieces of fabric. You are now ready to prepare to sew the pillow cover. Place the front piece, right side up. Place one of the two back halves on top of the front, right side down. Align the rough edges. Place the other back half, right side down, on top of the other end of the front piece aligning the rough edges. The two sewn edges will meet in the middle and lap over each other.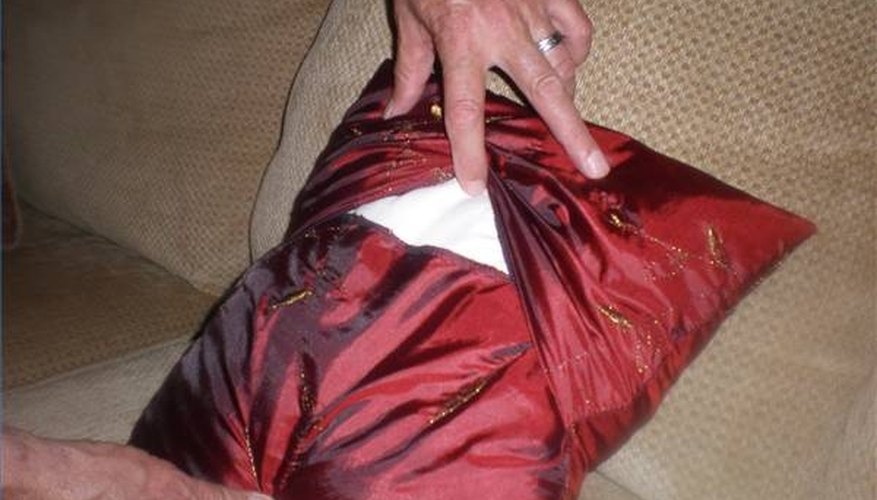 Pin the top and bottom together. Using fabric pins, pin around the whole pillow cover, so it doesn't slide when sewing the cover. Sew all around the outside edges with a 5/8 inch seam allowance. Turn the pillow cover right side out. You are now ready to place the pillow cover on the pillow.
Use a serger for faster sewing. Try tapestry material for a nice fabric cover.
Writer Bio
Pauline Gill is a retired teacher with more than 25 years of experience teaching English to high school students. She holds a bachelor's degree in language arts and a Master of Education degree. Gill is also an award-winning fiction author.
Related Articles