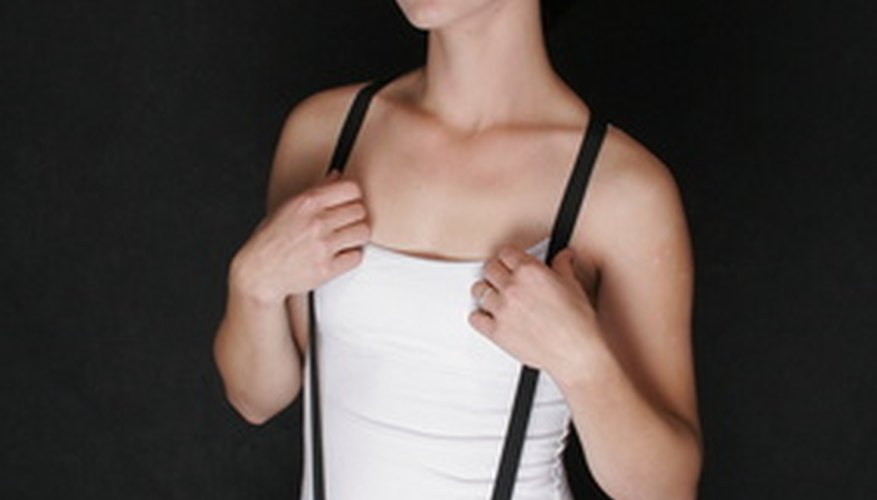 Suspenders are a functional wardrobe staple, but they can be rather dull. Add some pizazz to your slacks, skirts or shorts with a pair of suspenders made from a little ribbon and some elastic to add variety to your everyday work clothes. They are an inexpensive and simple accessory and can change any outfit in a work of fashionable art.
Use a tape measure to measure from your waist, diagonally over your shoulder, to your waist at the back. Add 4 inches to your measurement.
Cut four pieces of ribbon and two pieces of elastic to match your measurements.
Pin two pieces of ribbon together with their wrong sides facing each other.
Stitch along the length on both sides of the ribbons, just inside the selvage edges, about 1/8 inch from the edge. Leave the ends open. Repeat with the other ribbon pieces.
Insert the elastic into the ribbon casing.
Thread one end of the ribbon and elastic through a suspender clip about 2 inches.
Fold the ribbon and elastic under about half an inch, and pin it in place.
Sew the folded end in place by stitching a box across the width of the ribbon, up to the end of the folded piece, back across the width and down to your starting point. If you choose, you may stitch diagonally across the box to form a decorative X. Repeat with the remaining ribbon ends and clips.
Embellish your new suspenders with beads, buttons or bows, as desired.
Tip
If you prefer to hide the seams when joining the ribbons, pin them right-sides together before stitching, then turn the tube right-side out.
Vary the width of the ribbon for a new look. Use the next narrower size of elastic.