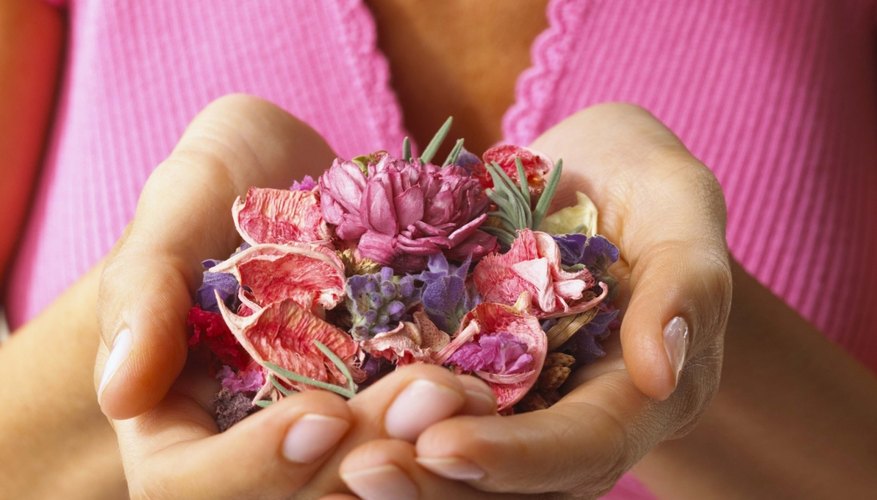 Potpourri can work as a centerpiece, an accent in your bathroom or on a mantle piece, or even as a bedroom decoration. Potpourri is a cheap and easy way to decorate your house, and it provides a chosen aroma to your home.
SALVAGE objects to put your potpourri into. Garage sales, discount stores, baskets, and even things that you have lying around in your closet make great objects for potpourri. Vases are the best medium for potpourri, old canning jars, and even old candle jars are great pieces for potpourri.
FIND accent pieces. Anything from candles, pine cones, flowers, glass stones, sea shells, or even uncooked pasta. These accent pieces should represent the color of your potpourri. Use mirrors under the objects to create unity, and add stones whenever possible. Potpourri is great for decorating.
CHOOSE a potpourri color choice that represents your color scheme. You will get the hang of how you want things to look once you start salvaging for pieces to use in your potpourri pieces. You can make your own potpourri, add oils to your store bought potpourri, and add elements to make potpourri match your style. The most important thing is to have fun!
Tip
You don't have to spend a lot of money on potpourri. You can find it at your local Dollar Store. The great thing about Potpourri is that there is no name brand that visitors can see. You can sprinkle a little bit of potpourri oil to keep it smelling fresh. Candles are the best accent pieces when it comes to color coordination.