Key rings, any size
Jute cord or plastic cord, optional
jewelry string, optional
Small plastic photo cover, optional
Beads, optional
One of the items people collect are key chains. There are numerous key chain styles to purchase, and many businesses give away promotional key chains. Making customized key chains is a quick project and can include personal items that have meaning or just an unusual look.
Make a macrame key chain with a key ring and 2-4 lengths of jute cord or twine. The length can be as long as you want the key chain to be. Different knots are used to create different effects. A quick pattern will be 2 lengths of cord folded in half and using a half hitch knot to attach to the ring. Then simply repeat square knots until the desired length is reached. Place an overhand knot in the end of the cords. Add beads if desired.
Attaching any size or pattern of beads to a length of jewelry string to a key ring and making it as long as you want it is another option for a key chain. Once you have the beads attached, make a knot in the end of the string to tie off.
Purchase small plastic photo frames and attach to the key ring. Use several for the number of photos you will want to use. Simply trim the photo to the correct size to fit, place in the frame and attach to the key ring.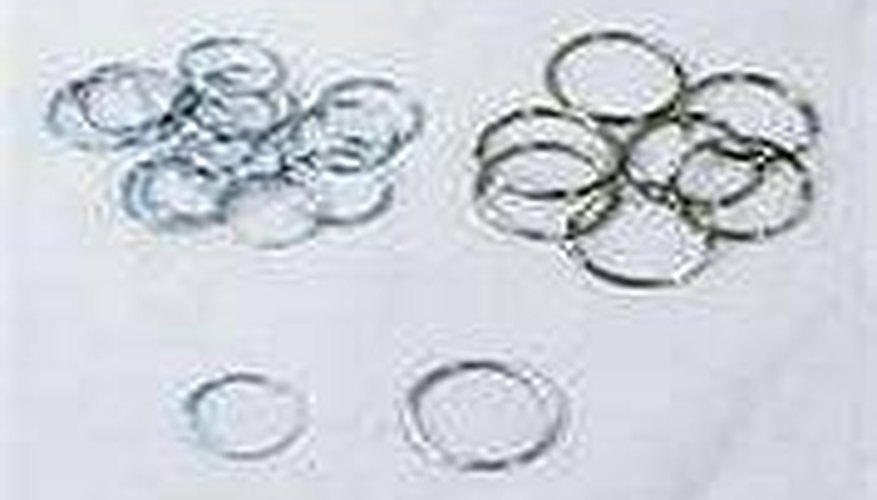 Drill a hole in anything you wish to use or attach small chain to the key ring and the object to create just about anything.
Resources
Writer Bio
Cathy Conrad has more than five years of newsprint experience as an assistant editor and is a professional writer. She has worked as a virtual assistant and email support specialist, and has more than 20 years of experience working in the medical field. Conrad is currently licensed as a Texas insurance representative and has many years in home improvement and gardening.
Related Articles