Flat Work Surfaces
Dressmaker Shears
Fabric Cutting Boards
Fabric-marking Pens
Lightweight Fleece Fabrics
Sewing Machine
Threads
Yardsticks
Rulers
How to Make a Polar Fleece Scarf. This polar fleece scarf is a super-easy project that can be made without sewing a stitch. You don't need to prewash your fabric or even finish the edges - just measure and cut.
Determine the desired dimensions of your scarf. Do you want a short scarf that can be tucked easily into the front of your coat or jacket, or do you want a very long scarf?
Use a lightweight microfleece for your scarf.
Purchase enough fleece to make the scarf length you desire plus 6 inches for fringe (optional). Remember that the stretch in the fabric should run the length of your scarf.
Lay the fabric out on a flat work surface, wrong side up.
Use a fabric cutting board, a fabric marking pen and a yardstick or ruler to measure out a rectangle that has the desired scarf dimensions. You can use the selvedge of the fleece (see glossary) for one long side of your rectangle.
Use dressmaker shears to cut out the rectangle along the marked lines. If you do not want a fringed scarf, you are done!
Lay your scarf out horizontally in front of you, wrong side up.
Use a fabric cutting board, a ruler or yardstick, and a fabric marking pen to draw a vertical line at each end of your scarf. Each line should be 3 inches from each scarf edge.
Draw a series of horizontal lines, 1/4 inch apart, between the vertical lines you made in Step 8 and each scarf edge.
Use dressmaker shears or a rotary cutter to cut along each of the horizontal lines made in Step 9. Now you have fringe!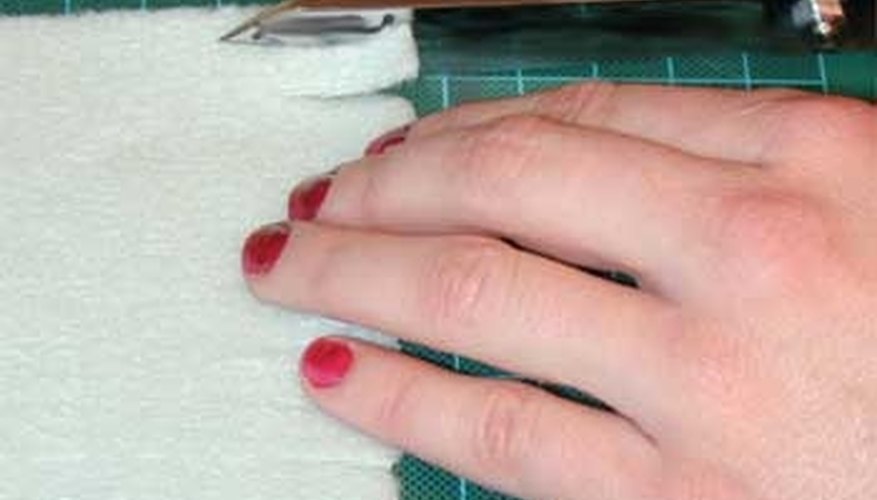 Use any excess fabric to make another scarf or a matching hat. Make the most economical use of your fabric by purchasing half the yardage from Step 3. Fold fabric in half lengthwise, and cut out a rectangle that is half of your scarf's dimensions. Sew or serge the pieces together at the two short edges (make sure the fabric's nap is going the same way) to make one long piece.