2 coordinating sheets of 8 1/2 x 11 inches printed cardstock
Spray adhesive
Craft beads
Straight pin
Large pencil
Ruler
Pen or pencil
Push pin
Pinwheels are deceptively easy to make from a simple square of paper. While the instructions show how to use printed cardstock from the craft store, you could just as easily make one from plain paper and decorate it with crayons and markers. This design uses readily available materials, but because of the straight pin and glass beads, small children should be supervised during this project.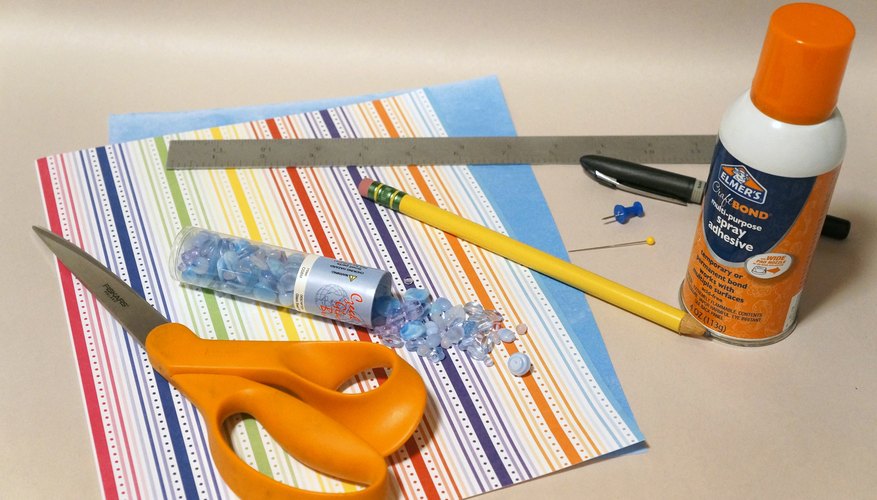 Jeff Farris
Craft stores carry hundreds of sheets of single-sided printed cardstock, but only a few double-sided. Laminating two single-sided sheets gives you creative freedom and saves some money, too. Please see the last slide for an itemized list of tools and materials.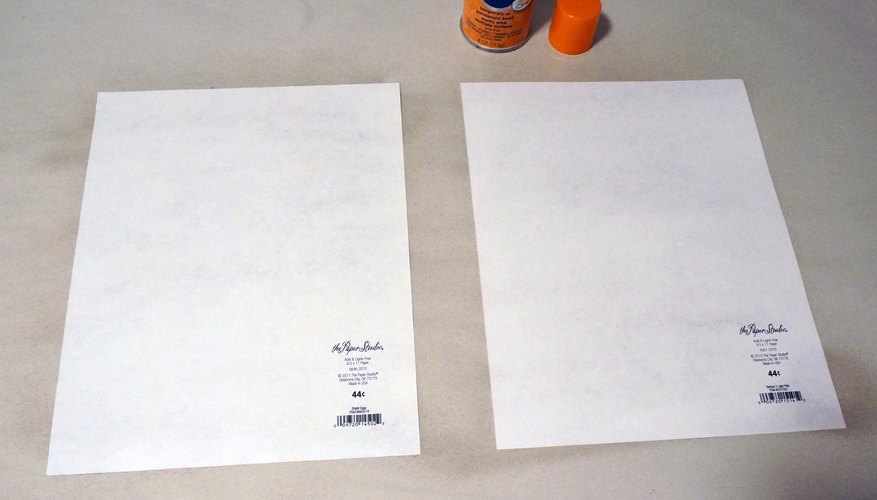 Jeff Farris
Spray a light coat of spray adhesive on the unprinted side of the cardstock. Carefully align the two pieces and press them together. Protect your work surface from overspray with newsprint or a drop cloth.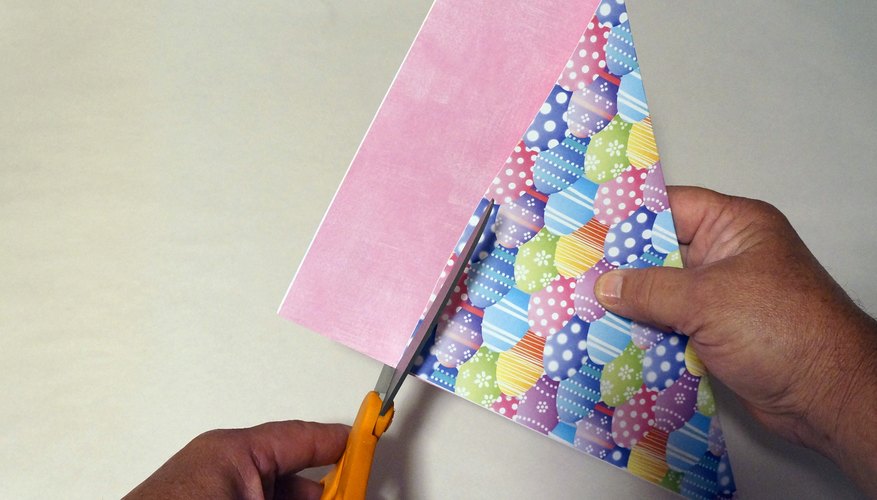 Jeff Farris
Fold one end of the laminated sheet over to the long edge. When the end is aligned with the edge, the lapped triangles form a perfect square. Cut the rectangular waste piece off (it's perfectly sized to make a nice bookmark).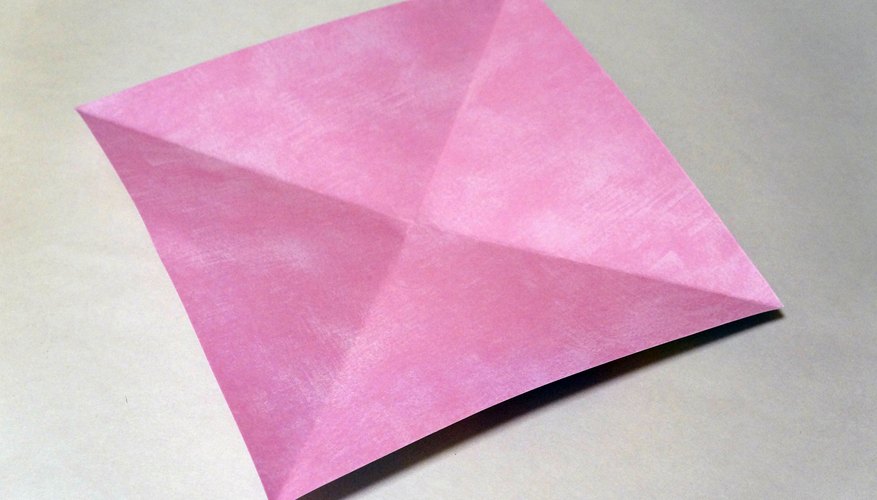 Jeff Farris
Open up the folded square. There should be a crease in the middle. Fold the paper in half the other way so that when you open the square it has two creases making an "X." The square should essentially be divided into 4 triangles.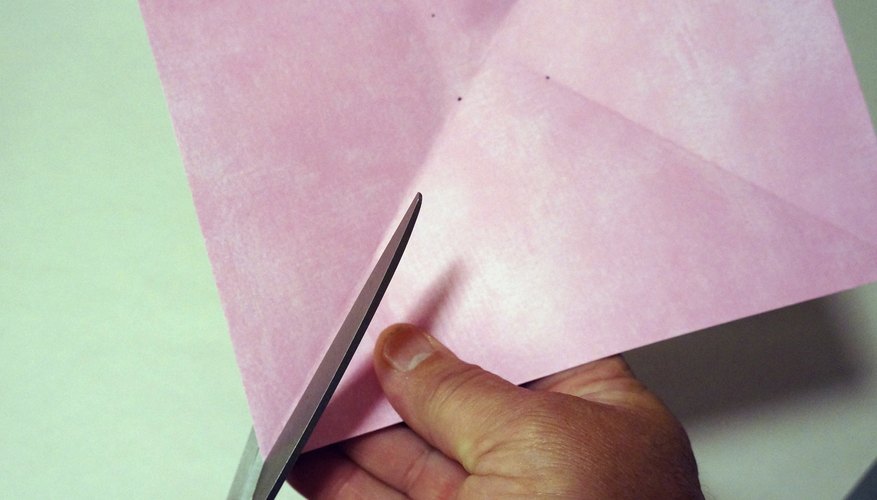 Jeff Farris
Make a mark 7/8 of an inch from the center point on each of the creases. Cut along each crease until you reach the mark. The paper will now have four "wings."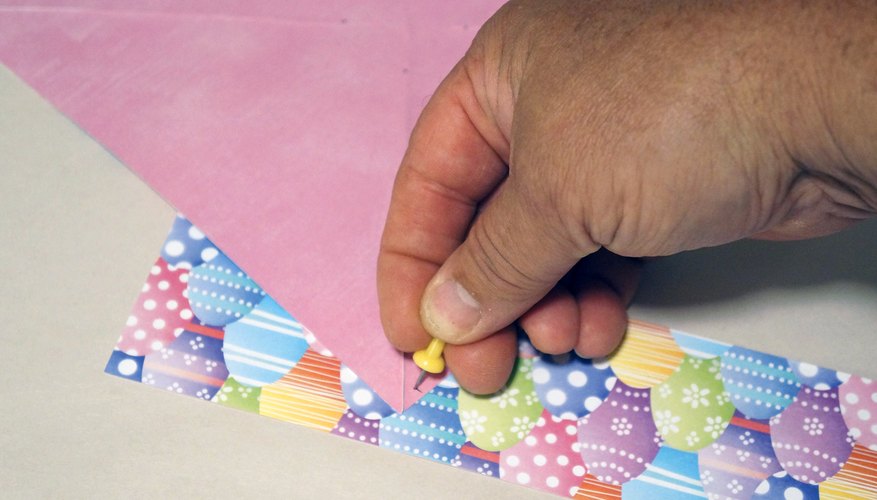 Jeff Farris
Measure and mark a point 3/8 inch from the end and 1/8 inch from the edge of the left side of each wing. Use a push pin to poke a hole at each mark. Also use the push pin to poke a hole in the exact center of the piece. Back up the stock with cut-off scraps.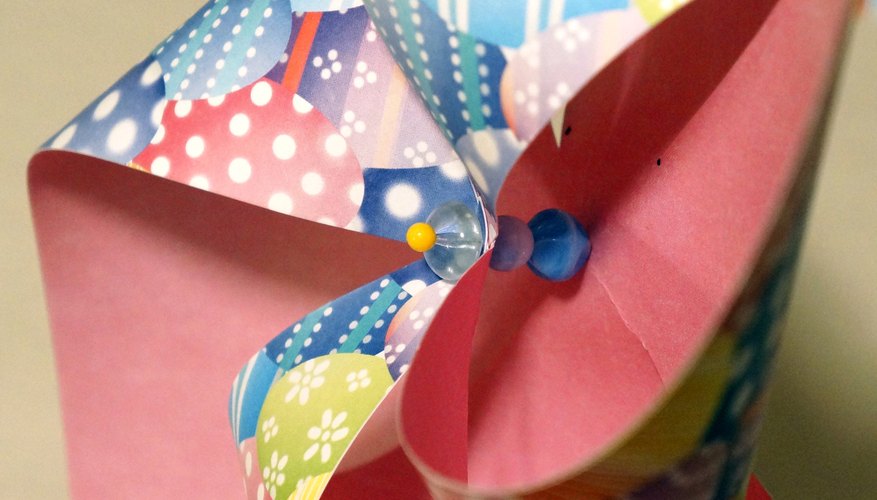 Jeff Farris
Place a bead on the straight pin then thread the pin through the holes in each wing. Place two or three beads (depending on size) on the pin before threading it through the center hole. Place one more bead on the pin, then press the pin into the eraser of a pencil. If the pin goes completely through the eraser, add another bead in the middle of the pinwheel.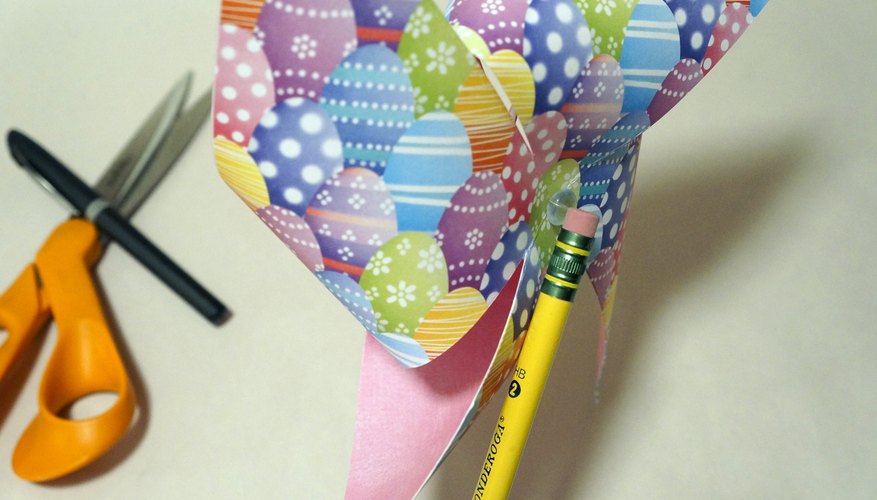 Jeff Farris
With the thin straight pin as its axis and spacing in the wings provided by the beads, your pinwheel will spin easily in even very mild breezes.
Supervise children when working with sharp scissors. Supervise children when playing with the pinwheel and do not allow them to take it apart.