Styrofoam wreath, 14 inches in diameter
Flannel fabric in three designs and colors
Wool scarf
Mittens
Fusible web tape
Pins
Wire
Scissors
Iron
When the cooler seasons arrive each year with a gust of crisp, cinnamon-scented air, we know it's time to light up the fireplace and take the coats out of storage. And what better way to celebrate the arrival of sweater weather than with this cozy wreath wrapped in soft flannel and a wool scarf. Talk about a warm welcome at the door.
Jonathan Fong
Assemble the materials you will need for this wreath. Start with a styrofoam wreath that is about 14 inches in diameter. You will also need some flannel fabric in three designs and colors, a scarf, pins, scissors and some fusible web tape.
Jonathan Fong
Cut pieces of flannel so that they will fit around the wreath. The pieces here are cut to about 6 inches by 10 inches. If you are cutting plaid flannel, use the lines in the plaid to help you cut straight lines. You will need about 15 flannel sections for this wreath project.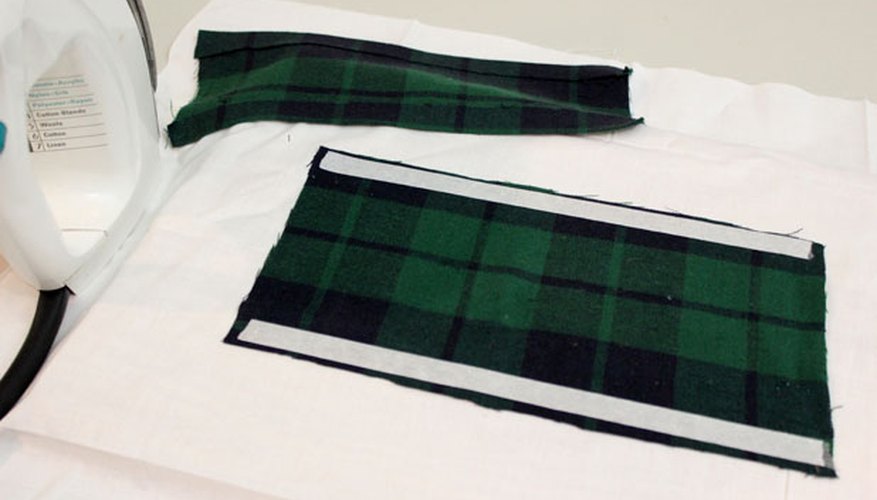 Jonathan Fong
To avoid loose thread strands, hem the edges of the flannel sections lengthwise with fusible web tape. After applying the tape, fold the hem over, and iron the seam.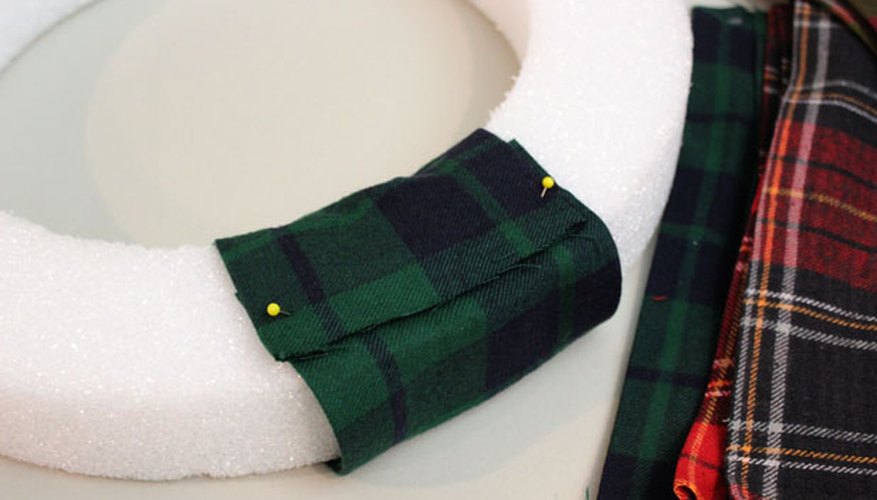 Jonathan Fong
Wrap the flannel pieces around the foam wreath, pinning the fabric in the back.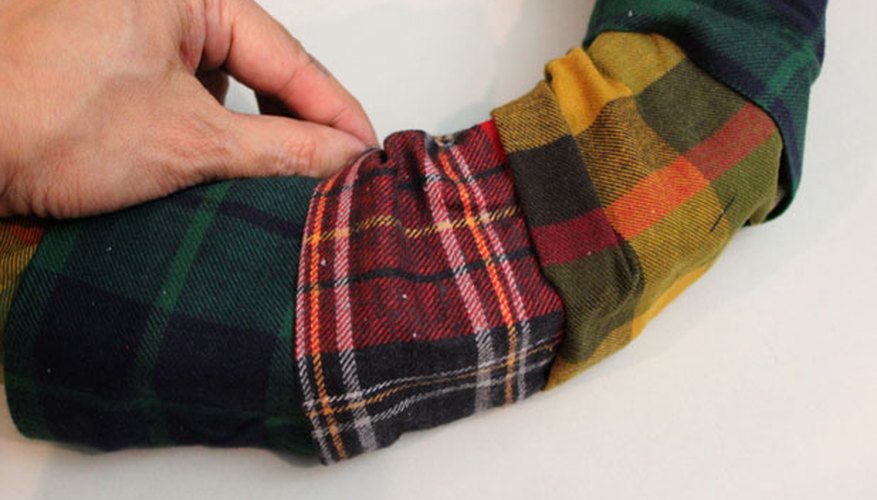 Jonathan Fong
Continue wrapping flannel pieces around the foam wreath. Alternate the three different flannel patterns, and overlap the pieces so that the styrofoam does not show through. As you go around the wreath with the flannel, bunch up the fabric so there is dimension to it, rather than having it lay flat. Make sure all the pins are on the back side.
Jonathan Fong
To add an extra layer of coziness to the flannel, use a scarf as you would a ribbon, weaving it in and out of the entire wreath. Pin the scarf to the wreath on the back side. Leave the end of the scarf dangling at the bottom.
Jonathan Fong
Every wreath needs a bow, and this wreath features a bow that will leave you smitten – with mittens. Pin a pair of wool mittens to the wreath so that the fingers splay out like a bow. Every element on this wreath is indeed ready for fall.
Jonathan Fong
To create a loop to hang the wreath, push aside some of the fabric in the back at the top of the wreath. You may need to remove some pins. Then insert some wire into the styrofoam, making the wire go out the other end and then twisting the ends together to make a loop. Reposition the fabric around the loop and secure it with pins. Now you're ready to dress up your front door with a little warmth.
Use a lint remover on the wreath when you're finished, as the styrofoam will leave little foam particles on your flannel.