blanket
hat
booties
sweater
yarn and needles appropriate for projects
Preparing for a new baby is very exciting. So many things to consider for this new little person, especially if this bundle is a first child. The baby layette is boundless, but many items can be made by your own hand, or by knitters in your family or among your friends.
If you don't knit but know others who are planning to knit for you, hopefully, they will coordinate their efforts as to color and design, whether for girl or boy, or unisex. This article will provide free patterns to show you how to knit for a new baby with a unisex design in mind.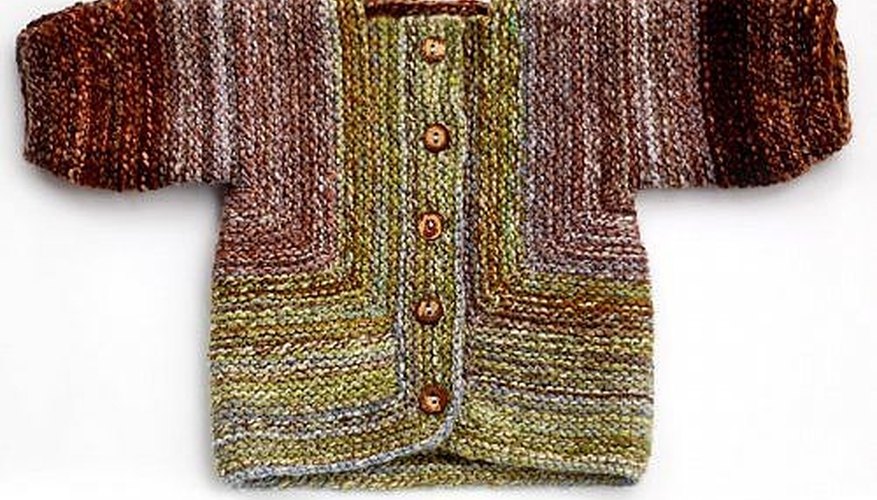 If you don't know the sex of the expected baby, neutral colors, greens, yellows, multi-colors are a safe choice. Ask the new mom what the color theme for the nursery is and mix in the colors and design scheme for your project. Many modern moms are choosing earth tones, dark, bright, non-traditional colors for baby sweaters and blankets these days, some still prefer traditional pastels. So your color choice can be as varied as the colors of the rainbow.
A carriage size blanket is a great choice to knit. Many can be knit with bulky yarn and take no time to finish. Here's an easy pattern with finished measurement, 26" by 30". This blanket can also be used as a crib blanket.
Yarn: Bulky weight, 2-3 skeins, depending on yardage Size 10.5 or 11 needle Gauge doesn't really matter here.
Cast on 81 st, knit 6 rows in garter stitch. Next row: right side, K3 K15, P15 twice, ending K18. Next row: Wrong side, K3, P15, K15 twice, ending P15, K3. Continue with these two rows to form square blocks for 18 rows TOTAL block.

Second block section, you will reverse the block pattern, keeping 3st garter stitch edge. First row: K3, P15, K15 twice, ending P15, K3. Row 2: K3 K15, P15 twice, ending K18. After knitting the 18 rows of this block, continue blanket with first block instructions, then second block again, until you have 7 sections of blocked pattern.

Right side: Work 6 rows of garter stitch edging to complete. Bind off with stretchy cast off: purl two together, then place the stitch back on the lefthand needle and continue purling together, placing stitch back on the lefthand needle.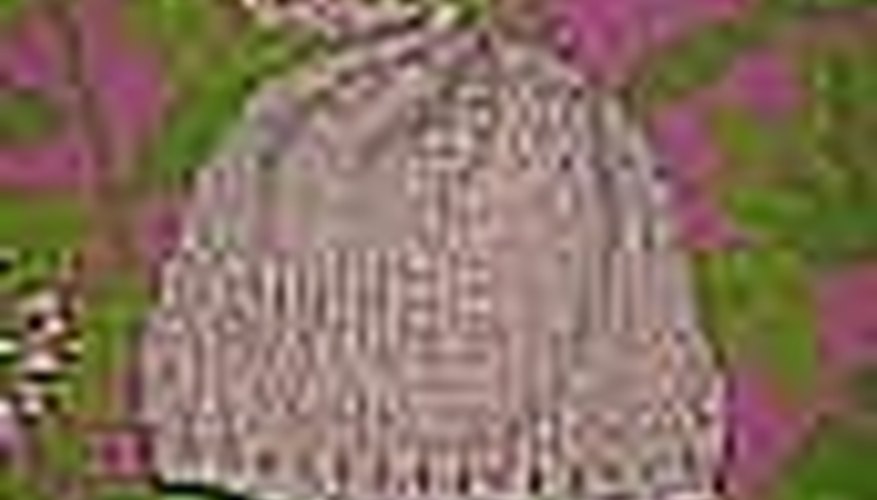 Use a 16" size 9US or 5.5mm circular needle, a sport weight yarn and a worsted weight, 2 strands, and cast on 64 st, using the long tail method for a little stretch. Place marker at the beginning of the row and join, being careful not to twist the stitches. Then knit around for about 1.5 in. or 4.5cm or so.

Next row: decrease 8 st evenly around. Knit 56 st around until the measurement is 4.5 inches or 12cm long, including roll. Next row: K6, K2tog around to end, dividing out on dp needles.

Decrease Row 2 on dp's: K5, K2tog around to end; Row 3: Knit around; Row 4: Knit 4, K2tog to end; Row 5: K3, K2tog to end; Row 6: Knit. Row 7: Knit 2, K2tog to end; Row 8: K1, k2tog to end; Row 9: K2tog around, 8 st. remain. K2tog again to 4 st and then 1 more to 3 st. Make an I-cord about 3-4 inches, and secure end through cord, tie cord in knot.

Finish with a crocheted edge. With the top of the hat facing your body, crochet with 2 fingering weight yarns at once. I used pink and white with a size G hook. SC, Ch2, skip knit st, SC, Ch2, skip knit st, around. Next round: as before but Ch3. Finish off after round.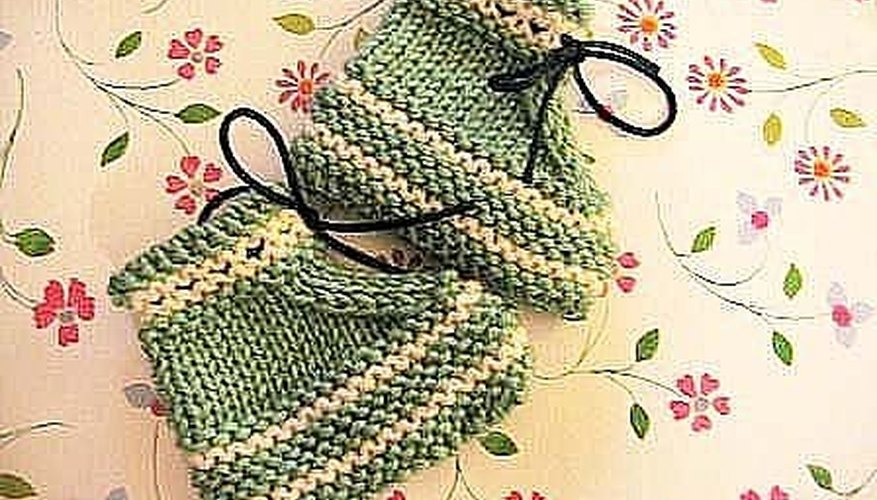 Booties: Require baby weight yarn, size US5 needles
Cast on 29 stitches. Rows 1 through 10: Knit Row 11: K12, K2tog, K1, K2tog, K12. Row 12: P11, P2tog, P1, P2tog, P11. Row 13: K10, K2tog, K1, K2tog, K10 Row 14: P9, P2tog, Purl 1, P2tog, P9. Row 15: K8, K2tog, K1, K2tog, K8. Row 16: P7, P2tog, P1, P2tog, P7. Rows 17 through 22: Knit. Bind off, leaving 10" of yarn to sew up back seam. Make 2.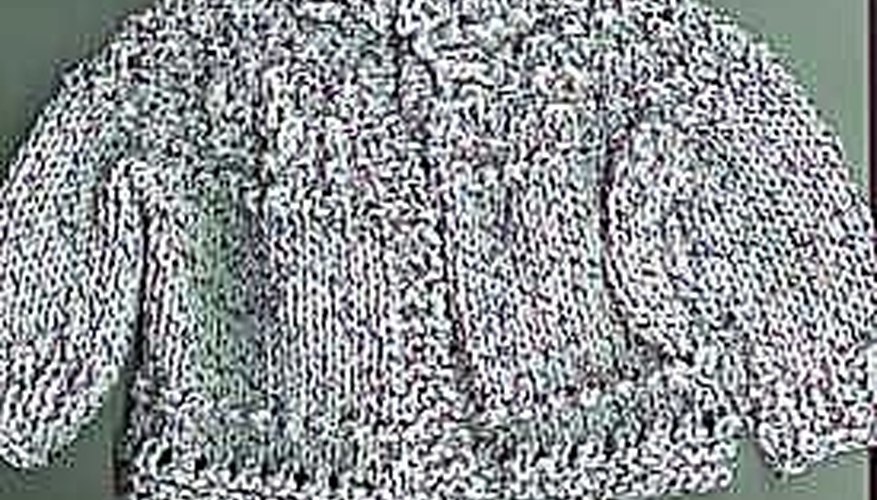 The 5 hour baby sweater is a great solution for a baby gift or layette project. It is also known as the "weekend sweater". It can be worked in several different sizes and is easily accomplished in two days or less, depending on the size. Please find the instructions for this great layette sweater or baby gift in the resources below. There are more free patterns for baby layettes in resource: Get Ready for Baby!
Booties, hat, sweater, and blankets are great additions to any new baby layette. Color is the discriminating factor. Many colors are unisex and can be used for future babies. Acrylic yarns are great for new babies and easy on moms. Although, there are many new very soft wools and wool blends available today. Many are machine washable and require air drying. Happy knitting for the new baby!
Copyright Sharon Watterson, knittingscribe. Any transcription, printing, or reproduction of this article or patterns, is to be for personal use only, not to be used for resale. All photos which are noted as property of writer cannot be reused without permission.