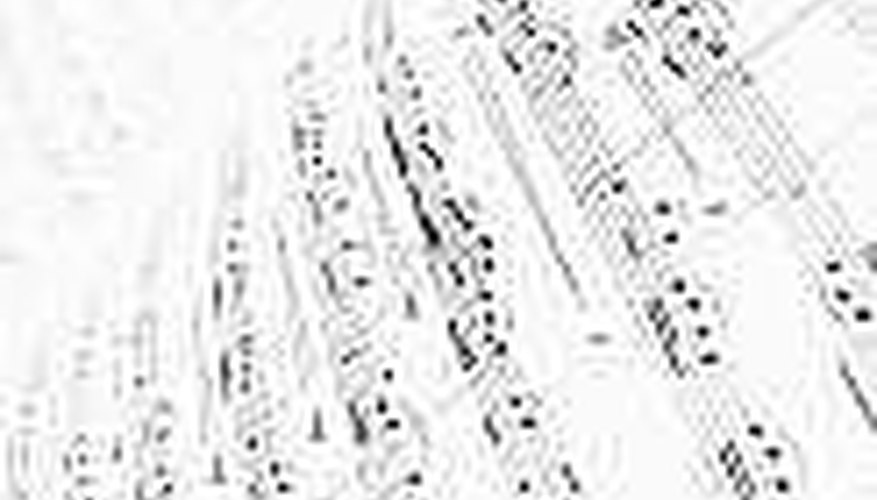 While the sheet music business has fallen on hard times, closing storefronts or simply reverting to an online presence, there are still a handful of good sheet music stores that can be found in New York City. But even here, as The New York Times pointed out in an April 2007 article, only a half-dozen are listed in the phone book, compared to some 100 stores listed in the 1940s. Read on to learn more.
Browse and Savor
Nearly all of the sheet music stores mentioned here are landmark institutions, most serving a primarily classical-music customer base. But some of the newer businesses--Sam Ash and Colony Records, for example--do offer an adequate selection of easy-play music and Broadway show scores. They also have pop, rock and folk-music selections.
One of the best places to shop for sheet music, and a wide selection of musical instrument accessories, is the Juilliard School Bookstore, which recently moved to a new location on the Upper West Side, at 66th St. between Broadway and Amsterdam Ave. This is a fun place to shop, and it's frequented by Juilliard students. Browse the bookstore's extensive selection of sheet music and scores, books on classical music, CD's, DVD's, musician's accessories, apparel and gifts.
Get over to Carnegie Hall and look across the street, where you'll find the Joseph Patelson Music House, the landmark classical sheet music store. Patelson offers music for clarinet, flute, piano, organ, vocals, opera, and oratorio. The Joseph Patelson Music House is located 160 West 56th St. Check their website for information about regular free music, wine and cheese events that place at the store.
Take the elevator to the 10th floor at 244-250 West 54th St., where you'll find the Frank Music Co., which was founded by Frank Marx in 1937. The stock at Frank Music is vast (some 100,000 titles) and organized alphabetically by composer. Frank Music carries more than 4,000 string music titles, 2,700 piano music titles and some 2,300 chamber music titles. The website carries a catalog of about 20,000 titles.
Sam Ash Music, a well-known name in other parts of the country, has two stores in Manhattan, next door to one another at 160 and 163 West 48th Street. Like most Sam Ash stores, the emphasis at the NYC "mega stores" is on musical instruments--guitars, keyboards, drums, brass and woodwind. So sheet music takes a back seat to musical instruments, but the adequate inventory includes mainstream rock and pop, classical, Broadway, children's, and lesson books. The scene here is lively and fun, rather than serio-classical.
Speaking of fun places, Colony Music is a far cry from Carnegie Hall. The emphasis here, in the heart of the theater district, is heavily on show tunes and Karaoke tapes, but the store also carries an impressive stock of classical sheet music, along with contemporary pop and rock sheet music. If you want the Beatles or Hannah Montana, you can find it here. If you want the score to Les Miserables, ditto. Colony is located at 1619 Broadway, at 51st St.
If you can't buy, you can borrow. The best place to browse for music books and sheet music is the granddaddy of libraries, the Public Library for the Performing Arts at Lincoln Center. This huge place, part of the New York Public Library System, allows members with a library card to borrow from specific collections in the areas of dance, drama, music and orchestra collections. If you don't have a library card, you can browse.
Tip
All of the sheet music stores mentioned here have websites and online ordering.