Making a paper heart chain is an easy and fun craft that is perfect for Valentine's Day, a special anniversary or even a baby shower. Use them to decorate your home, classroom or workplace. Even children can do this craft with a little bit of assistance from a grown-up.
Things You'll Need:
Jessica Begum
For this project, all you need is an 8 1/2-by-11-inch piece of construction paper or tissue paper, a pair of scissors and a pencil. Tape is optional.
Fold the Paper in Half
Jessica Begum
Start by folding a piece of paper horizontally in half so the seam is at the bottom.
Fold the Top Half Down
Jessica Begum
Take the top half of the paper and fold it down so the top edge meets the bottom seam. Leave the bottom half of the paper unfolded.
Flip the Paper Over and Fold Again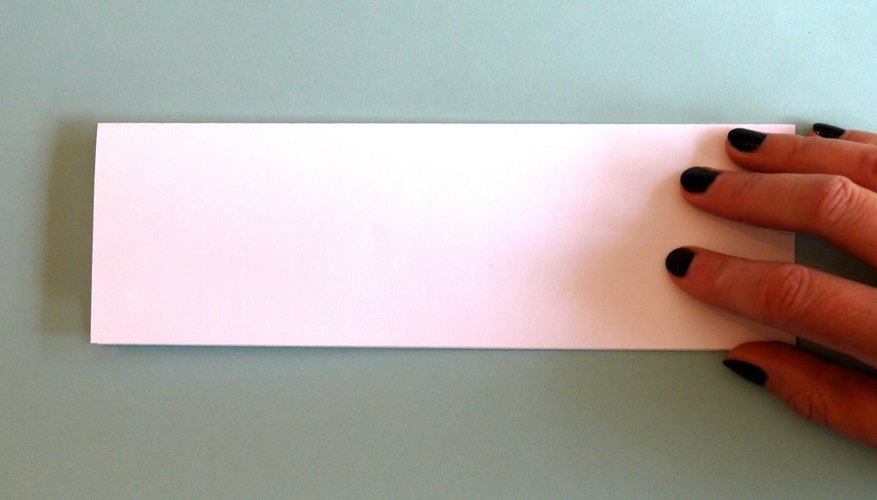 Jessica Begum
Flip entire paper over and fold the remaining half of the paper down so the top edge meets the bottom seam, just like you did in step 2.
Ensure You Have an Accordion Fold
Jessica Begum
The entire piece should be in a horizontal accordion fold when finished.
Accordion Fold the Paper into Thirds
Jessica Begum
Accordion fold the paper strip into thirds so you end up with a square.
Draw a Heart
Jessica Begum
Using a pencil, draw a heart on the square making sure the edges of the heart touch the folded edges of the square. This is to insure your hearts will be linked together when cut.
Cut the Heart Out with Scissors
Jessica Begum
Simply cut the heart out with scissors, making sure to leave the sides of the folded heart intact.
Open the Hearts and Tape Together
Jessica Begum
Open the paper to reveal three separate heart chains of four hearts each. Link the chains together with clear tape.
Writer Bio
Jessica Begum is a crafty momma of three living on the west side of Los Angeles. Her blog Hipster's Tea Party, www.hipstersteaparty.com, is mostly mom- and kid-friendly crafts, partly ideas for more ambitious projects and a sprinkle of art and recipes thrown in just for fun. As well as being crafty, she is classically trained in fine art and loves to paint with watercolors and oils.
Related Articles