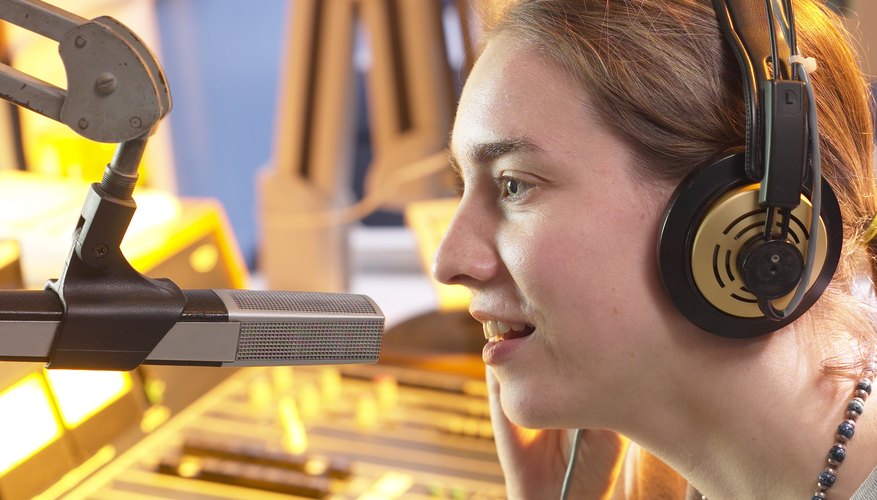 Voice overs are heard on many mediums. From the famous Taco Bell "Chihuahua" commercials to local events announced on the radio, we remember voice overs due to the fine talent of the actors. Becoming a voice over actor takes skill and hard work. While there is plenty of non-union voice over work available, the best route is to attain a voice over agent that can get you union work.
Take stock of your budget. Buy or borrow recording equipment. Make sure you have a high-quality microphone. Microphones come in several varieties and their costs can vary; for example, you can buy a vocal microphone, which will run you between $40 and $100, or a condenser microphone, which cost between $100 and $250. Both types are sufficient for recording. Make sure to also get quality headphones, which will cost between $20 and $80. Find recording software online and download it to your computer; a company called Cockos makes a program called "Reaper," which is available at www.cockos.com for $60. Other programs include Cakewalk Sonar (made by Cakewalk and available at www.cakewalk.com for $139), and Steinberg Cubase (made by Steinberg; several versions are availabe at www.steinberg.net, ranging in cost from $99 to $499).
Record three different sample voice overs (or "VOs"). Each VO should be different. For example, record one VO with a humorous tone and another with a more authoritative tone, to show off your vocal range.
Edit all three VOs into one audio file. Save this file as a WAV or mp3. You now have a basic VO reel.
Search online for a list of local talent agents. The list or directory should specify which agents handle voice over actors. Call or e-mail the agents you are interested in and ask which format they would like to hear your VO reel in. E-mail or mail the agents your photo head shot and VO reel. If you have to physically mail a VO reel, then save the audio file onto a flash drive. If you are sending your VO reel to more then one agent, buy your flash drives in bulk. Drives can cost as little as $4.99 each.
Follow up with a phone call to the agents you selected every two weeks.
If an agent takes notice, sign with him or her and go on VO auditions. Your agent will set up auditions for you based on the daily casting breakdowns they receive.
Join the American Federation of Television and Radio Artists (AFTRA), the trade union that covers VO artists, when you have secured your first union job. Some jobs allow you to join after completing your work.
Tip
Your sample VOs should be of different lengths, for example, 15, 30 and 60 seconds. This will show your ability to convey information in various designated times. Practice your VO skills with daily vocal exercises, including tongue twisters and character work. Hire a VO coach or pay for a VO class to keep your skills sharp. Practice makes perfect. With regards to your microphone: if the output line is not compatible with your computer input, you can buy a converter at any electronics or music store.
Warning
Be wary of non-union work. Most non-union employers are notorious for paying late or not at all.