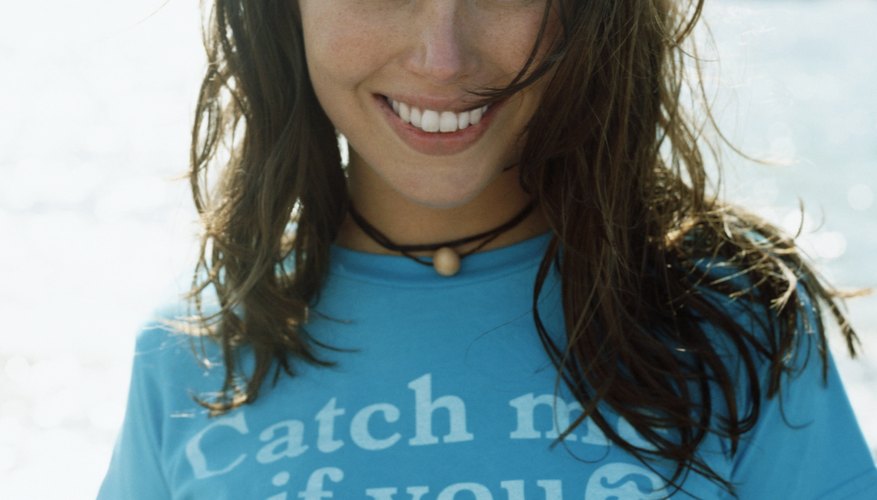 Digital Vision./Digital Vision/Getty Images
If you're looking for an uncommon piece of casual wear, design your own T-shirt. By making your own custom shirt, you can ensure that it is truly one-of-a-kind. When planning your T-shirt creation, consider an assortment of design ideas, selecting the one that best represents your personal sense of style.
Patchwork
Integrate your favorite printed fabric into your design to create a patchwork T-shirt. Gather fabric scraps around your home or purchase some remnants from a fabric store. Cut the fabrics you select into geometric shapes or letters and applique them onto the shirt, overlapping them to give the shirt even more decorative appeal.
Photo
Using a digital image of your choice, create a photo T-shirt transfer. To produce this transfer, print the picture in mirror image onto a piece of iron-on transfer paper. Add words above or below the image before printing to further customize the garment. Iron the resulting print onto your plain T-shirt, following the package instructions on the transfer paper.
Phrase
Select a phrase that is of importance to you to feature on the shirt. Trace out the phrase using a pencil, sizing your letters or adding designs to make it more attractive. If placing the phrase on a see-through shirt, you may be able to print the phrase onto a piece of paper and place it behind the shirt to use a guide. Use puffy paint to transfer the phrase onto the shirt itself.
Name
To prepare for your name T-shirt project, decide upon a way in which to feature your name. You may want to place it across the middle of the shirt or, for a less common look, position it down the shirt front. If you need guidelines, outline the letters very lightly in pencil with the aid of a stencil. Using fabric paint, place the name on your shirt, decorating it with an assortment of colors. Finish your creation by drawing shapes or designs around your name for further embellishment.