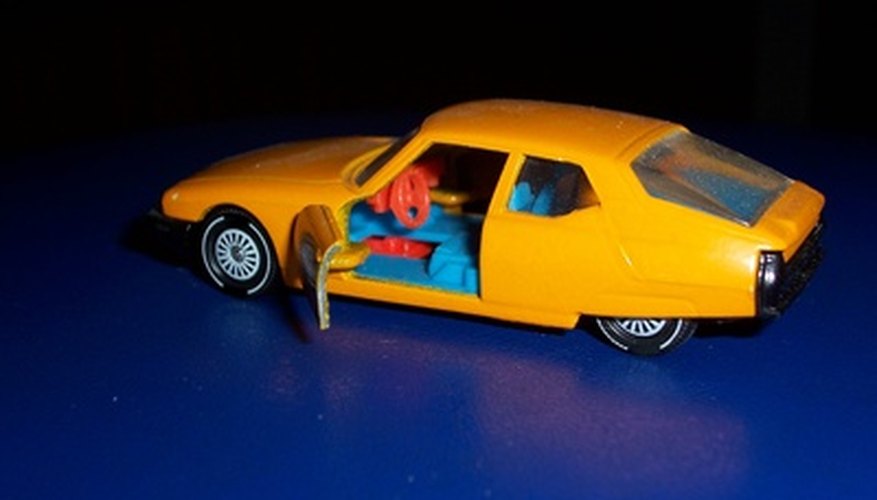 Diecast car collecting is a popular hobby for toy aficionados and car enthusiasts of all ages. From rare vintage models to modern mini-sculptures, diecast cars come in a variety of sizes and styles. There are several different ways to display your prized collection as a prominent part of an interior decorating scheme.
In Cases
One of the most common ways to display diecast cars is in curio cabinets with many small compartments. These cabinets hang on the wall and keep the cars safe. Large cabinets can accommodate several dozen cars, and a series of cabinets can turn a room into a diecast car library without taking up too much space.
Several display case manufacturers offer custom display cases to hold a specific number of cars, use a certain type of wood, or hold cars of a certain size. You can also purchase ready-made cabinets and refinish or repaint them to blend in with the decor of the room. For added protection from dust and sunlight, add a sheet of acrylic glazing to the front of the cabinet.
As a Tabletop
Another creative way to integrate a diecast car collection into a room's design is to arrange the cars under the glass surface of a tabletop, such as that of a coffee table. You can place the cars normally or stand them on their sides for a better viewing angle. Like display cabinets, coffee table display cases are available from several manufacturers. With some modest carpentry skills, you can also create a custom table, or modify an existing table to hold your collection.
In an Environment
For a more dramatic and space-consuming way of displaying your diecast cars, consider placing them in miniature environments. Model train accessories work well for creating a small village, racetrack, gas station or garage. This can be a good way to spread out a small collection of cars, or give your very best models a place of prominence.
Loose Cars
Finally, you can accent an existing space by placing loose cars on small shelves or surfaces throughout the room. This can be in addition to a larger collection elsewhere in the house, and provides a means of incorporating your cars into the room without making a strong visual statement with a large displayed collection. Having loose cars around is also a good way to differentiate between models that children are allowed to handle and play with and the valuable, hands-off models in a nearby case or model environment.