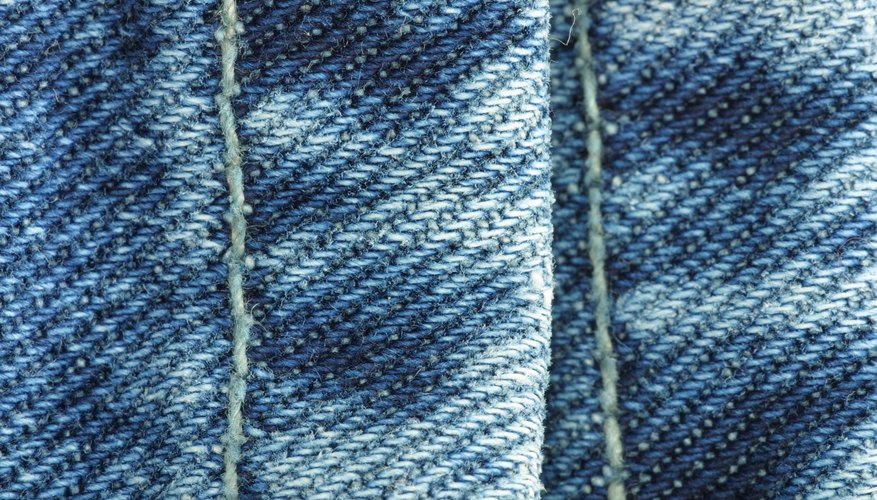 Denim crafts have an interesting appeal. Denim is strong, easy to clean and plentiful. Old jeans are the best source for soft, worn denim for craft projects that will stand the test of time. Whether you'd like to curl up and watch a movie, organize your craft supplies or organize your paperwork or your thoughts, old jeans that have outlived their life as clothing can be given new purpose.
Denim Quilts
Make a quilt from old denim jeans. Whether it is a quilt square here and there or an entire quilt made from denim, a denim quilt can be a conversation piece full of memories. You can use the back pockets to hold television remotes or bookmarks while you watch television or read while snuggling under that favorite pair of jeans.
You can embellish the denim squares by leaving the details attached and dressing them up a bit or by embroidering onto the denim itself. A scarf through a row of belt loops can have a feminine appearance, while a man's hanky hanging out of a back pocket can have a rustic appearance. Iron-on patches of tractors or trucks would add impact to a boy's room, while flowers and butterflies would be perfect for a little girl. There are endless possibilities for the embellishment of denim.
Bags From Jeans
Make jeans into a purse, backpack, beach bag or wallet. The top portion of the jeans can make a decent-sized purse or back pack and the legs can be used for beach bags and wallets. The pockets can be useful in any bag, and even as additional pocket on a wallet if it is cut down to size. You can embroider the denim to dress it up or tie a scarf through the belt loops to make it a bit more feminine.
Denim Bookcovers
Use that soft denim to cover school books, journals or binders. Place a pocket on the cover to hold a bookmark, a pencil or a calculator. Use embroidered details to decorate the cover or identify the contents of the book or binder.
With a can of spray adhesive, the denim acts like contact paper and will stick to the covers for an easy no-sew project. Decoupage glue can provide a strong bond to hard surfaces and a few coats of high-gloss acrylic sealer will give it a vinyl look and make it relatively waterproof. Another option is to use a hook-and-loop fastener or elastic to make the cover removable.
Organizers
Organize belongings with a pocket covered wall hanging. Use pockets from several pairs of jeans or make your own pockets from the remaining denim. Make the pockets large enough to hold a pair of shoes or small enough to hold pencils or crayons. Use a variety of sizes to hold homework supplies or art supplies, from paper to calculators or tubes of paint.
Sew rows of large, loose pockets onto a large panel of fabric in which to hang shoes on the wall or the back of a door. The organizer could even by hung on a wall inside a closet to hide the shoes out of the way.
Stuff the Jeans
Stuff the legs with stuffing and tie off the ends to create neck roll pillows. Cut shapes from the denim and form more traditional pillows. You can include a pocket and make a tooth fairy pillow for a child. You can also attach a desk surface to the top of the pillow and make a lap desk. However, this take a little planning ahead. It is best to attach the fabric to the desk surface first by securing the fabric between the desk surface and small pieces of wood with some short screws before stuffing the pillow and stitching it closed. It is also best to use a firm stuffing or pillow form for the pillow portion to avoid compacted stuffing and feeling the boards through the pillow.