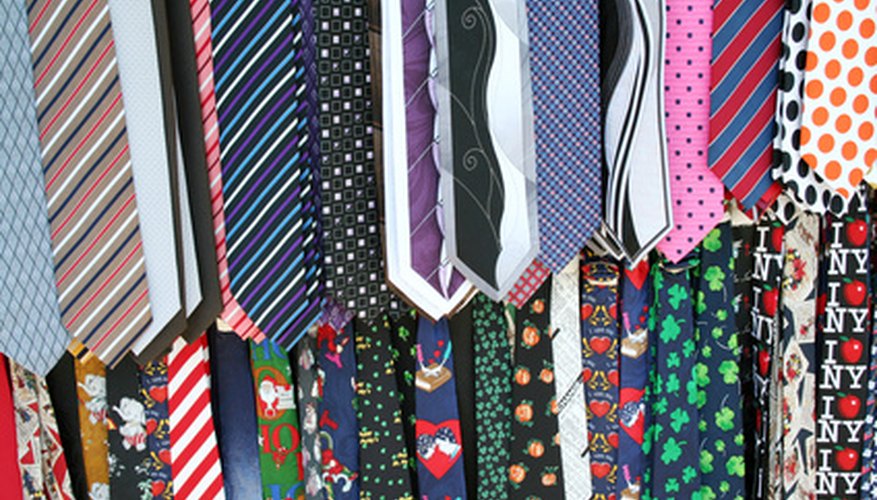 Neckties are a staple in any well dressed man's closet. However, with any fashion, what's in one year could be out the next. Anyone remember the Ascot or Bolero? The question is "What is one to do with all those neckties from past trends?". They could be donated to a local charity or clothing drive. Or they could be given a new life with fun and easy craft projects.
Quilt
Quilting is a timeless craft that has been passed down and enjoyed by many generations. Put a new spin on quilting by using men's ties in place of traditional quilting squares. Generally, necktie quilts are made to commemorate a single person or a group of people. However, you can get neckties from thrift stores, clothing resale stores, and through donations from friends. This is also a great opportunity to sneak that tacky tie that your husband loves out of his closet and give it a greater purpose. There are dozens of tie quilt patterns available on the web if you need a little inspiration or create your own design. Regardless of what pattern you use one thing is for sure, this is not your grandmother's quilt.
Fashion
The life of a necktie begins in fashion and rightfully, it should end in fashion. Transform the menswear staple into a flattering women's skirt to give neckties a whole new life. Generally, you will need between 15 and 20 ties to make a skirt. Choose ties that are made of similar fabrics and about the same width and length. Also consider the color and print of the ties. Create different looks by using different colored ties. Make a striped skirt by alternating two colors of ties or give the skirt a more eclectic style by using random prints and colors. Make the skirt as long or short as you want to suit your personal style.
Bags
Recycle old neckties to give them a more functional life as bags. Not only will you be doing the environment a favor by reusing the ties; just think of all those plastic bags you will save by taking your own tote to the store. The possibilities for the design of a necktie bag are endless. Use fewer ties to craft a small, casual handbag or use more to make a large tote. Experiment with different textures and prints to create fun looks to fit your style. These handmade purses make a great inexpensive gift idea for a teenager who has everything. But you'd better make two because you're going to want to keep one for yourself!