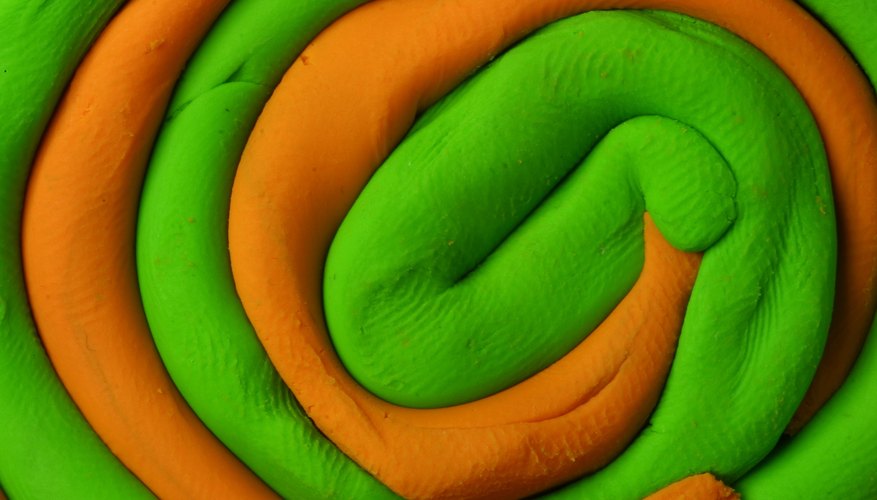 Sculpey brand polymer clay can be shaped, cut, carved and formed into almost any shape, then baked in an ordinary oven to harden like ceramic. Sculpey clay is available in different textures and colors, from glow-in-the dark fluorescent colors to clays that resemble natural stone. You don't need any special tools or safety precautions to work with Sculpey and it can be purchased at most craft stores.
Jewelry
Sculpey can resemble ceramic, stone or even glass, making it an ideal medium for jewelry. Roll bits of Sculpey into beads of almost any size and pierce with a wire to form a hole for threading. Once baked, the beads can be strung on jewelry wire or ribbon to form necklaces, bracelets and earrings. Experiment with making marbled beads of more than one color.
Roll Sculpey into thin ropes and shape around an empty soda can to form a bracelet. Bake the clay on this soda-can form, then wrap with decorative wire for a custom look. You can add beads, crystals or charms to the wire before wrapping the bracelet. You can carve Sculpey into almost any shape for charms or pendants for necklaces. Layer several colors of Sculpey and bake together.
Buttons
Make custom buttons to match any outfit with Sculpey. These handmade buttons are especially nice on a hand-knit sweater or a jacket that calls for big, chunky buttons. A doughnut-hole cutter is perfect for cutting out large, round buttons, or shape square buttons. Use a large darning needle to punch two or four holes for sewing the button to your garment after it's baked.
Magnets
Use cookie cutters or a sharp knife to carve freehand shapes to make Sculpey magnets. Roll the clay as thin as possible before cutting, in order to keep the magnet from being too heavy. Recycle on old magnet for the backing, or purchase peel-and-stick magnet sheets you can attach to the back of your magnet once it's baked.
Christmas Ornaments
Use cookie cutters to cut out Christmas shapes. Layer colors of Sculpey to add details. Poke a hole in the top of the ornament and bake. When the ornament is cool, add a ribbon or hook to hang from your tree or attach to a gift. You can also make three-dimensional ornaments by shaping the Sculpey into snowmen, Santas, reindeer, and almost anything you can imagine.
Boxes
You can cover metal tins with thin sheets of Sculpey. Add more Sculpey for 3-D decorations. This is a creative way to decorate small Altoids boxes, and works for larger tins as well.