Whether you're simply uncomfortable wearing strapless or you want to change the look of a dress you've had for years, adding straps to a dress is a fairly simple way to add visual interest to a dress or to simply make it more wearable. Never fear, there is a strap solution for even the most reluctant of seamstresses.
Adding permanent straps
Find a fabric that matches or goes well with your dress. By half a yard of fabric to play with, just in case you make mistakes.
For straps that hold up better, buy a fabric with some give, or consider lining your straps with elastic.
Measure the length you want the straps. A good way to do this is to have someone measure the distance over each shoulder from the point on the front of your dress where you want the strap to begin to the point on the back.
Decide how wide or narrow you want the straps to be. Thin straps are more difficult to construct, but if your dress is a fairly common color and you want thin straps, a good option could be buying ribbon with already-finished edges that you don't have to hem.
Cut your fabric to your desired length and width, leaving a few inches on either side as a margin for error.
Hem the straps with a running or flat stitch lengthwise so that no unfinished edge will show, preferably with a sewing machine.
If using elastic, create a tube with the fabric about the width of your elastic.
Put the elastic in the tube and secure it in the tube with a running stitch on both ends, making sure that it is a little stretched and not completely loose.
Try on your dress again.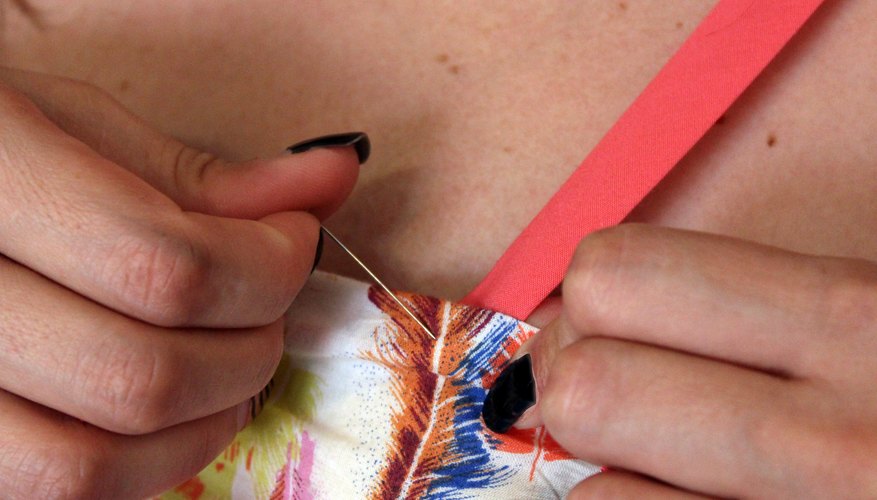 Have a friend pin the straps in place.
Take off your dress, turn it inside out and then glue the straps in place with fabric glue. Let dry.
Remove the pins. With a sewing machine, sew the straps in place in the front and back with a thread similar in color to the fabric of the dress, sewing the straps into existing seams whenever possible for a more subtle effect.
If you prefer halter straps, sew the straps in the front of the garment and not in the back, but be sure to finish the edges of the straps so they won't fray.
Removable Straps
Add removable straps to your dress if you simply want to change the appearance of your dress and might want to wear it strapless sometimes or change into different straps.
Measure the length of fabric or ribbon that you prefer for your dress.
Attach the hook side of peel-and-stick Velcro to the outside ends of each strap and the loop side of the Velcro to inside of the dress.
If the Velcro doesn't stick, use fabric glue or stitch it in place around the edges.
Try on your dress with straps. If they are loose or wrinkled, try adjusting the Velcro.
Things Needed
Needle
Thread
Sewing machine
Fabric glue
Elastic
Ribbon
Beads
Velcro
Measuring tape
Tip
Get creative with your straps. Embellish straps by stringing beads onto them. To make the straps a focal point of your dress, use a contrasting color or pattern. To draw attention to your arms and shoulders, select a variety of narrow ribbons in the same color family and attach multiple straps, or even braid the ribbons. Instead of Velcro, use buttons, hook and eye or even snaps to attach removable straps.
Warning
Without the guidance of an experienced seamstress, don't add straps to formal dresses for important occasions.