Thinkstock Images/Comstock/Getty Images
For film buffs, pop culture enthusiasts, and anyone who just digs a universal excuse for a party, the Academy Awards are that once-a-year gift excuse to party vicariously with the toast of Tinseltown. And for those inspired to ogle the Oscars in occasion-befitting attire, a veritable closet of inspired costumes -- from star performances on-screen and red carpet both -- stands open for your outfitting pleasure. Take your own inspiration from these apropos ideas for a sure-fire winning ensemble at your next Oscar party.
Performances of the Year's Oscar-Hopefuls:
By definition, this category's options depend on the given year, consisting of that year's various on-screen characters as personified by its Oscar-nominated actors and actresses. If your costume preference inclines toward such in-character aesthetics of present Oscar-hopefuls, your best bet is to choose from the nominee list a performance identifiable by a certain visual -- ideally one with which you can be creative and have fun. For 2011's Oscars, for example, such notable ideas for costumes readily both recognizable and open to innovation might include: Natalie Portman's haunted ballerina in "Black Swan;" James Franco's arm-severing hiker in "127 Hours;" or Jesse Eisenberg's notoriously anti-fashion Facebook founder Mark Zuckerberg in "The Social Network." Notably too, selecting from this category supplies the oft-lacking incentive to actually watch those performances deemed by the Academy the year's most noteworthy.
Iconic Oscar-Winning Performances
Hemera Technologies/Photos.com/Getty Images
This category invites party-goers to traverse memory lane in pursuit of the most iconic winning Oscar performances past and to costume themselves in the inspiration of their chosen character. As with present in-character costumes, your decision should be directed toward those winner's circle performances widely and almost instantaneously evoked by given visual identifiers; in this context, though, given history's memory-diminishing effect, the optimal party ensembles for crowd-pleasing appeal should ideally derive from those truly aesthetically unforgettable on-screen icons. Choice source inspirations might include: Diane Keaton's gender-fashion rule-breaking, kooky-hatted, gamine tomboy, Annie Hall; Anthony Hopkins' grotesque, hockey mask-wearing, Chianti-sipping Dr. Hannibal 'Cannibal' Lechter in "The Silence of the Lambs;" and the late Heath Ledger's purple-suited, green-vested, raccoon-eyed and maniacally-grinning, white-faced Joker in "The Dark Knight."
Oscar's Most Outrageously Distastrous Fashions
Every year, Oscar's red carpet brings out en masse Hollywood's designer-donning divas, intent to showcase on an international stage, their best, most fashionable selves. This costume category spotlights those rare occasions when such exorbitant femme fatale self-fashioning goes awry, resulting in mind-searing fashion fatality. Take your pick of the red carpet faux pas litter to caricature for an Oscar party costume as intentionally hilarious as its original was unintentionally so. In particular, consider these most outrageously disastrous fashions -- and their respective, unforgettable lowlights -- from which to take inspiration: Cher's 1986 dominatrix cum Bride of Frankenstein debacle complete with leather cut-outs and skyscraper headdress; Bjork's 2001 feathered swan incarnate complete with beak; Angelina Jolie's 2003 ghoulish goth, an apparently grotesque Addams Family audition complete with brother-kissing; and Charlize Theron's 2010 satin bundle complete with two certain roses prominently chest-placed, cupping their assets in a manner decidedly reminiscent of a pair of cinnamon buns.
Oscar's Old Hollywood Glamour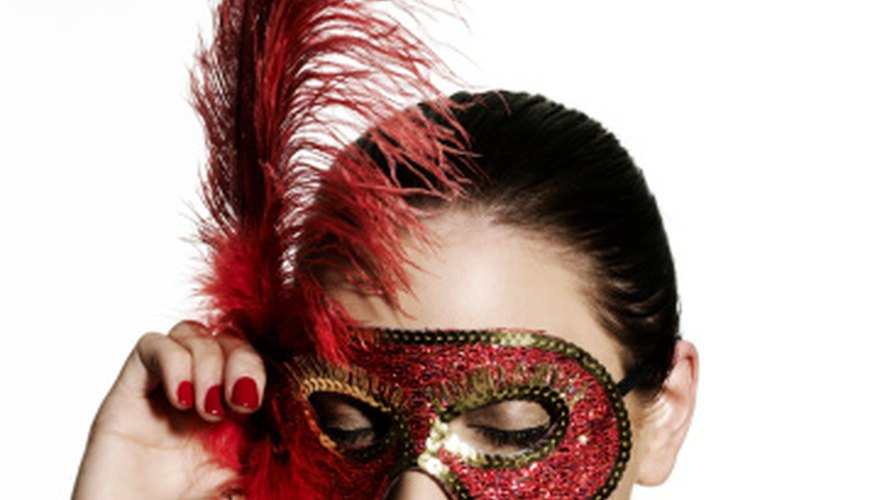 Elizabeth Hachem/Lifesize/Getty Images
Finally, the perennial favorite costume idea category for Academy Awards parties: Old Hollywood. This aesthetic is characterized by the aura of timeless glamour and elegance embodied by leading lady luminaries of classic film eras past; costumes in this model thus breathe into contemporary Oscar parties welcome starry-eyed nostalgia for mystery-kept, cinema magic seemingly irretrievable in today's overtly tabloid-dramatized business of moviemaking and movie stars. For your optimal Old Hollywood costume, select a film era's representative style icon and a single iconic image to emulate as your objective. Aesthetically epic Old Hollywood glamour belles, the likes of Greta Garbo, Elizabeth Taylor, Marilyn Monroe and Audrey Hepburn, are all transcendent choices. From your selected image, strive to reincarnate with your costume the subject's whole package, from hair to feet to fingers to jewels; she's an Old Hollywood work of art, after all, and her legacy deserves rapt visual attention on Oscar night of all nights.
References
Writer Bio
Elissa Bassini has been writing since 2001. She has been a law firm associate, judicial intern and a teaching assistant/research consultant at the University of Pennsylvania, where she received a 2005 Writers Capstone Honor. Her writing appears in university curricula, research and marketing materials. She holds a Bachelor of Arts in English, summa cum laude, and a Juris Doctor from the University of Pennsylvania.
Related Articles