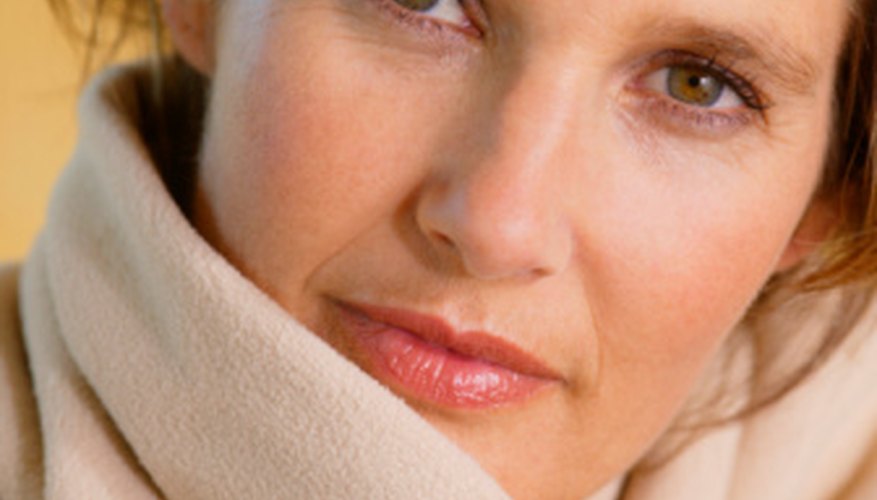 Cozy, comfy fleece fabric is lightweight, warm and easy to work with. The fabric doesn't ravel, so it doesn't require special treatment for hemming. Fleece is machine washable and you can choose from many colors and patterns. Fleece is a synthetic fabric made from polyethelene and is sometimes referred to as polar fleece.
Clothing
Fleece's light weight and soft texture makes it a good fit for sleep and casual wear. You can make pajamas, robes, workout wear and casual pants and tops from fleece. If you want to make baby clothes or kids' nightwear, look for fleece that has been treated to be fire-resistant. Avoid fabrics labeled "not fire resistant" or "not approved for children's sleepwear." Choose patterns with simple lines. Fleece is too thick for sewing smooth pleats or tucks.
Accessories
Fleece makes warm mittens and socks, scarves, hoods and neck gaiters. Fleece is especially nice for accessories for children. The bright colors and patterns of fleece fabrics appeal to children and the washable material makes items easy to care for. You can sew simple socks or mittens by tracing around a pair you already own, cutting two pieces and stitching them together. You don't need to hem scarves or neck gaiters. Cut fringe in a fleece scarf with scissors.
Pet Items
Pets like the softness and warmth of fleece, too. You can find fleece printed with paw prints, dog bones, dogs and cats and other pet-themed patterns. Make a pet bed cover out of fleece or a throw to keep pet hair off your sofa or car seat. Or stitch up simple fleece chew toys. Trace the outline of a bone on paper and cut out two of these. Sew and stuff with fiberfill. Or make a small fleece mouse stuffed with catnip for your kitty. A fleece coat will keep your pup warm on a chilly day.
Items for Home
Fleece blanket require no sewing. Cut two large pieces of fleece, cut fringe along all four side and knot the fringe together. Cover pillows with brightly colored fleece. Fleece also makes a good dust mitt or a mop cover. Toss the fleece in the wash when you're done cleaning and use it again and again.
Tips for Sewing Fleece
Use a zig-zag stitch when sewing fleece, and a slightly longer stitch length. Pin pieces together with long straight pins. Those that have brightly colored heads are easier to find in thick, plush fleece. Instead of a hem, clip the edges with pinking sheers, or sew a line of stitches 1/4 inch from the edge of the garment. This keeps the item from stretching out of shape. Like other pile fabrics, fleece has a nap — a direction the pile runs. Match the nap when cutting out garments.