sheeps queue on sheep-run image by Piotr Rydzkowski from
Fotolia.com
The international market for wool has played an important role in the histories of the United States, United Kingdom and in the agricultural economies of many other countries. In the present day, Australia and New Zealand dominate in worldwide exports of wool, while the United States is primarily an importer of wool. However, it's possible to raise sheep for wool in all 50 states, and there are many organizations to help get your product to market.
Sell Wool in a Wool Pool
Locate the wool pool closest to your farm and seek membership in the organization. Because many wool producers don't have enough product to market directly to buyers, local governments have organized "wool pools" that consolidate multiple producers' wool into large quantities. Consult the American Sheep Industry Association for a map of wool pools. There are about 100 pools in the United States.
Sheer your sheep and gather the wool in garbage bags or large square bales. When the wool pool locates buyers for the product, the pool will ask you to deliver your wool to a pre-arranged drop-off location. Inspectors will examine your wool for quality.
Collect your check in the mail about two weeks after you've delivered your wool. The value is determined by the pool based on the highest bid of the end-level buyer. The pool will take a percentage of the profits as the fee for its marketing services.
Sell to a Wool Warehouse
Find the closest wool warehouse, an organization that will either purchase your wool directly or find a buyer and pay you after the product sells. Consult the American Sheep Industry Association for a map of wool warehouses. They are especially prevalent in Texas and New Mexico, but are also common in many other western states.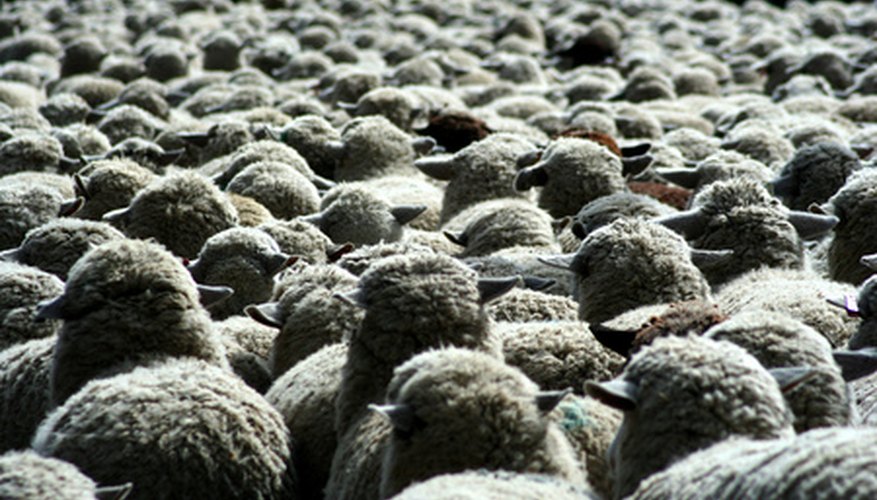 nothing but wool 9 image by Lee O'Dell from
Fotolia.com
Bring your flock to the wool warehouse for shearing, if the organization offers that service. Many warehouses do have staffers on hand to shear your sheep, and they'll also package the product in bales for you.
Collect your check from the warehouse if it has agreed to pay you up front. It's also common for wool warehouses to accept product on consignment, locate a buyer, and pay you when the wool sells.
References
Writer Bio
Angela Grant has written articles and produced video stories for major Texas newspapers and international news wire services since 2005. Her work has appeared in the "San Antonio Express-News" and the "Fort Worth Star-Telegram." She has a Bachelor of Arts in government and a Bachelor of Journalism with a multimedia concentration, both from the University of Texas at Austin.
Related Articles