Things Needed
Notebook
Pen
Rubber O-rings
Plumber's chain
Plumber's chain connectors (for catches)
Washers
Ear wires
Beads (1/4 inch or larger for separators)
Wire cutters
Needle nose pliers
Compartment box (or egg carton)
Tray with raised edges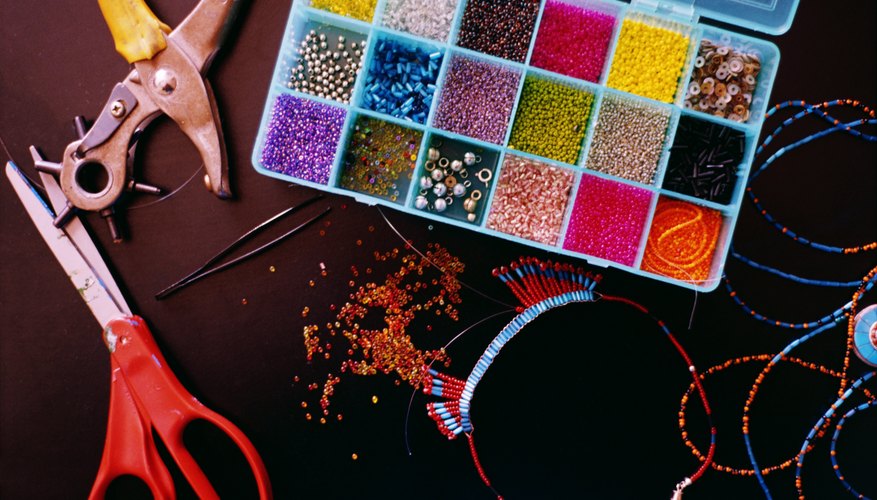 Rubber O-ring jewelry gives off an edgy urban vibe. It is inexpensive, durable, versatile and fun to make. Use O-rings to make body jewelry and ear plugs, weave them together for the chain mail look or string them. Black O-rings with a silver chain remains classic, and O-rings come in many colors. With basic tools and inexpensive supplies, you will be set to make your own O-ring jewelry. Make some in all colors to wear yourself and give as gifts.
Assess the materials you'll need for the jewelry items you want to make. For example, to make three pairs of earrings with a stack of six O-rings on each, you will need three small O-rings and six ear wires. For three necklaces with 36 O-rings each, you'll need 108 larger O-rings. Select all black or groups of colors, and get separator beads if desired (round beads to put between groups of O-rings). Get enough plumber's chain for the three necklaces. A choker takes 12 to 15 inches, depending on the size you want. For longer necklaces, measure the length of a necklace you like and multiply its length by "3." Add three plumber's chain connectors to use as catches for the necklaces (and wrist bands, if desired).
Obtain the O-rings, plumber's chain, connectors, needle nose pliers and wire cutters from a large hardware store. Get ear wires, beads, wire cutters and compartment boxes at a jewelry supply, bead shop or crafts store. Look for a box with room for all the tools and supplies, with small compartments for beads and O-rings and some larger spaces for the wire cutters and chain so you can keep all your equipment together.
Set the tray on a table or counter. The raised edge keeps beads and supplies from getting on the floor as you work. Open the compartment box or egg carton and arrange the O-rings by size and color.
Measure a length of plumber's chain for a necklace or O-ring choker. Cut the chain with the wire cutters. This leaves a bead at the end. Hold the chain firmly and slip the last bead into the slot in the connector and tug down so it pops into place.
String the O-rings on the plumber's chain. Try all black in groups of six, separated by one big silver bead between each group. Add a washer at each end to keep the O-rings in place. To clasp the finished necklace, pop the end bead into the other end of the connector.
Make earrings to match. Cut two lengths of plumber's chain for each pair of earrings. For example, for long dangle earrings, cut 2 inches for each one. Put a connector on one end, string a washer to the top of the connector, add O-rings. For example, a pattern of two O-rings, then one bead, in a set of three (six O-rings and three beads, one bead between each two rings). Put a washer on top to hold them, and add a connector at that end. Open the ear wire loop (if necessary) with needle nose pliers and slide the ear wire through the connector so it rests in the loop to hang for the earring.
Tip
Long necklaces can be left clasped after you add the O-rings.
Warning
Keep O-rings and jewelry making supplies out of reach of children. The colored ones look like candy and could present a choking hazard.