Things Needed
4-mm. open jump rings, silvertone or goldtone
Flat-nose pliers
4-mm. cable chain, 18 inches, silvertone or goldtone to match the watch parts
Toggle clasp
Bail, double end leaf in silvertone or goldtone
Watch drive from a large watch
Paper mixing pad
Toothpick
Round-nose pliers
Swarovski crystal flat-back crystal beads
Antiqued or patina charms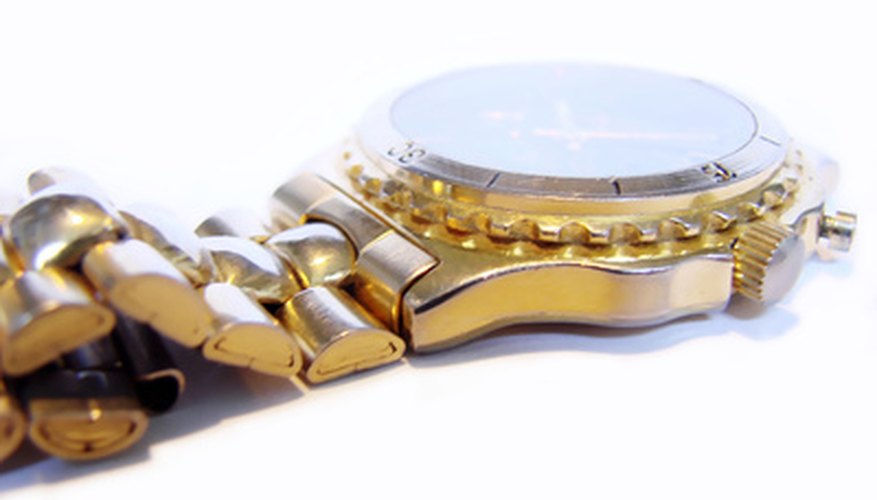 The lifetime of watches aren't eternal. Eventually, a watch isn't able to bounce back and simply stops ticking for good. What now, throw it away? No, if you are a creative jewelry maker, you see an opportunity to make "steampunk" jewelry with parts the watch will give up when taken apart. Steampunk is a science fiction and Victorian-era hybrid, and though intimidating, it is easier than anyone would think to put together a jewelry piece made of watch parts. Making a pendant from an old watch would be a good way to venture out and try this art.
Open a jump ring with the flat-nose pliers.
Slide the opened jump ring through one end of the cable chain, and slide the open part of the toggle clasp onto the jump ring.
Pinch the jump ring closed with the flat-nose pliers.
Bend the double leaf bail in the middle, causing it to close. Do this by holding the stem between the two leaves with the round-nose pliers and bending the leaves toward each other with your fingers.
Rough up the edges of the watch drive on both sides, but only where they will be covered by the bail, then roughen the inside of both of the leaves on the bail. This helps the glue to hold longer.
Dispense equal amounts of epoxy and accelerant onto the paper mixing pad and mix thoroughly with the toothpick.
Load the mixed epoxy inside the inside of the leaves of the bail. Place the bail over the spot you filed on the watch drive, front and back, and use the flat-nose pliers to hold the bail tight and closed until the epoxy is set. Allow it to dry completely.
Dispense equal amounts of epoxy and accelerant. Mix with a toothpick.
Lay the watch drive down on the work area and using the epoxy, glue the Swarovski crystal flatback to the center of the watch drive, along with any antiqued charms that fit the theme of the necklace. With a Victorian theme, charms such as gloves, Victorian hats, doves and bows work well. Allow the epoxy to completely set.
Slide the newly made watch part pendant onto the chain.
Open a jump ring with the pliers and slide it through the second end of the chain. Slide the T part of the toggle clasp onto the jump ring. Close the jump ring with the pliers, connect the toggle clasp and the necklace is ready to wear.