Card stock for dolls
Colored pencil
Paper for clothing
Paper dolls are an entertaining and educational paper toy. Free coloring pages and coloring books give excellent black-and-white drawn images that work well for paper doll patterns. You can find beautiful art which will make Indian paper dolls. You will be able to teach a child about any of the tribes of the United States or the first nations of Canada. There are many Internet sites with free coloring pages. There also are the detailed pages in Dover Publications coloring books from Plains Indians to the Blackfoot people. You can make Indian paper dolls for your class to study Indians or for your children to play with.
Choose the characters for your paper dolls. Print off a practice copy to see if it is the correct size for your Indian paper dolls.
Make two copies of the character you have chosen for the paper doll.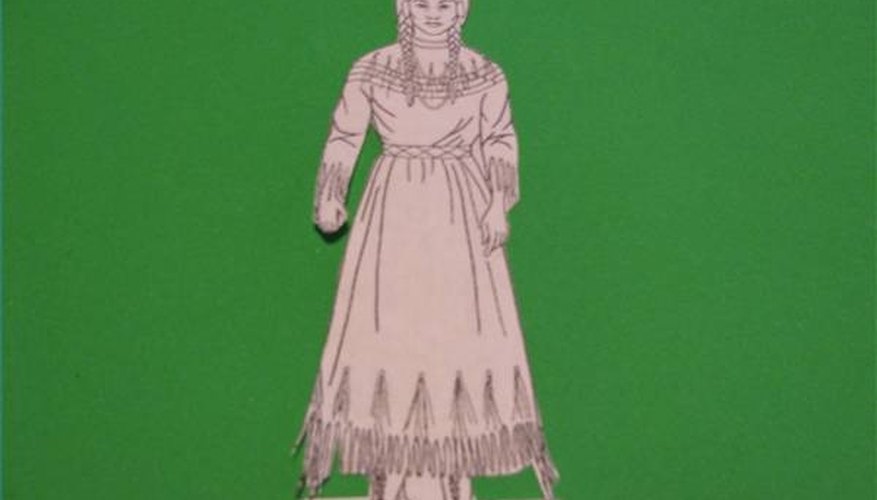 Cut out the figures you want to use for your Indian paper doll.
Cut the clothes from figure one. Trim away the bulk of the sleeves, pants and long skirts, leaving the paper doll in its "underwear."
Photocopy figure one onto card stock. Draw a rectangle around the feet of the card stock figure. It should measure 1 inch on either side of the feet. It should be at least 1/2 inch wide. Cut out the figure with this rectangular shape intact.
Cut a slit in both sides of the rectangle about 1/2 inch from the end. The 1/4-inch slit should be cut from the bottom up. Cut out two small rectangles from card stock. These will fit into the slits and make it possible for the doll to stand.
Draw tabs at the shoulders, waist and arms of the clothing. If you are making a male paper doll, draw tabs along the pant legs.
Color the clothing with colored pencils. Carefully cut out the outfit from figure two including the tabs. Place on the card stock paper doll. Fold the tabs against the doll's shoulders, arms waist and legs to secure in place.
You can paper-piece gorgeous clothing for your Indian paper dolls. Ceremonial outfits can be made from suede and leather like scrapbook paper. Paper-piecing is cutting out the different components and gluing them together on one piece of paper.