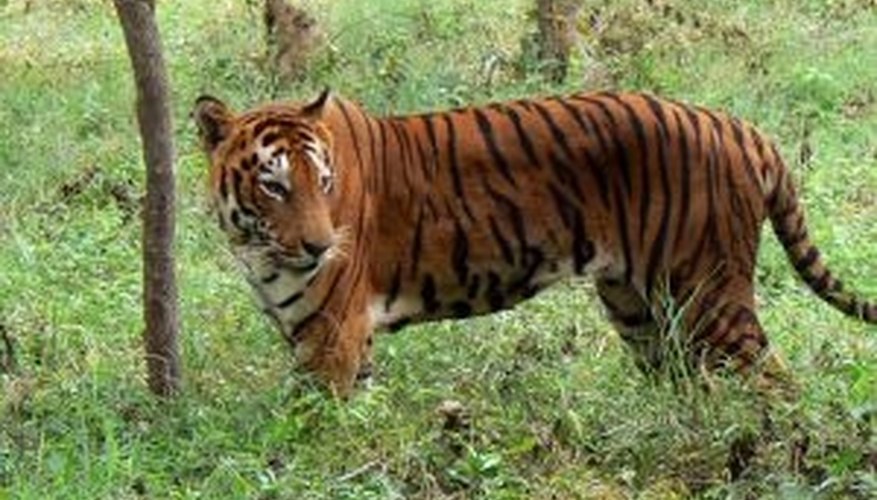 For a wild costume party style, consider making your own tiger costume. Easy to sew with the right materials, this costume will unleash your wild side. Perfect for Halloween, fancy dress parties, and dramatic productions, you can make a tiger costume for any body size.
Choose a sewing pattern for a very basic pajama pants and shirt, or a sweat shirt and sweat pants outfit. Cut out the pieces of the pattern for one or two sizes up of the person who intends to wear the tiger costume. This will ensure a proper fit of the bulky fake fur pieces and give a more impressive tiger silhouette.
Lay the tiger striped fake fur fabric fur side down and use the pattern pieces to cut out the parts you need for both the shirt and the pants. Make the shirt longer than the pattern calls for. It should reach past the hips of the person who will wear it. Also cut out a long strip approximately five inches wide for the tiger's tail. Also cut out four rounded shapes to make the ears.
Sew the shirt and pants of the tiger costume by following the directions for the sewing pattern. Run the elastic through the waistband pocket or use a drawstring made from cord. Fold the tail fabric in half length-wise with the furry sides to the center. Stitch all the way up the side and across the bottom. Do the same with the tiger costume ears. Put the furry sides together and sew around the outside. Clip the curves before you try to turn them. Turn everything right side out when you are done sewing.
Cut a large rounded rectangle of white fur fabric. White tiger-striped fur fabric would be ideal. This shape should mimic the chest and belly of a real tiger as closely as possible. Use your sewing machine or a needle and thread to stitch the white shape onto the front of the tiger costume shirt to make the belly. Fluff up the edges of the fur fabrics to hide the separation in the fabric types.
Attach the ears to the headband using a hot glue gun. Be sure the ears are evenly spaced. Allow the glue to dry.
Use the same needle and thread to sew the tail to the appropriate region of the back of the tiger costume pants. The best way to do this is to have the person put the costume on to see where the pants lie before picking a spot for the tail. A tail that is too high or too low will look ridiculous.
Complete the tiger costume look by donning a store-bought tiger mask or painting your face. Make orange and black tiger strips across your face, draw on black whiskers, or make dark eye spots and a cat-style mouth.
Tip
You could save some time by starting with a sweatsuit that already features an orange and black tiger-striped print on it.