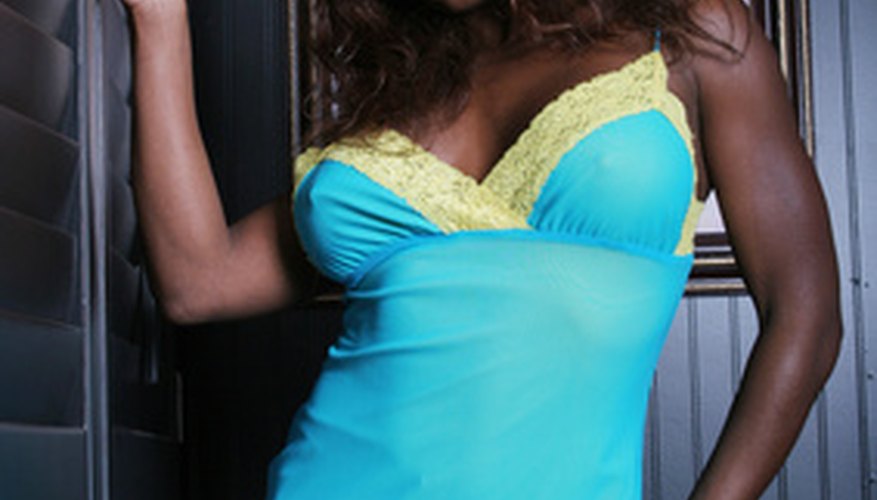 For those women who want to feel sexy and comfortable at bedtime, nightdresses are the best choice for sleepwear. A nightdress, also called a nightgown, can be made of various materials such as satin, silk, cotton, nylon or wool. Out of all of these materials, satin is the most popular because of its silky texture and comfort. Moreover, a satin nightdress can make the wearer look and feel attractive; however, some women may have trouble finding the right size and fit. Making a homemade nightdress is therefore, a good idea and will prove to be easy and economical, too.
Decide on the style of the nightdress you want, such as with sleeves or without, or knee-length or floor-length. A sleeveless knee-length nightdress is sexy and attractive. Decide on the color of the satin fabric. The color will add to the appeal of the nightdress. If you want a romantic look, you can opt for a black or red satin fabric.
Measure the length from your shoulder to your thigh if you want to have a knee-length nightdress and make note of the measurement. Take the following measurements: your bust, your armhole, front neckline, hips, waist, and the broadness of your back using a tape measure. These total measurements will determine the yardage of the satin fabric you are going to buy. Purchase the satin fabric of your choice.
Lay the fabric on a flat and clean table and fold it into two, one for the back and the other for the front of your nightdress. Draw the style of your nightdress on the fabric using tailor's chalk. Take into account the measurements you took. The tailor's chalk will not leave any mark on the fabric once you have finished making your nightdress. Cut the folded area. You now have two fabrics for the front and back of your nightdress.
Cut the pattern you have made on the fabric but leave at least an inch from the edge of the fabric to the pattern of your nightdress. This is the area where you will secure the pins to attach the two cut-out fabrics. Pin the two fabrics together making the pattern as your guide. Make sure you do not put the pins on the pattern itself but on the one-inch space mentioned above.
Sew the seam of one shoulder using the sewing machine. Remove the pins on the other shoulder, open the two fabrics and hem the front and back neckline. Sew the lace to the front neckline. Sew the other shoulder seam to close it.
Sew one side of your nightdress. Open the two fabrics. Hem the armholes and the hemline of your nightdress. Attach another lace to your hemline. Sew the other side seam to complete your satin nightdress.
Tip
You can add ribbons, buttons or other embellishments to your nightdress after you have finished making it.