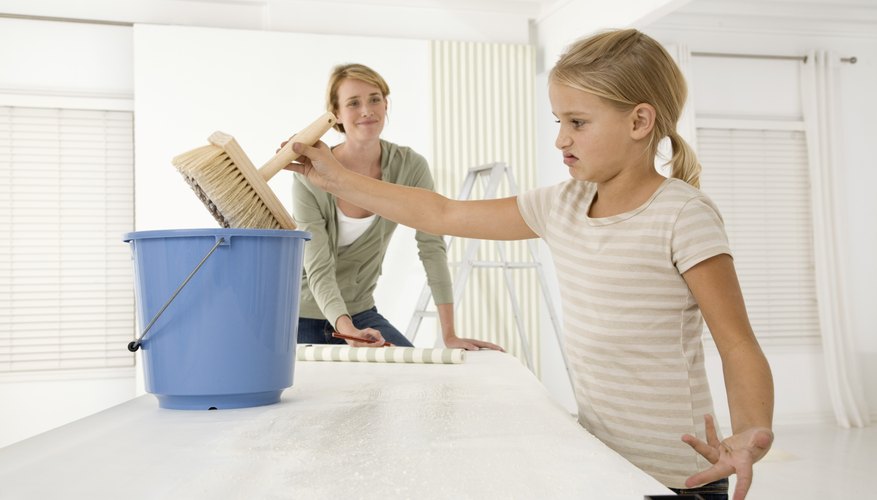 Paste paper is easy to make and versatile enough to use for book covers, end papers, scrapbooking, basket weaving and origami. You can even make illustrations with cutouts of paste papers of different sizes and textures.
Making the Paste
Lay out all of the equipment on a large work surface. Keep in mind that you're working with broadsides of paper.
Bring 5 cups of water to a rolling boil.
Whisk together 1 cup of flour and the remaining cup of water while the other water boils.
Slowly whisk the flour mixture into the boiling water to make a paste.
Pour the hot paste through a strainer to remove any clumps of flour that may have formed. You may need to enlist an extra pair of hands for this step.
Divide the paste among several lidded containers. The number of containers should match the number of colors of paste you want to make. Cover the containers and allow the paste to cool.
Add acrylic paints of the colors of your choice to some or all of the containers. The paste will turn out translucent to opaque depending on how much paint you add.
The Paste Paper
Dip your paper into a tub of water. Get both sides wet.
Press the paper onto a smooth surface such as a window or sheet of Plexiglas. Smooth out all air bubbles and wrinkles.
Apply the paste to your paper with a wide brush.
Use other objects -- like combs, sponges, brushes, stamps, fingers, hands or bubble wrap -- to add paste in different textures. Get creative and try lots of different textures just to experiment.
Add another color of paste to add detail when the first layer of paste is slightly drier, if you like. Experiment with different combinations of colors and textures.
Tip
If bristles from your brush drop in the paste, use a pair of tweezers to get them out. If the paper is a little wrinkly when it dries, iron it between two pieces of fabric with the iron on the steam setting.