Dana Dowling/Demand Media
Wire wreath frame or coat hanger
Pruning shears
Floral wire
Wire cutters
Ribbon
As the state flower of Mississippi and Louisiana, magnolias bloom proudly every spring on Southern magnolia trees. Capture the charming essence of Southern flora with a magnolia wreath. In springtime, make wreaths with fresh magnolia flowers and leaves. In winter, make holiday wreaths using just the vibrant, green leaves. Make a magnolia wreath much like a Christmas wreath, affixing flowers, swags and other items to a wire frame.
Dana Dowling/Demand Media
Purchase a pre-made wire wreath frame or make one by bending the triangular part of a wire coat hanger into a circle. To accommodate the large leaves of Magnolia trees, larger, sturdy frames are best.
Dana Dowling/Demand Media
Cut a collection of 6-inch to 10-inch magnolia branches with foliage, using pruning shears. Optionally, add foliage from other Southern plants to the wreath. Possibilities in the South, depending on the time of year, include olive, fig, seagrape, holly and bird of paradise.
Dana Dowling/Demand Media
Arrange the foliage in a loose circle to determine the design of the wreath. Magnolia leaves, from front to back, have different colors and textures. Face them all the same way for a uniform appearance or mix it up for a peppered look.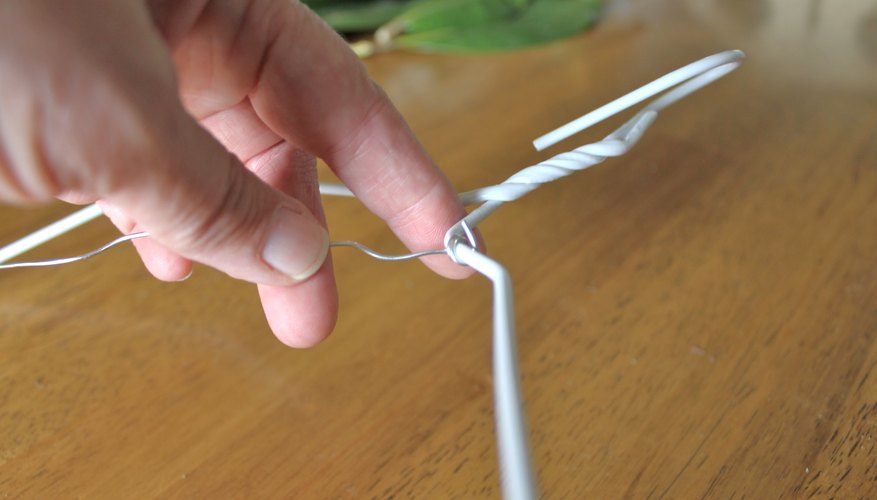 Dana Dowling/Demand Media
Wrap and twist the end of a spool of floral wire at one point on the frame.
Dana Dowling/Demand Media
Affix slightly overlapping bunches of foliage to the frame, wrapping the wire around the stems and frame as you go. After the circle is complete, tie-off the wire and cut off the excess with wire cutters.
Dana Dowling/Demand Media
Pick off flowers as they wilt, if you used flowers. The leaves will stand up much longer, allowing you to keep the wreath up. Over time, magnolia leaves will change color, slowly transforming the appearance of the wreath.
Dana Dowling/Demand Media
Tie a complementary bow at the top or bottom center of the wreath.
References
Writer Bio
Mason Howard is an artist and writer in Minneapolis. Howard's work has been published in the "Creative Quarterly Journal of Art & Design" and "New American Paintings." He has also written for art exhibition catalogs and publications. Howard's recent writing includes covering popular culture, home improvement, cooking, health and fitness. He received his Master of Fine Arts from the University of Minnesota.
Related Articles