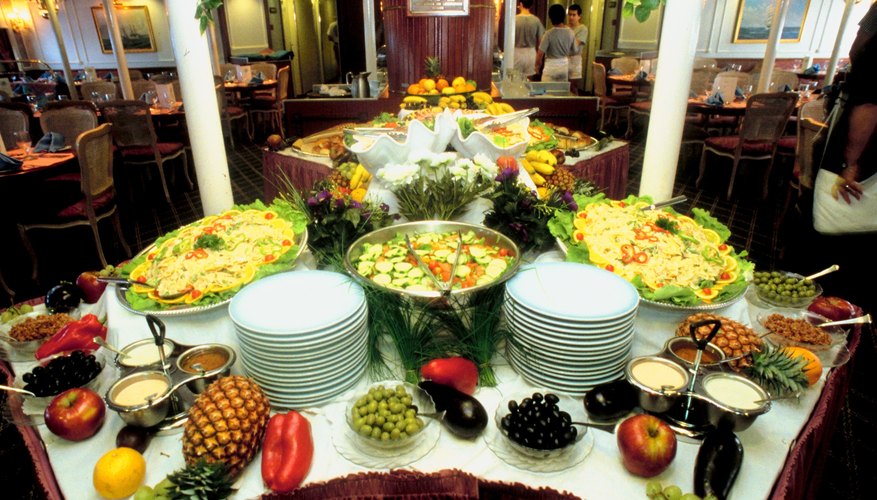 Jupiterimages/Photos.com/Getty Images
Weddings are a time when you want everything to be just right. For most brides it isn't enough to have a table with a simple tablecloth on it. The word of the day is 'drama.' Wedding buffet tables with dramatic flare are easier to create than you might imagine. To add visual drama to your wedding reception décor, follow these steps for draping tablecloths on your buffet table.
Instructions
Purchase a tablecloth and table skirt measured to the length of your table. Table skirts that attach using Velcro and table skirt clips are the easiest to use. Many companies offer rental of these items if you don't want to buy them.
Drape the table cloth over the table as you normally would and follow the manufacturer's instructions to attach the table skirt.
Choose a lightweight fabric. Silk drapery fabric is a good choice. Cut a piece that will be twice as long as your table, if not a little more. (This will depend on how much "drape" you want.) If your buffet table is in the center of the room where people will be able to see both sides of it, you'll need two pieces of fabric cut to this length.
Choose a craft wire flexible and strong enough to wrap around and gather sections of the fabric you've chosen.
Gather and wrap your fabric with the wire at 4-foot intervals. The idea is to secure it like you secure grocery store bread with a twist-tie. Be sure you gather your fabric at the ends also.
Starting with the corner of the table, use a large craft safety pin to attach each gathered section to the tablecloth.
Use large craft safety pins to attach an accent item such as artificial flowers, ivy or a pre-made bow.
Tip
Wait until you've arranged your tablecloth on the table to iron it. This keeps you from having to iron parts of the tablecloth no one will see (because of the table skirt), and ensures no part of the tablecloth gets wrinkled again between the ironing board and the table.
To attach the gathered sections of material to the tablecloth, only pick a small portion of the fabric in the middle of the gathered section to attach. The flexible wire holds it all together, which means you only need enough fabric inside the safety pin to attach it, not to hold it all together. Also note that the larger your safety pins, the easier it will be.
An alternate idea to draping fabric is to use artificial greenery such as ivy to hang down in front of the table skirt. The ivy can be tucked into the table skirt and then attached to the underneath part of the table to secure it in place.