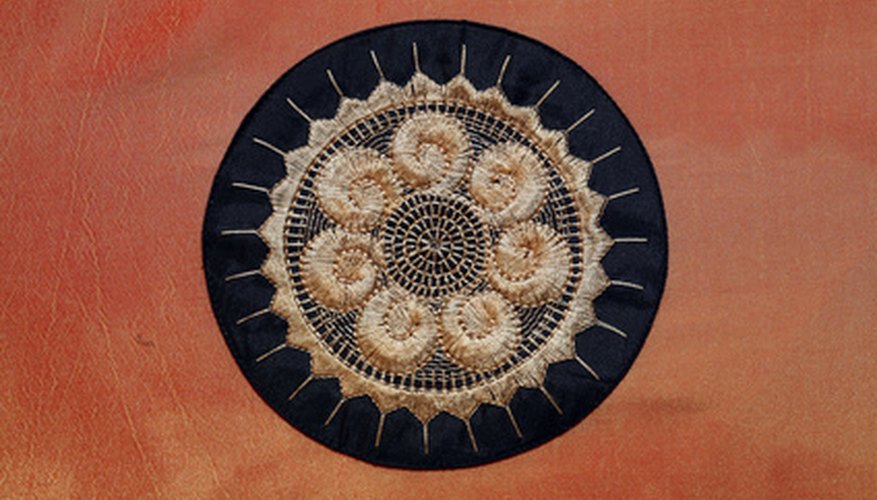 Leather inlaid with embroidery looks stylish and rich, but can be tricky to work with. Finishes on leather vary because of the different dyes and chemicals used in its preparation for either the home or garment industries, with some leathers being tough and shiny and other being soft and more pliable. Soft leather is most suitable to embroidery and, although it is not practical to hoop the leather itself, there are ways and means to get around the difficulty.
Fix the tear-away fabric stabilizer in the hoop and spray with temporary fabric adhesive. Stick the leather onto the fabric stabilizer in the hoop in the postition where the embroidery is to be placed.
Thread up the machine with embroidery thread and program for the embroidery design, if necessary. Use a normal embroidery needle rather than one specifically for leather. Machine embroider as normal to the end of the design.
Remove the fabric stabilizer from the hoop and carefully tear the fabric stabilizer away from the leather.
Tip
If thread breakage is an issue when working with leather, try using a clear silicone lubricant on the spool before sewing.
Very soft leather or suede can be treated with a fusible mesh on the back as long as only moderate heat is used without steam. Test a small area first.
If the leather distorts as embroidery progresses, stop the machine and slip another piece of stabilizer under the hoop.