striptease costume
music
prop (optional)
The origin of what we consider "striptease" in the United States dates to the late 1800's. Former New York City Ballet dancer and author Toni Bentley identifies Oscar Wilde's 1893 play "Salome" as containing the first act of striptease. Today stripping has evolved into an athletic art form, with dancers performing acrobatic feats on a pole. Burlesque, a vintage form of striptease from the early 20th century, enjoyed a resurgence in popularity in the early 21st century. Today there are many artists and dancers to find inspiration from. Choose a style that you like and let your imagination run wild.
Create a character. Your character can have a theme such as 1920's vamp, harem girl, innocent milkmaid or classic 1950's glamour queen. Burlesque sensation Dita Von Teese suggests adopting a signature motif as part of your performance. She has made the "martini glass" dance famous, where she dances in water onstage in a large martini glass. Choose a look that you like and find fun and sexy. If your audience sees you enjoying your performance, they will too. Browse through Dita's book or website for inspiration. Dita models classic examples of burlesque and striptease artists through the decades, plus makeup and fashion tips for how to achieve these looks.
Choose music you like. You can strip to an upbeat, flirty song such as "I Know What Boys Like" by the Waitresses, or a slow, sensual one such as "Crazy" by Aerosmith. You can also find some classic burlesque instrumental songs. There are many compilations of music used for burlesque. Find what goes along with your style and character.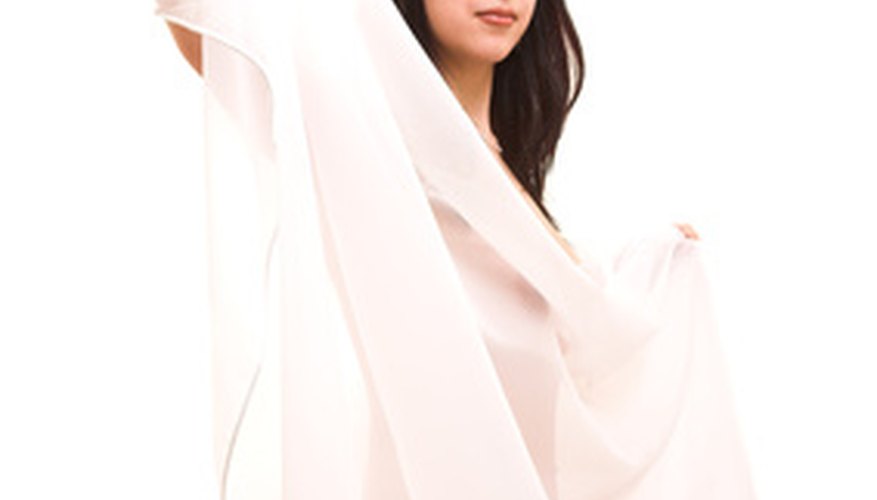 young woman with veil image by Vasiliy Koval from
Fotolia.com
Integrate props and costuming into your performance. Wear a quirky accessory such as a top hat, kitty ears or fairy wings. A chair is a common prop for striptease, especially burlesque and cabaret. You can use a chair to show off many moves and positions. Sitting on a chair or standing with one leg on the seat is an effective way to slowly take off stockings while looking graceful and not losing your balance.
Put thought into your wardrobe. Choose clothing that will be easy and slow to take off and that will look smooth and graceful as you remove it. If you want to remove your shoes, slip-ons or mules are best. You don't want an otherwise successful performance to be marred by fumbling with a stubborn buckle. Many dancers prefer to dance in shoes, even when completely nude, as a high heel elongates the leg and creates a pleasing shape of the foot. Make sure bra and garter belt hooks are easy to unfasten, even when you are nervous while on stage or in front of an audience of one. You can get as naked as you want or do the "Boston version" where you strip to a bra and full-back panties.
Choreograph the dance. Add the elements together and start seducing with your movement. You can have a fully choreographed piece, improvise all the way or have some basic moves that you can put here and there as you remove your clothes. Many gyms offer classes in fitness poledancing or cardio striptease. Learn some of these moves and use what you like for your routine.
References
"Burlesque and the Art of the Teese/Fetish and the Art of the Teese"; Dita von Teese; 2006
"Sisters of Salome"; Toni Bentley; 2006
Writer Bio
Pamela Ann Ludwig has lived, worked and studied on five continents. Her articles can be seen online at various websites. She holds a Master of Arts degree in history from San Francisco State University and has experience teaching different dance disciplines as well as English to speakers of other languages.
Related Articles