You can crochet yarn, cotton and string. You can even crochet strips of cloth. The surprising thing is that you can crochet wire too. Wire has a much different texture to work with when attempting various crochet stitches. You will need to crochet more slowly to prevent kinks or twists which will ruin the overall appearance and possibly break the wire. Crocheted wire gives that shining metallic look that is an art piece in itself. Crocheted wire makes unique jewelry pieces, headbands, barrette embellishments, baskets and home decor. Read on to learn how to crochet with wire.
Metal Crochet Hook E Or F
28 Or 30 Gauge Wire
Wire Cutters
Use a slip knot or the 'pretzel' shape method to secure the wire to your crochet hook. This is the same method used to get crochet cotton or yarn on to your hook.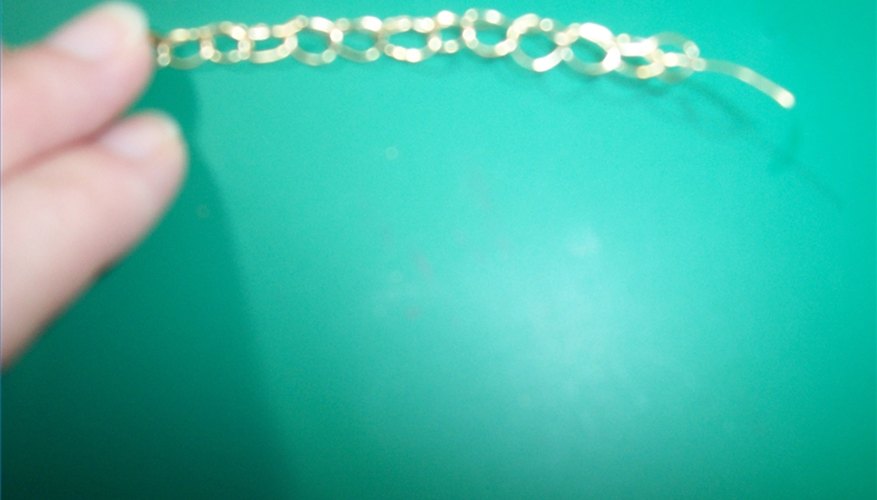 Make a practice chain. You will need to place wire over hook. It is important to practice until you feel comfortable with the wire. Smooth as you go to keep out kinks and twists.
Turn your chain or foundation and double crochet in second chain from hook. Double crochet across the length. Use your thumb to help ease the wire through the loops. Remember to go slowly with this new medium.
Turn the piece again and chain two. Double crochet in each double crochet around.
Slip stitch in top of last double crochet. Fasten off by using wire cutters and cut at a 45-degree angle leaving at least a quarter of an inch of wire. The angle helps prevent a sharp edge.
Take your crochet hook or a smaller one and weave the 'tail' of wire at the end into the body of your piece of work so that it is hidden. Repeat with other end. If you are satisfied with this practice piece move on to a simple pattern. Try a pattern for a small round doily or coaster.
Crochet slowly until you are comfortable using wire. Check periodically to make sure stitches are even. Crochet in a warm area. Cool temperatures will make wire harder to work with. Use only metal crochet hooks. Use wire made for jewelry or crafts when making a permanent project. Inexpensive wire can turn green with wear.
Do not leave any loose wire ends. They can cause cuts to skin and fabric damage. Do not attempt to unravel, wire breaks easily. Metal will ruin wooden or vintage crochet hooks.
Writer Bio
Suzie Faloon is a freelance writer who has written online content for various websites. As a professional crafter and floral designer, Faloon owned a florist business for nearly 25 years. She completed the Institute of Children's Literature course in 1988.
Related Articles