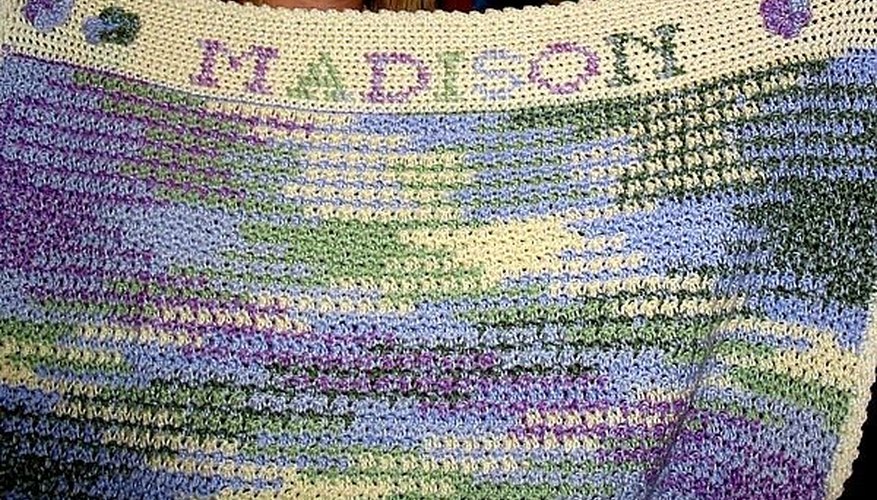 It's always Baby Shower season! Here's an easy, adorable Baby Blanket Afghan to crochet for gift-giving! It's perfect for layette or nursery use, nap time, stroller rides ~
What makes this special is it can be personalized easily with new baby's name!
Add your own "Especially Crafted By" tag that can be purchased in any hobby craft store, and you have a family heirloom in the making!
With Main Color, ch 105
Row 1:
Right side---SC in 2nd ch from hook
DC in next ch, SC in next ch
Repeat from * across row, ending with DC in last Stitch
( 104 sts.)
Ch 1, turn.
Row 2: SC in 2nd chain from hook, DC in next
Repeat from * across row. CH 1, turn.
Row 3: Repeat row 2 for pattern and work until piece measures
Next row: SC in each st across. Join white, ch 1, turn. Work even in
sc for 13 rows, ch 1 and turn to side edge.
Edging: Making sure piece lays flat as you work, SC around next 3 sides, working 3 sc in each corner. Join with slip stitch to last round.
Final round: Ch 1, * sc in next st, ch 2. sc iin same st, skip next st.
Repeat from * around making picot edge. Join and fasten off.
To personalize, follow alphabet chart. Compose name on graph paper with 1 space between each letter. Center name on white border and cross stitch. Work flower motifs in cross stitch on sides of name.