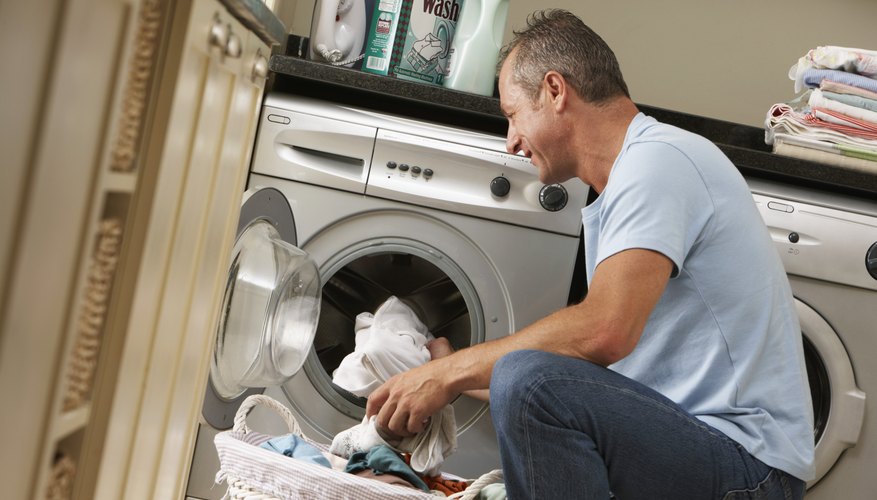 Polyester is a durable synthetic fabric, but polyester is also an extremely heat-sensitive fabric that is prone to absorbing oily stains. Quickly treat oil-based stains to prevent permanent damage to polyester fabric before washing. When laundering, use light duty laundry detergent and a vinegar rinse as cleaning agents, and avoid using excessive heat in the washing machine and dryer to prevent damage to the fabric's synthetic fibers.
Inspect the polyester fabric for stains. If stains are found, squirt the stain remover directly on the spot or spots. Place an absorbent cloth under the stain, lay the fabric on top of the cloth, and use a second cloth to dab inward from the outer edge of the spot. This will push some of the stain into the cloth underneath, and some will go into the wiping cloth. Avoid wiping outward to prevent spreading the stain. Repeat as needed to remove the stain.
Turn the washing machine on, and let it fill with warm water. Pour a cap or scoop of light duty laundry detergent into the water while the tub fills. Submerge the fabric in the water, being careful not to overload the washer. Soak the fabric in the soapy water 15 minutes and then allow the wash cycle to run. Add the white vinegar to the rinse water.
Move the wet polyester fabric to the dryer, set the temperature on medium heat, and run the dryer. Remove the fabric immediately after the dryer stops to prevent wrinkling.
Tip
Make sure nothing else in the washing machine has oil stains, because even in soapy water, oil will attach to polyester fibers.
If you choose to use fabric softener instead of vinegar, make sure to read the label. Make sure the softener is not oil-based to prevent staining freshly cleaned fabric.